Daniel B
4/21/2019
I own a Kennedy 526B , bought in April of 1970 by my Grandfather . He used it at American Airlines , where he worked at Cleveland Hopkins International Airport , for 35 years . He then gave it to my Grandmother , who briefly worked Assembly for Teledyne Republic Industries . I broke into Machining in 2011 . The Kennedy was given to me and I've used it ever since on a daily basis , working as a Machinist for Swagelok .
Jeff M
4/23/2019
520 toolbox used for locksmithing tools and parts
David J
4/17/2019
I have a 3 piece stack that was my Dad's in my shop and also a smaller tool box for taking places when needed. Love them all!
Brent D
5/9/2019
Several small boxes for small delicate tools, larger boxes and mid boxes for larger tooling, roller cab for delicate and large tools
Michael C
5/17/2019
I am a recently retired/disabled Army Staff Sergeant. I went to school for and now a full-time machinist. My 526B top box was awarded to me from Keith Fenner in the "What's In Your Box" apprentice nomination.  My roller cabinet has a custom paint job on the side walls.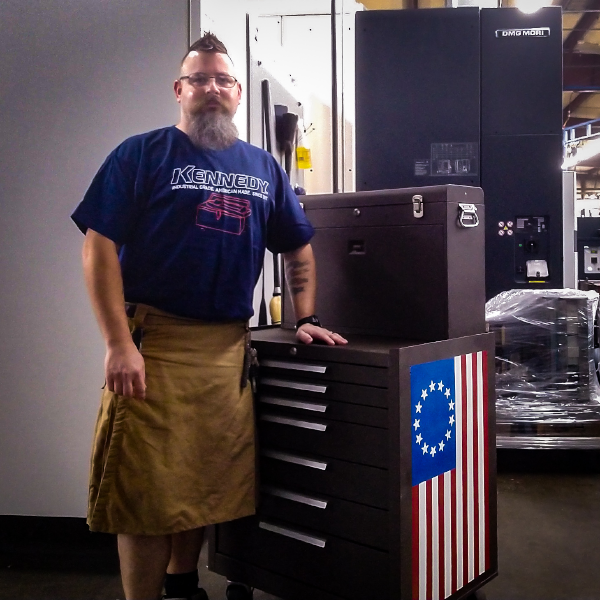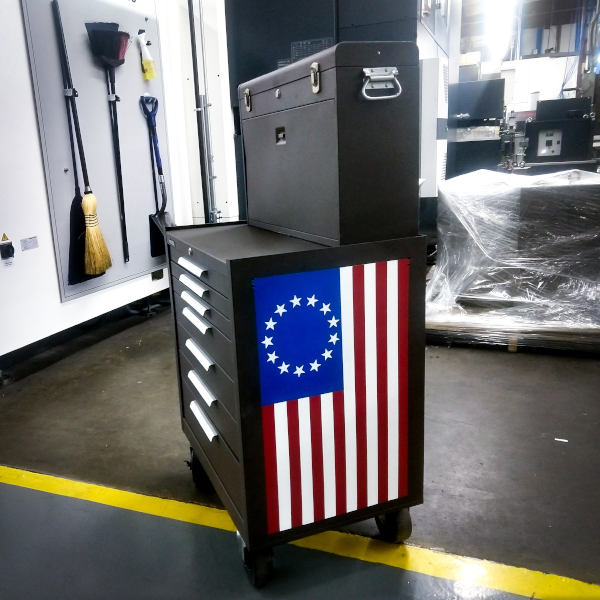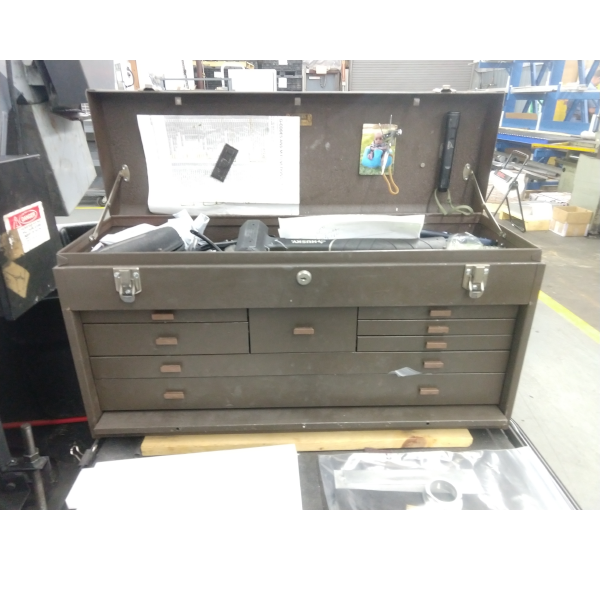 Michael J
5/22/2019
I bought my vintage Kennedy 520 top box on ebay since it was local to me and included a lot of tools. The previous owner must have been some sort of jeweler judging by the size of the tooling that was inside. I've never seen such tiny drills. I saved most of it even though I don't have much use for them. Now the box holds my indicators, micrometers, calipers, a couple height gauges, V blocks, 1-2-3 blocks and other important tools that I want to keep safe.
I have another box (526) that I pulled out of a scrap pile. It's in pretty rough shape but it only cost me $15. That one holds my mill and lathe tooling.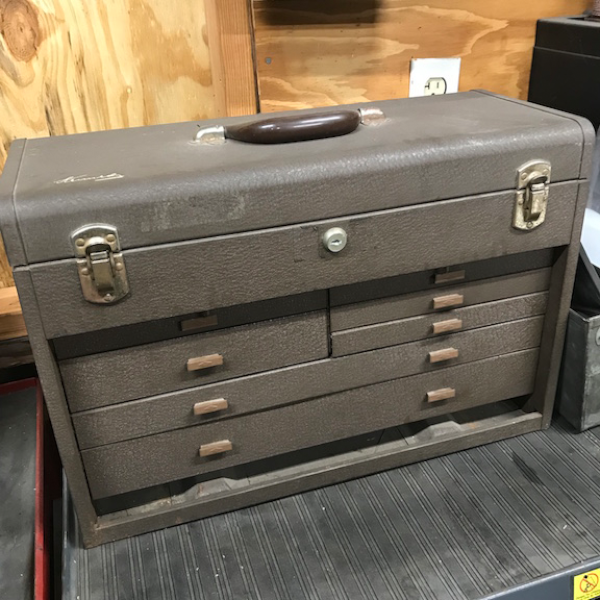 Jonathan A
5/26/2019
520 7 drawer top along with MC22 base, Bottom box is a 294, Kennedy cart beneath it all and a file cabinet on the end, all scores from Craigslist.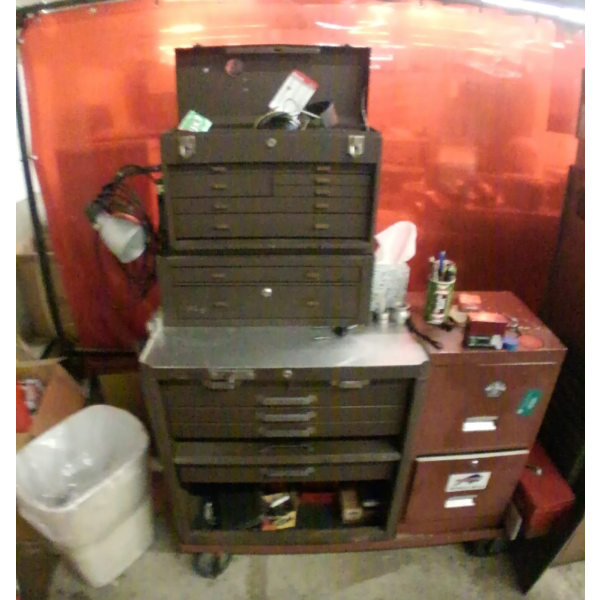 Tim B
5/25/2019
I was getting into reloading and came across a package deal a guy online was offering. The model 52611 Kennedy box along with measuring tools and dies, as well as some odds and ends. At the time I wasn't aware of the following Kennedy boxes had. The small, shallow drawers are ideal for a hobby like this where you need to organize dies, measuring tools, etc. I took a job in maintenance and debated bringing my Kennedy box in to organize my machining tools, but this box is too nice for that. I'm going to keep it at home in my basement for now.
Jorge G
5/29/2019
I acquired my tool box from a tool and die maker at a stamping company I use to work at. I was a tool and die apprentice at the time.  I was able to get him to sell it to me for $60 after I begged him for about 6 months. Then I restored it myself. The top box I bought from one of my classmates in the machine tool technology course I was taking. The side box I fabbed myself and I made custom drawer handles as well.  Now it has a new life. I plan to never get rid of it.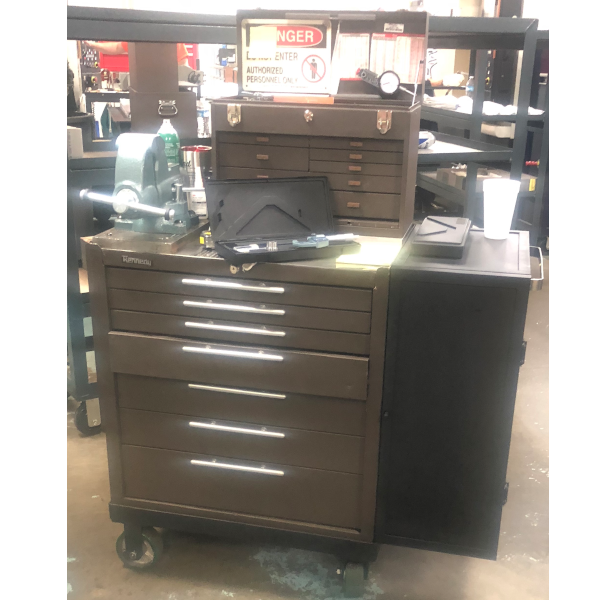 Brandon R
6/7/19
I'm a 35 year machinist and have used Kennedy my whole career...bottom box is 7 drawer.   And top box is 7 drawer also with riser in between. My tool box has helped me get jobs several times. These boxes are the sign of experience....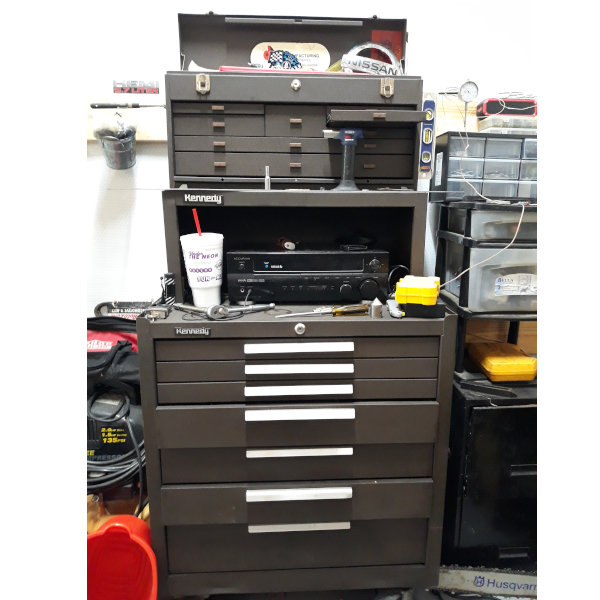 Robert J
6/8/19
I recently inherited my father's main setup for woodworking and leather work. It includes the MC28B the 526B the 185B and the 295B.  It is by far and away the best setup I could hope to receive, that I may, in turn, pass down to my son when his time arrives.  My father was a master craftsman in several disciplines, from wood to metal, from upholstery and leather to fine brush oil and watercolor painting. It is with honor, and deep gratitude that I carry on his name, using this elite tool management system, and look forward to its generational use throughout my family's future history. Thank you Kennedy, for making things that will last that long. *Photo Pending rearranging of the garage.
Terry B
6/8/19
My work box (it's so worn, I can't even see the model number on it any more) has been with me through thick and thin. It's over crowded and another is needed to help relieve the pain. This baby has seen better days, but I can't bare to part with it due to the fact it's become part of my life. It's literally become like a member of the family. I hope to one day pass the new tool box onto my son or daughter.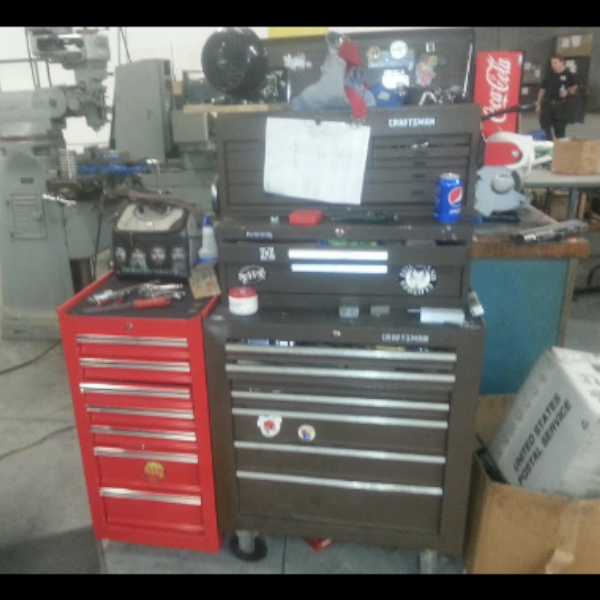 John S
6/8/19
1st box is-3611, 5150, 297X roller
2nd box is-520, MC22 ,277 roller
Don't have any pictures. I work in a tool room of a press shop
Matt J
6/9/19
I have a 15 drawer 315XB maintenance box with a 5 drawer add on 205XB hanging on the side it's a great toolbox.
Ryan D
6/9/19
526 top box with 28 1/2" riser. 6 drawer machinist top box on top of matching cart. Combined with a Snap On roller cabinet and Mac side cabinet inherited from my father.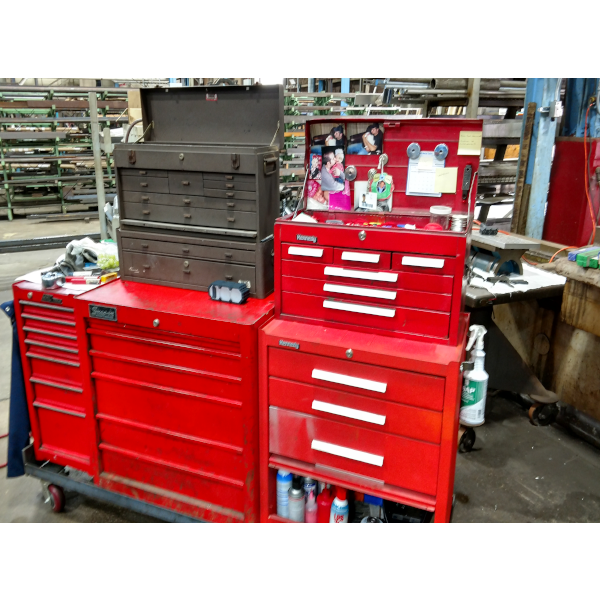 Andrew P
6/8/19
Here's my 526, MC28, and 295 bottom box and a CT4.  These have served me very well. I have several other Kennedy boxes and accessories. I found two old stock CS19 still new in the box from a hardware store in new England and have stored them away to give to my two sons when they get older. I have a couple K20's and an older CS19 box of my own. Kennedy toolboxes are the best ever made and I would not use anything else on the job. No other boxes can handle the drawers being opened and closed hundreds of times all day every day for a lifetime.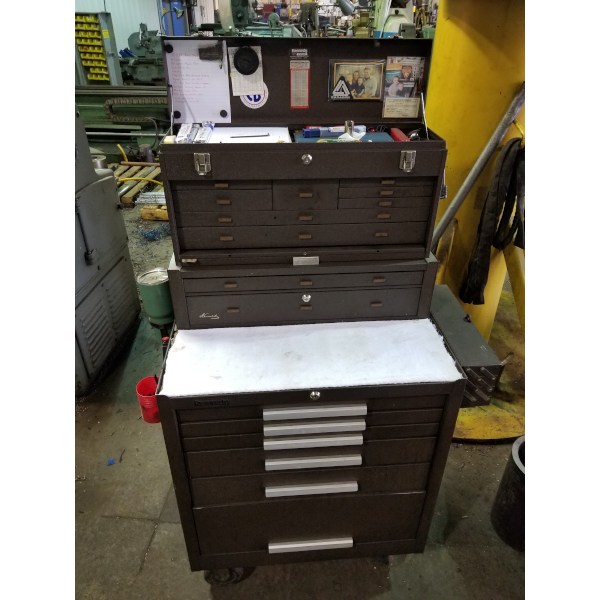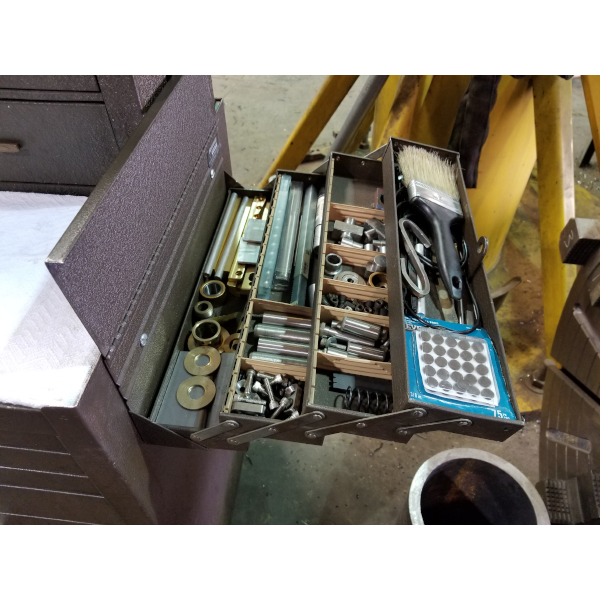 Mike M
6/10/19
They were a hand me down from my father, as I followed his foot steps in the machining industry.  I own a 5 drawer 285 series, 7 drawer 297 series roller and a 206 series side cab at my work and Snap On and Craftsman at my residence.
Gerald S
6/11/19
My first tool box was in 1977, a hand me down cantilever type tool box with a broken latch my brother gave to me as he just purchased a new one.  I loved the trays in the top.  As soon as you opened it, all the screws and wire nuts were there and room for my Klien tools.  After fixing the latch it lasted another 5 years before I purchased a new tool box, the same type.  She sat patiently in the back of the work area keeping all my tools dry, safe and from harm.  "It weighed a ton".  All in all, it is the best tool box I have ever owned and I am on my third box now.  My store R J Marchand keeps me well supplied.
Paul J
6/11/19
When I was an apprentice Die maker I noticed that the experienced Die makers all had these cool looking toolboxes that I had never seen before. One day I finally ask who made those cool boxes and where can I get one? They told me that when I'm skilled enough and making more money as a Tool maker, I could afford to finally own a Real Kennedy tool chest. So over 5 years later I was finally able to buy my side by side Kennedy roller chest from a Tool and Die maker that had become an engineer for the same company where he served is apprenticeship. Once I was able to own his beautiful piece of working history, I eventually went back and bought his Kennedy 2 drawer divider and his Kennedy 11 Drawer top box.
I loved the Kennedy's so much that I now own 11 total that I've bought from retired Machinists, Tool makers, Die makers and mold makers. I loved the history behind all of my Kennedy's and will most likely keep collecting as many as I can till I run out of room for them. I currently utilize 10 of my 11 Kennedy's in my Pattern/Mold making/Tool room department to safely store all of my personal tools and company tools as well. I am a full time Pattern maker/Tool maker and I've been working in the field going on 8 years this August.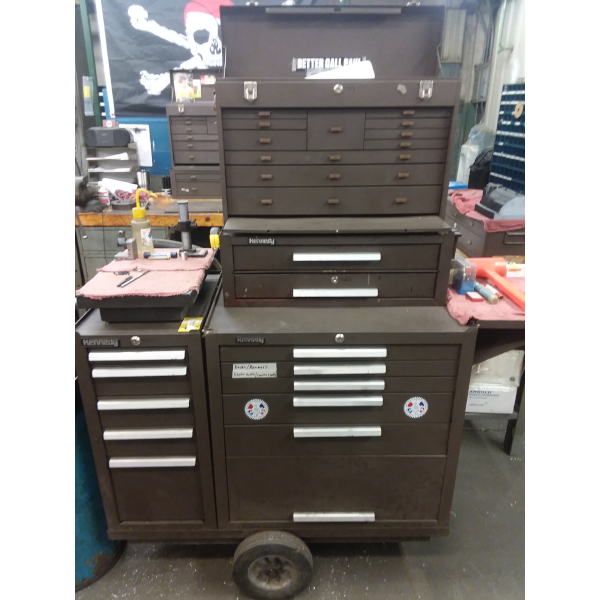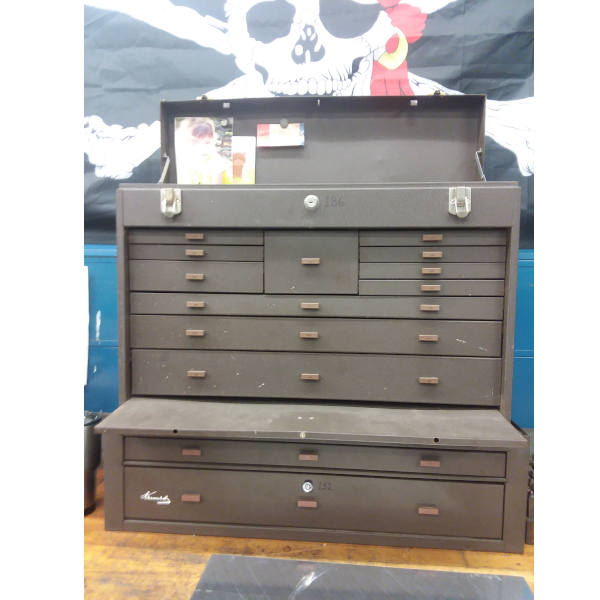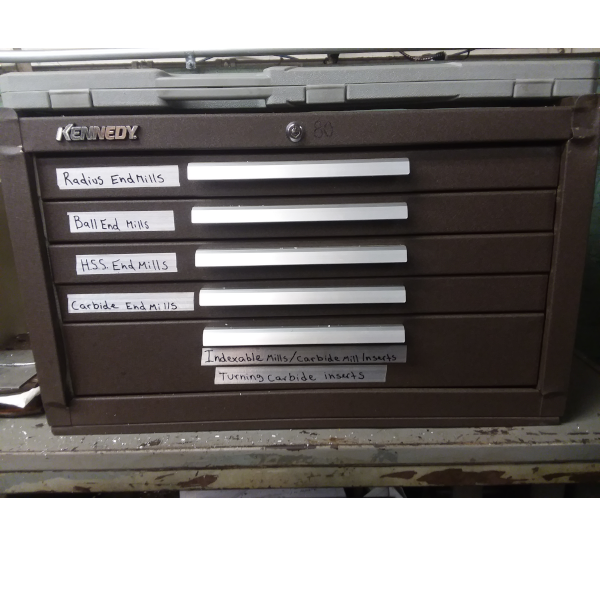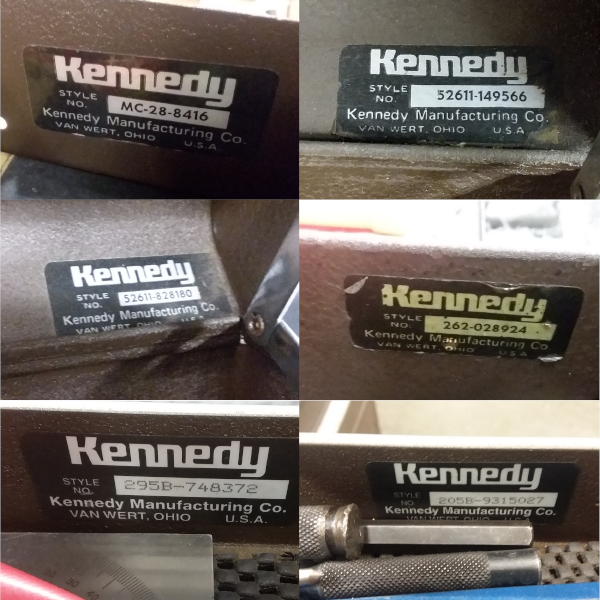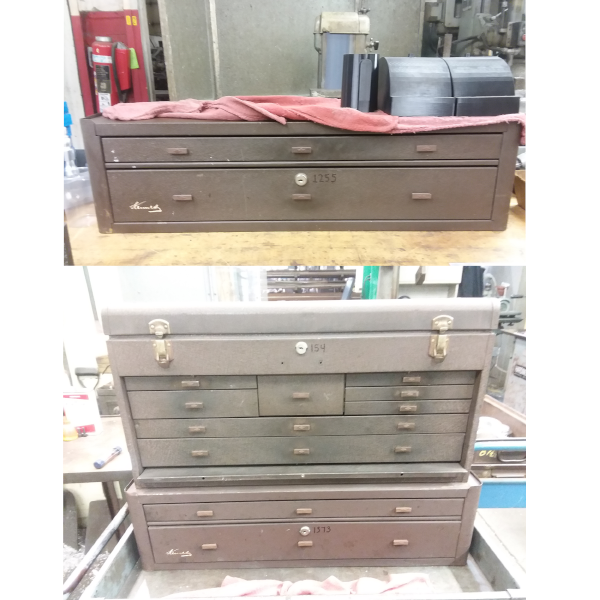 Kellen L
6/13/19
Got my box when I went to machine tool technology classes at Lake Area Technical Institute in Watertown, SD from 1989-1991. I've had the box since with some tools in it. Just got back into machining November of 2015 after 18 years away from this field. Enjoy being back in it, learning each and every day I'm at work. My supervisor has been machining for over 42 years, so I'm absorbing as much knowledge from him as I can, a lot of experience there.
Currently looking for a good sized bottom roller, I'm going from one of 7 machines through out the day. Not a smooth cement floor there. My top box and two drawer add on is sitting on top of a old coolant barrel at this current time.
Dominic S
6/13/19
I was going to buy it 20 years ago and didn't have the money so my dad bought it. He retired 7 years ago and I have been trying to get it. Finally a month ago I inherited it. Awesome box!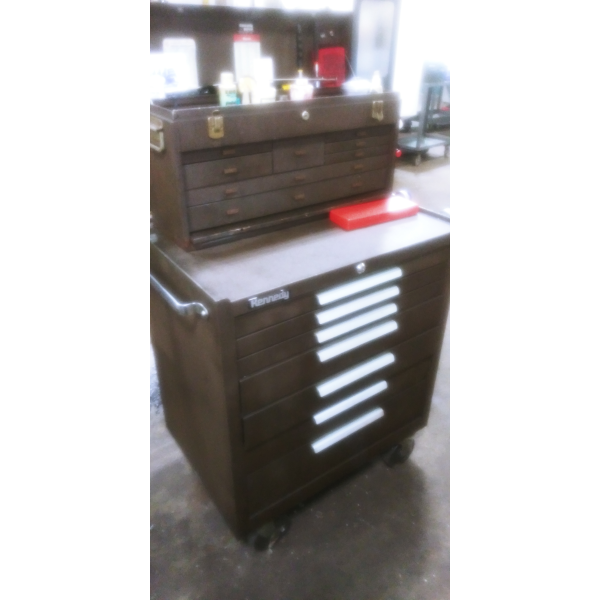 Ryan H
6/13/19
My toolbox was passed down from my Dad. It was one of his first boxes. He has been the tool and die industry for 40+ years. Box still works great for being 40 yrs old. Not sure of exact model numbers.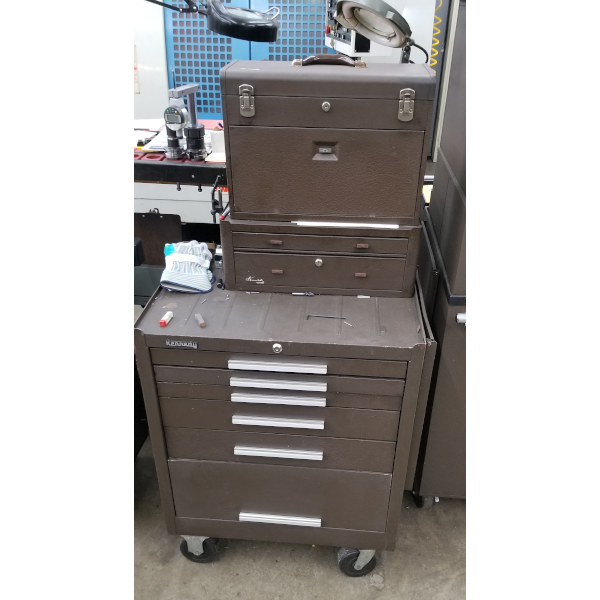 Jeremy C
6/19/19
Let's start with my toolbox(s)
I have a 2907X, 205 sidecart, and a 2805 on top.. All on a 430 Versa Cart.
I also have a really old S19 that I am in the process of restoring. What can I say? I love and live for Kennedy products.
I've been a machinist for 3 years now. If you're a machinist you know the standard on tool boxes is Kennedy! Has been and always will be.
Since I have purchased my toolbox. Employers see me as more of a professional. Especially when they catch the first glimpse of it.. they automatically know I'm here to conquer ANY complex geometry given, especially since I'm a aerospace/defense guy. My tool box has also given me a sense of security that's hard to explain. Its roomy, smooth rolling and keeps all my important and sensitive measuring equipment safe at all times with the flip of a key
I can't tell you how much I love my toolboxes, I even named her Katrina. Thank you for engineering and Manufacturing the best tool boxes on the market.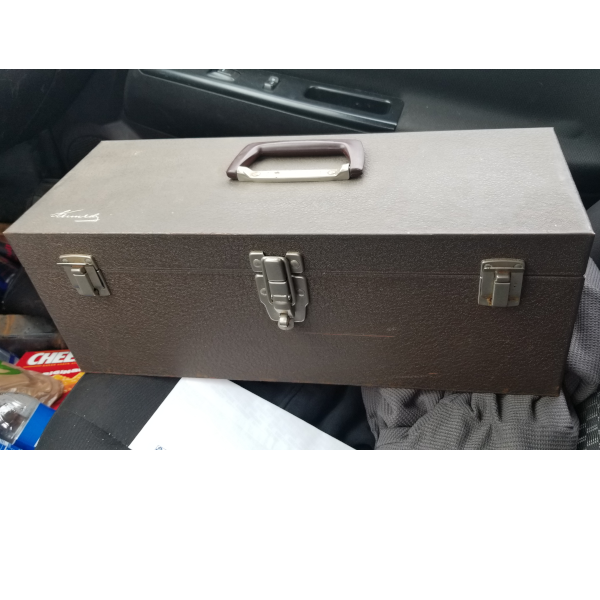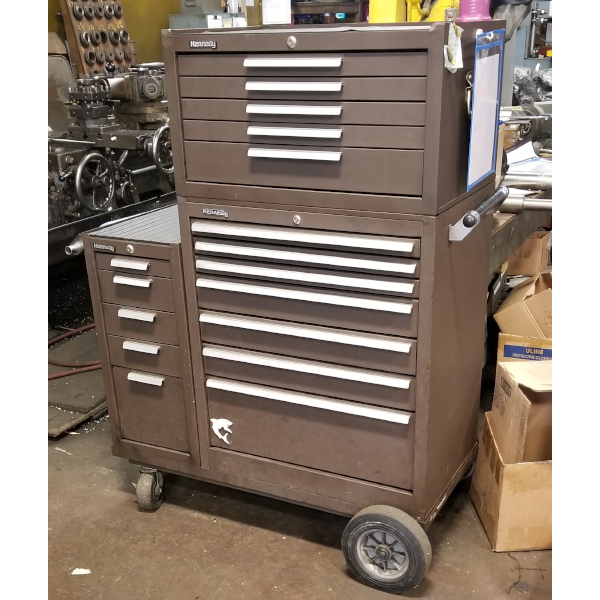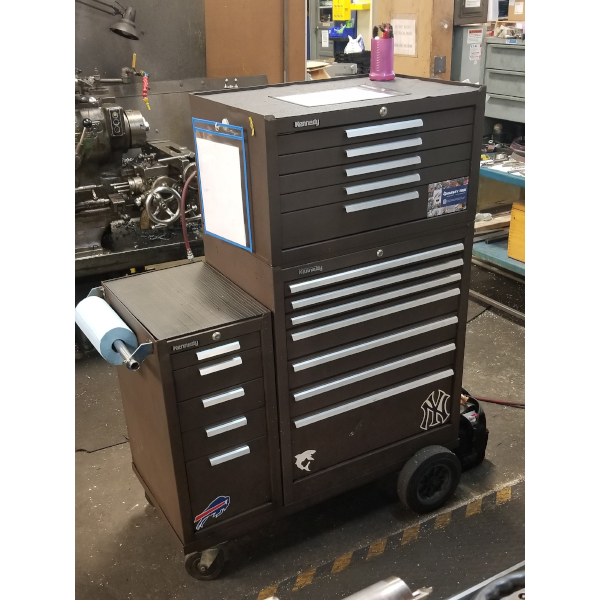 John L
6/27/19
Was given an old 526b that had spent 18 years in a barn. Refurbished it and now have a pretty nice Kennedy I use for my gunsmithing tools.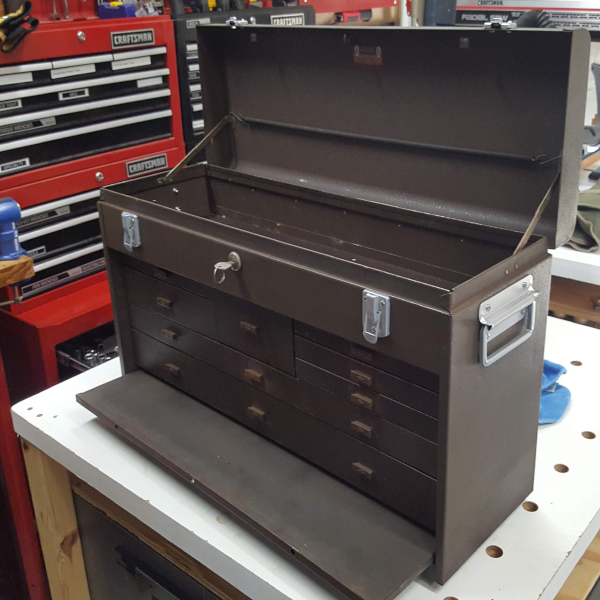 Sean T
7/13/19
Style number 526-049133
My first set of Kennedy boxes were a gift from one of the old timers I worked with.  He took me under his wing and taught me a lot about machining.  When he retired, he gave me his box and I have added to it over the years.  I now have 5 pieces with a plan for more.
Richard M
7/24/19
I originally acquired a 275 base cabinet and a 277 base cabinet with a somewhat rare 186 side cabinet in 1983. Over the years, I added a 2602 intermediate chest along with 520 and 526 machinists chests. I still have them today. They do have a little wear and tear over the years but work as well as when they were new. I'm not a machinist by profession however I wanted to get what I considered to be the best tool cabinets and tool boxes made to use in my hobbies so I purchased Kennedy.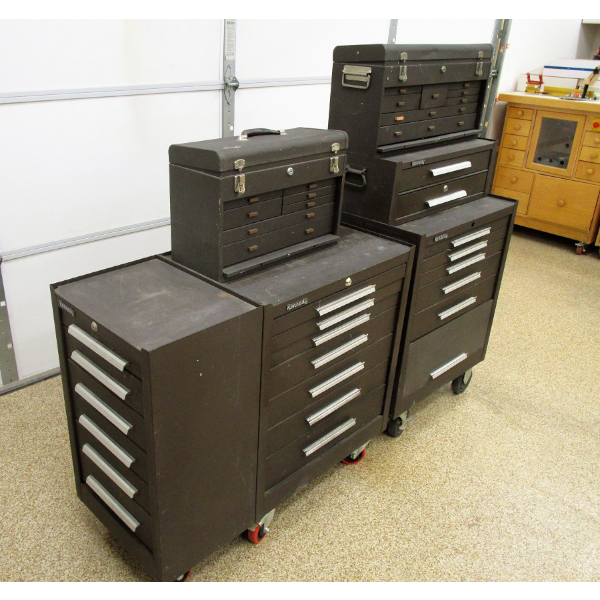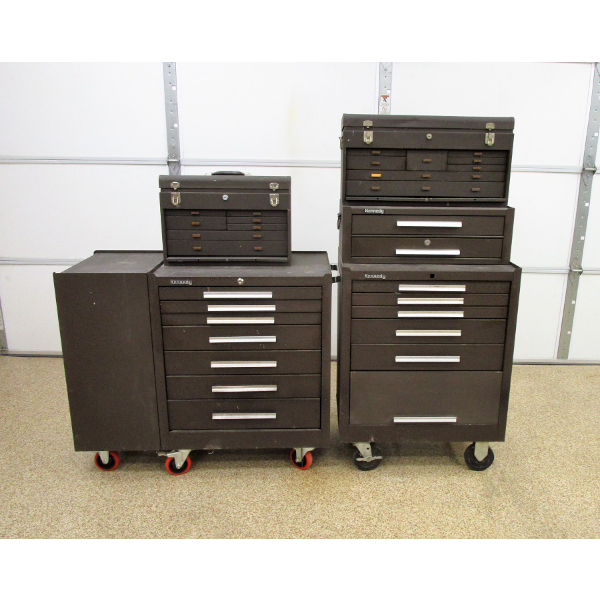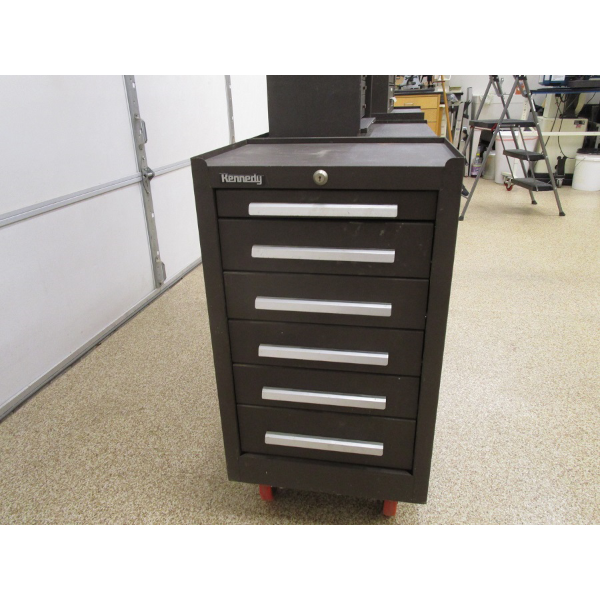 Lawrence F
8/7/19
Love the old carpenters toolbox, the K-32!  Works well for the long tools. Plus the outstanding crinkle finish.
Sean M
8/12/19
My box # is 1017-8457. My Dad gave it to me; it was his tool box. I have used it for at least 30 years and it's still in great shape. It has been the envy of others.
Michael P
9/19/19
520B Machinists' Chest - I got my first one today and I am thrilled to have a Kennedy!  It is a bit of a mess with rust around the hinges and has green felt.  I plan to restore it.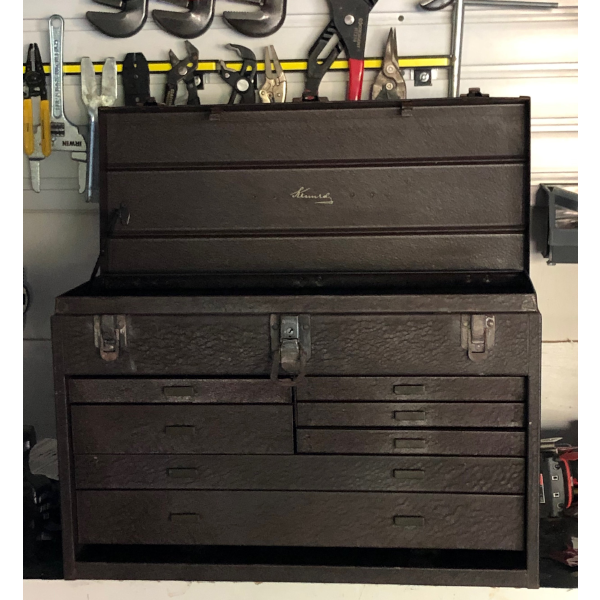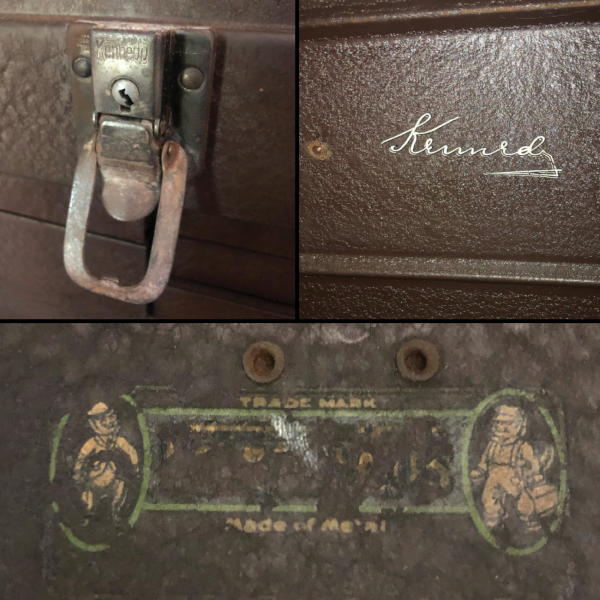 Matthew L
12/5/19
I am a Marine Corps Veteran, now a Mold Maker and I run the Tool & Die Shop here.  I discovered an old Kennedy 273-627937 in VERY poor shape in far corner and was told I could have it, so the fun began! I stripped it down, repainted, replaced the lock, cleaned up the slides, knocked out a few old dents, rebuilt the casters and now it looks and works great! My passion has begun. I found an old retired Tool & Die maker a few hours away that had a 266 chest in need of work so I grabbed that and rebuilt it.  Now I'm in search of a mid section.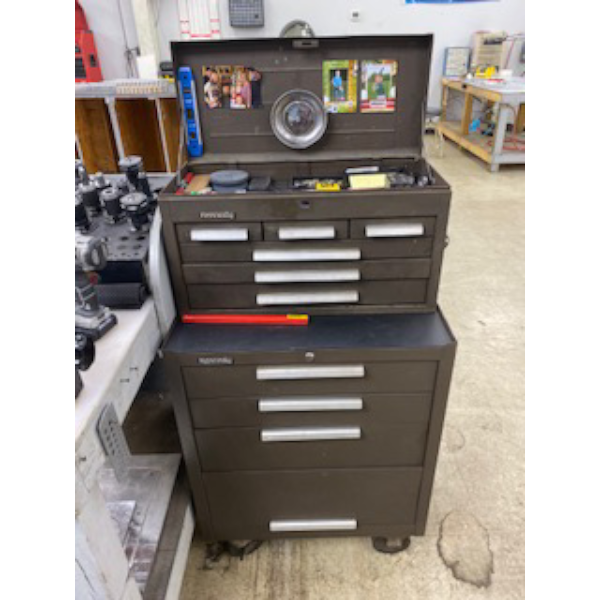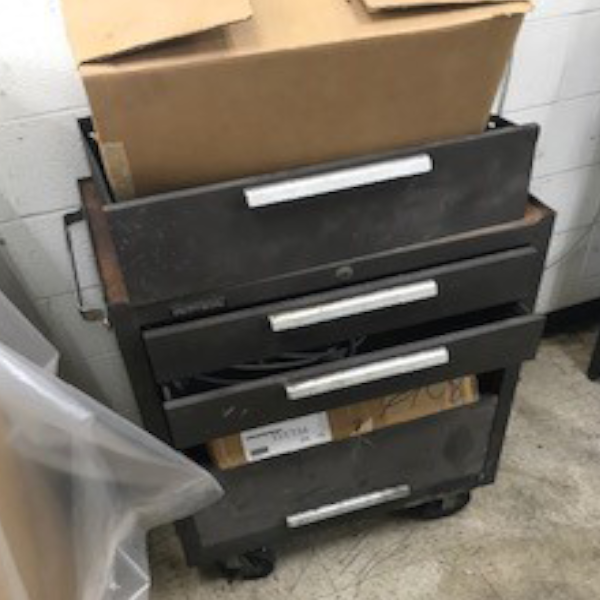 Kelly Y.
12/5/19
This toolbox, Signature Series, model 520B was my Uncle Stubbys work toolbox.  He passed away July 2018 and he left me his box. It is very special to me and I treasure it dearly! I have kept as many of his tools in it as I have been able to, as we had to pull the security lock out of it because his keys were never found.  A few relatives have had their way through it; I take peace knowing that even with tools missing here and there, I will always have the actual tool box!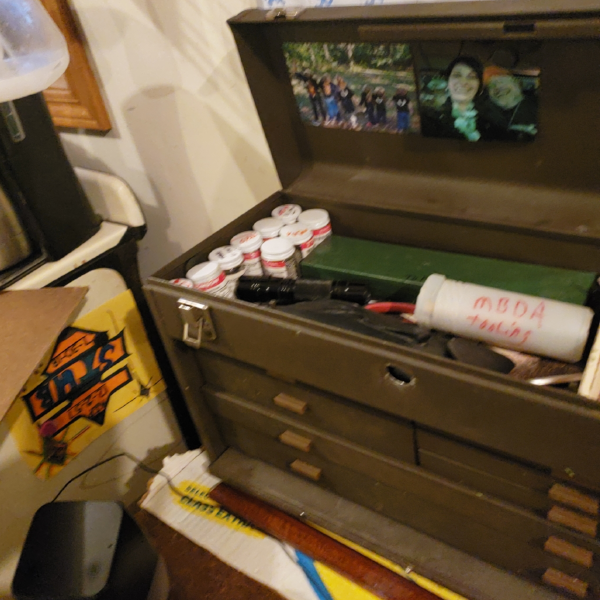 Rusty H
1/3/2020
I am a toolmaker that has been around metalwork my entire life. When I started as an apprentice, I always saw all the journeymen with their Kennedy boxes all setup and filled. I was always taught that if you look and carry yourself in a professional manner, it shows pride in your trade. The first box I bought was the 52611B. Soon after I found a used 5 drawer lower and then added the 6 drawer side facing side box. I just recently acquired another smaller top box. I wouldn't trust my tools in anything else.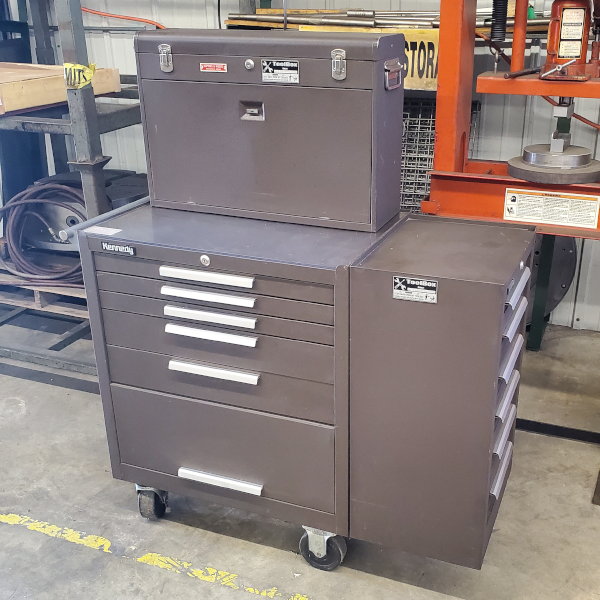 Robert K
1/19/2020
I have two Kennedy boxes, one I got four years ago, the other was my dad's that he got over twenty years ago. With as much use as it's had, the older box still looks and feels new. These boxes are built to last.  (The older box is the one on the right)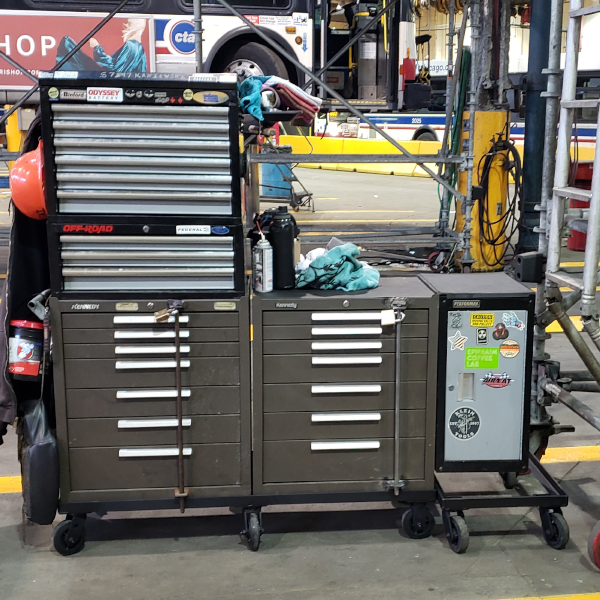 Jeff D
1/19/2020
I purchased a used Kennedy box from an estate sale. The previous owner's name was Bill Kennedy, so he simply wrote his first name over the signature logo on the top of the box to mark it as his own.  I'm guessing the box was made in the 70's.  Mr. Kennedy clearly treated his tools and his toolbox with the care and respect they deserve.  I enjoy collecting and restoring old tools, and prefer to use the tools I have restored to work on the vintage stuff I collect. I like to think that Bill Kennedy would be happy to see his box is back in service and appreciated as much as he clearly appreciated it.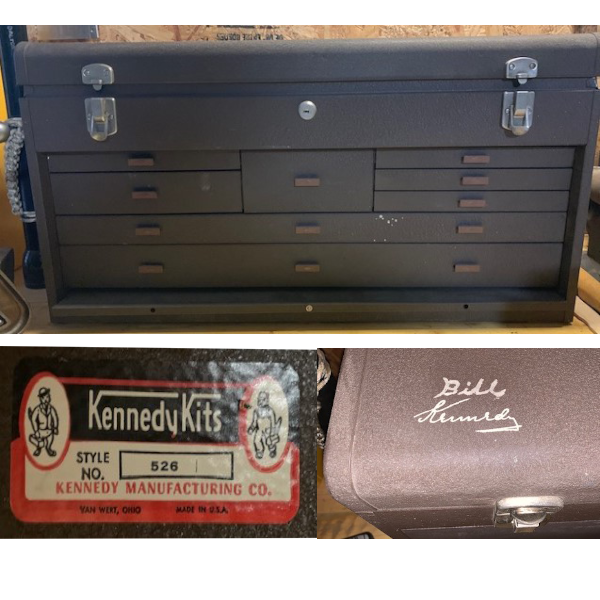 David M
1/22/2020
12 Drawer Maintenance Pro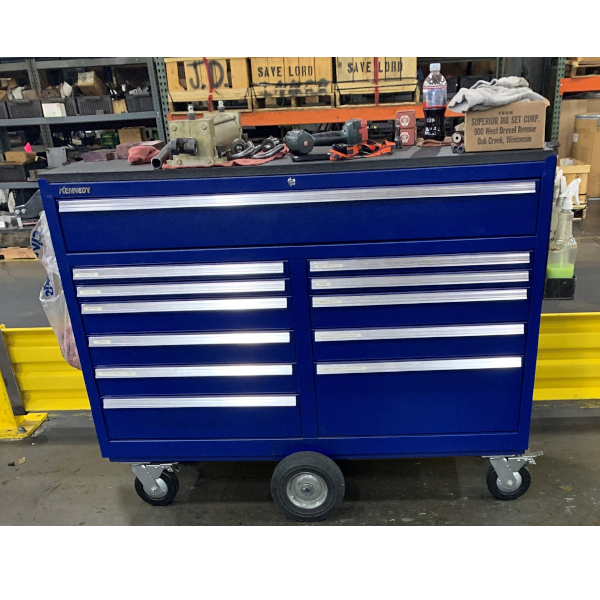 Dan S
2/12/2020
My late father, a Carnegie Tech engineer, had a brown machinists' tool box on his workbench. It must date from the mid-1950's or early 1960's because it was there as far back as I can remember (I'm 61). Dad built the workbench himself and this tool box was his crown jewel. He filled it with fine instruments —calipers, gauges, dies, punches, small screwdrivers and sockets. As a kid I used to sit on a high chair and watch him solder a radio back to life, or fix a clock. Only this week I learned that the old tool chest is a Kennedy Model 520B. The chest is mine now.  And I will cherish it.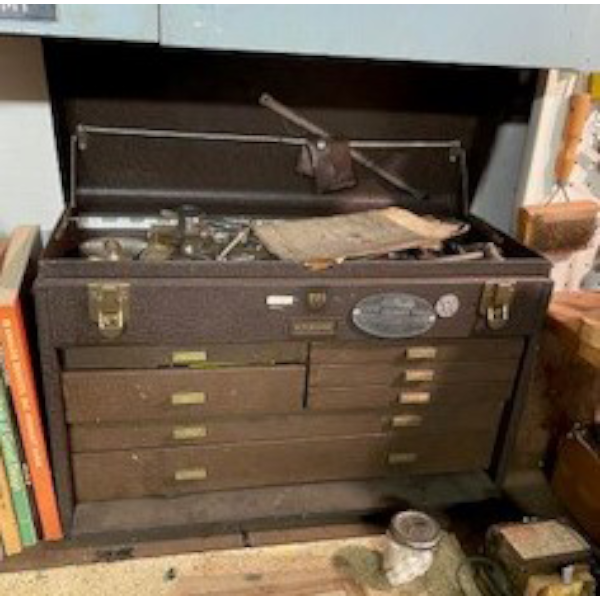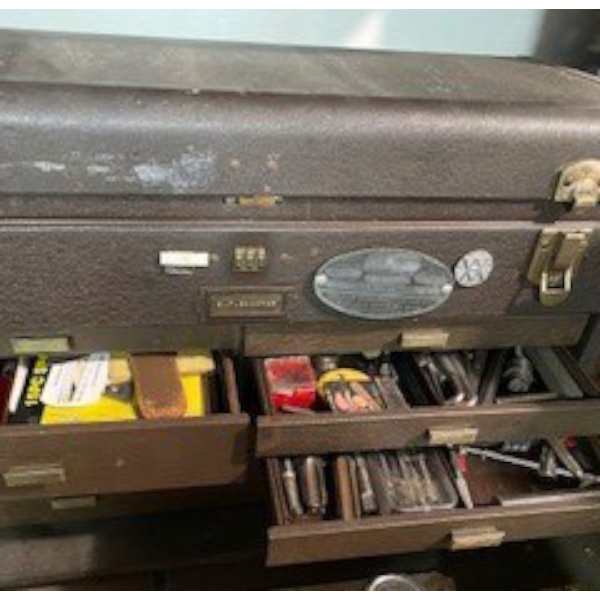 Stephen F
2/13/2020
My father purchased a 520 Kennedy Machinists' Chest around 1968 for $50. He built a mount on the step of his 1963 Chevrolet pickup. This chest has survived decades of exposure to extreme weather conditions.
In 1980, when I received my driver's license, I inherited the truck and tool chest.
52 years later, this tool chest still sets on the side of the 1963 Chevrolet pickup.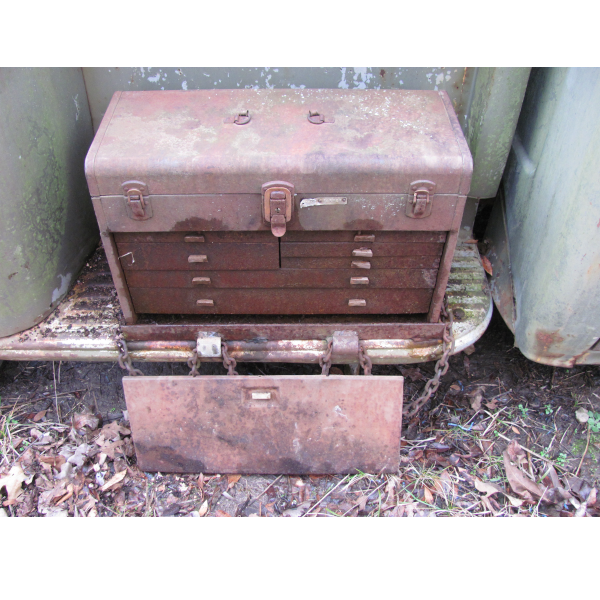 Steve T
3/7/2020
Have used Kennedy boxes for over 45 years; tough and dependable. 1 broken drawer slide in any box used over the years. What a record. Current set-up is at a max and still works great.  Only regret is I wish the lowers were 24" deep to accept longer tools.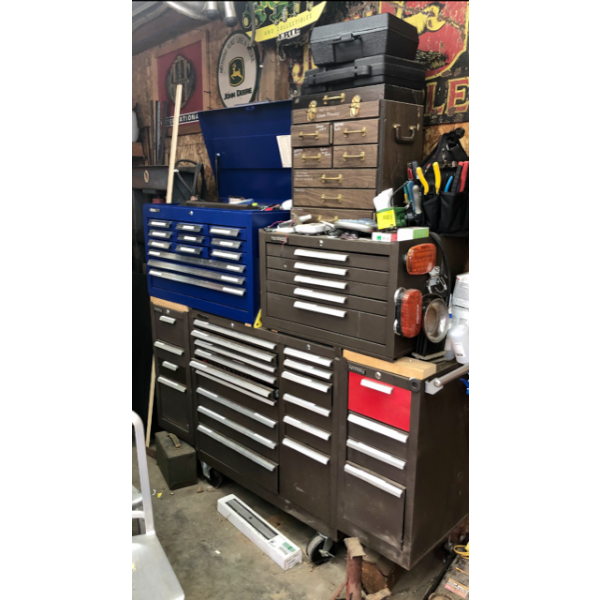 Jeffrey M
4/4/2020
526 8 Drawer Machinists' Chest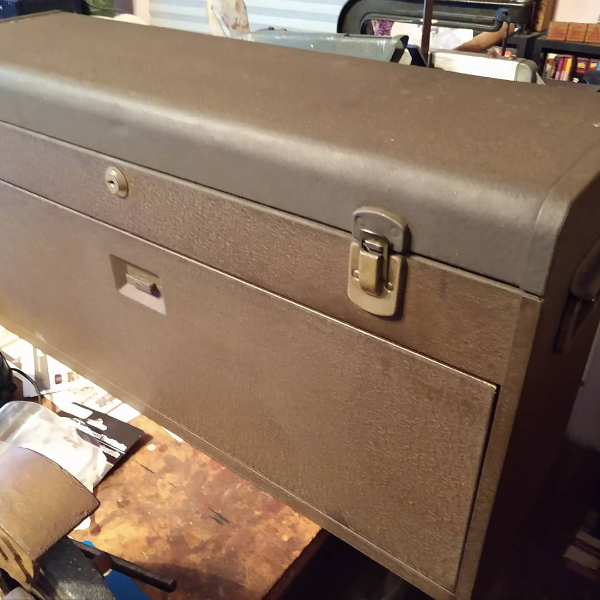 Geoff O
4/28/2020
220B and 520B
Just began journey of upgrading all my hand tools and of course needed USA made tool boxes.  After extensive research and buying all new SK & Wright tools also wanted the very best tool boxes to carry them in.  So, here I am.  I currently only have your 220 and 520 models but will adding some others soon.
Love your story, build quality and design aesthetic. Only regret is, I didn't find you sooner. But these are heirloom-quality that I will pridefully pass-on to my two children when the time is right. THANK YOU. MADE IN USA MATTERS, MOST!
Richard L
5/12/2020
520
In my collection I have a half dozen Kenny toolboxes.   The one I use everyday is my model 520, but the pride of my tool collection is a hand built metal box that looks like a doctors bag but made with metal.  I was given this and by a Family member of a gentleman who personally knew the Kennedy's and I have a personal letter talking about getting the tool box.
Scott N
5/9/2020
I have an old Kennedy Cantilever box that I purchased when I was a new Millwright Apprentice in 1971. I have lusted after the 520 and 526 boxes since then, but with a family and circumstances I was not able to acquire one of those. In fall 2019 after retiring, I started purchasing at storage auctions. In one of the units there were two WWII era 520 boxes. Both are rusty with one using #4 coated solid wire for the handle and the other missing the leather but with the paper still attached. I plan on making one new handle and re-wrapping the other, both with leather. They both have the signature on the inside of the lids, but are missing the decal.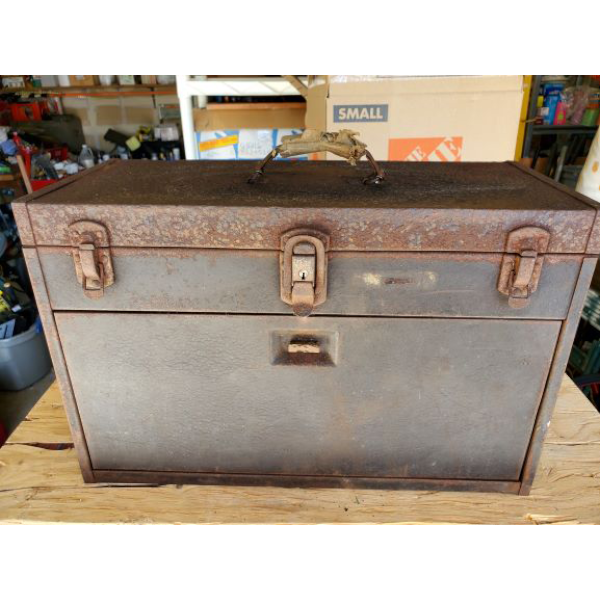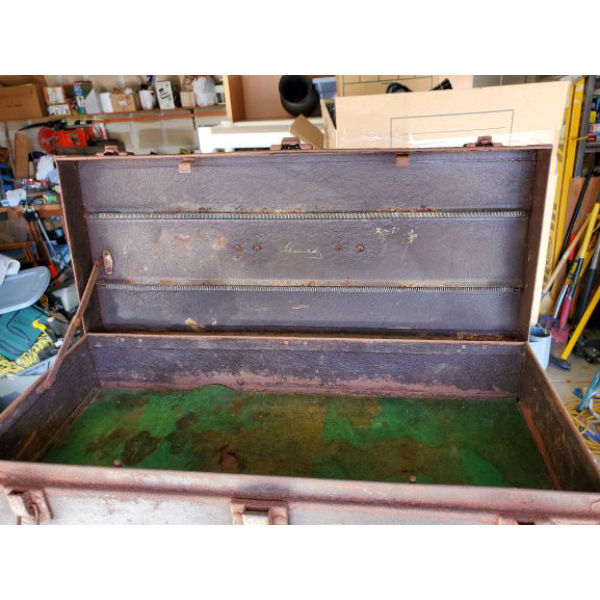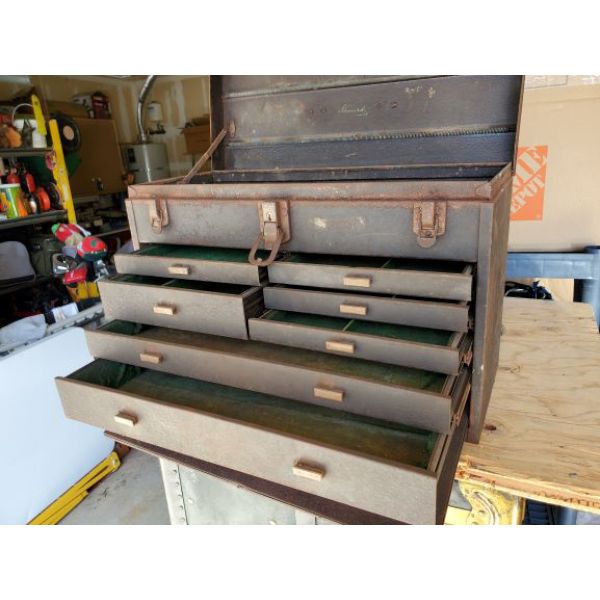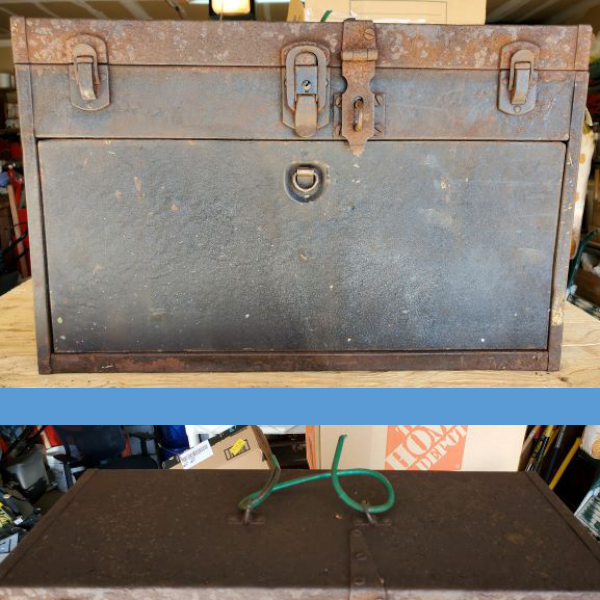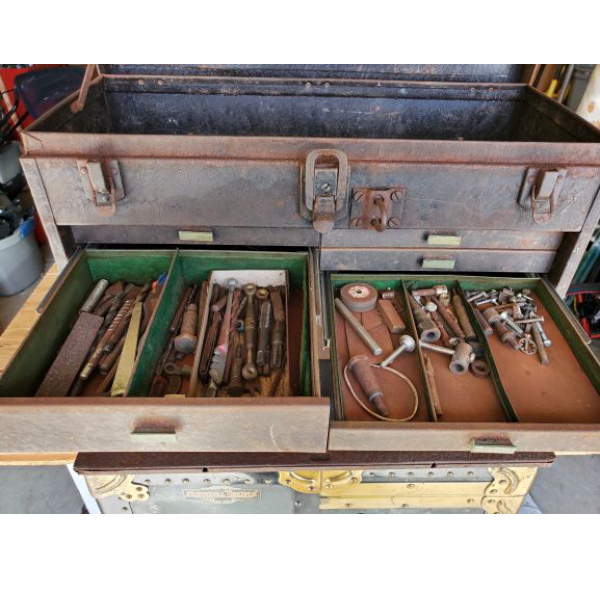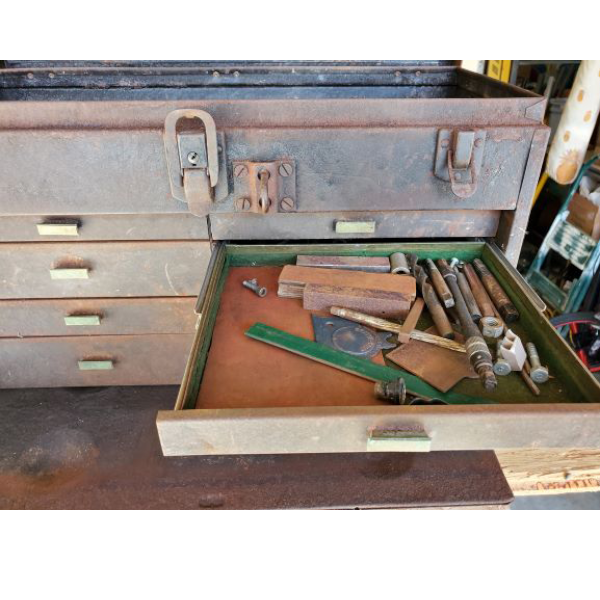 Zach D
5/14/2020
I was first introduced to Kennedy at my first job out of trade school. All the "old timers" had these fancy brown boxes. I just bought a small craftsman box which I thought was pretty snazzy. But soon I ran out of room and needed to upgrade. Along with inheriting my uncles Kennedy, that's when my Kennedy obsession began.
526 / MC28(3) / 220 / 520 (4) / 1018 / K20 / 297 / CS-19 / CS-16 / 260 / 273R / 293
Instagram:  upstatetoolguy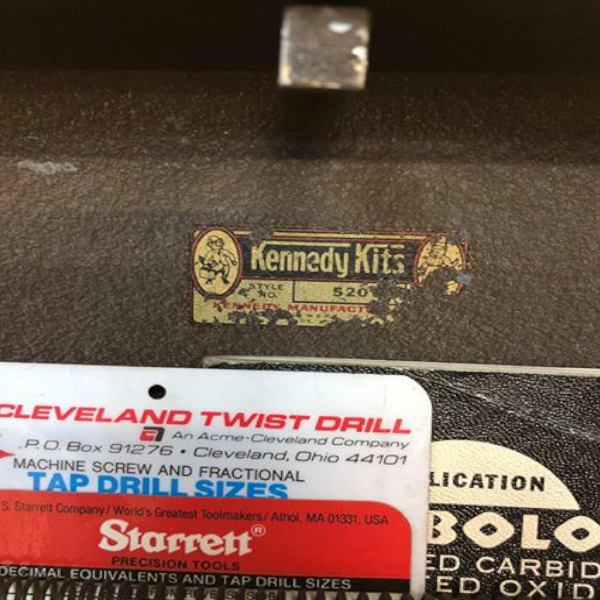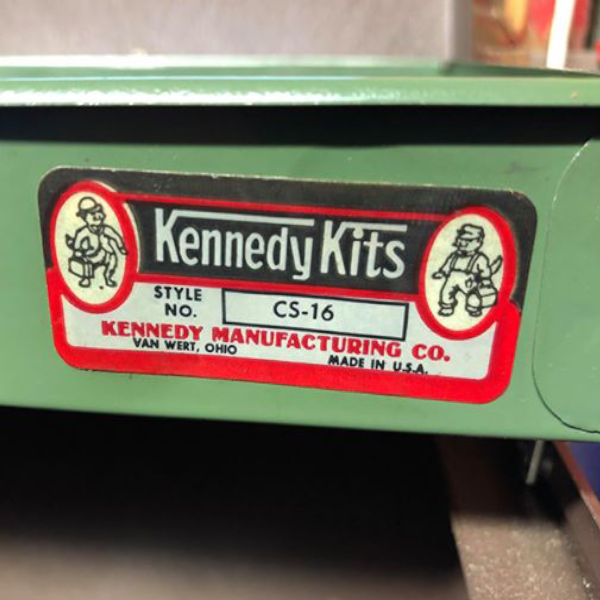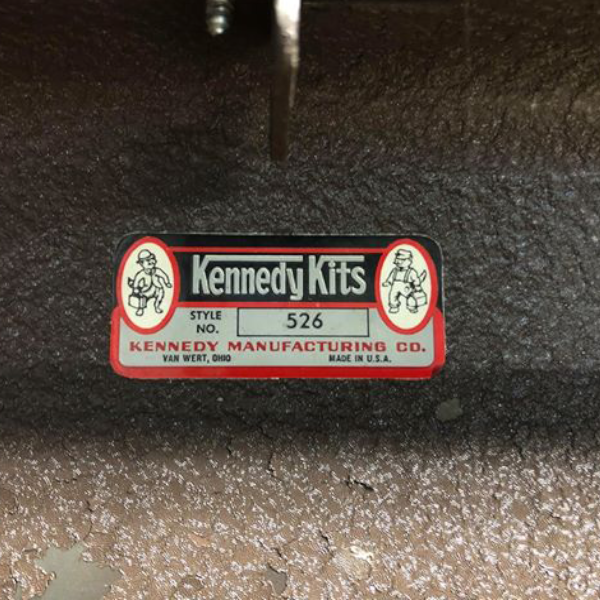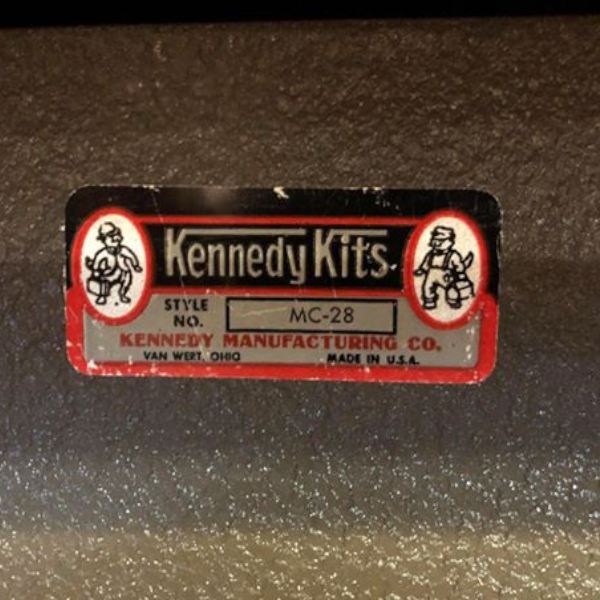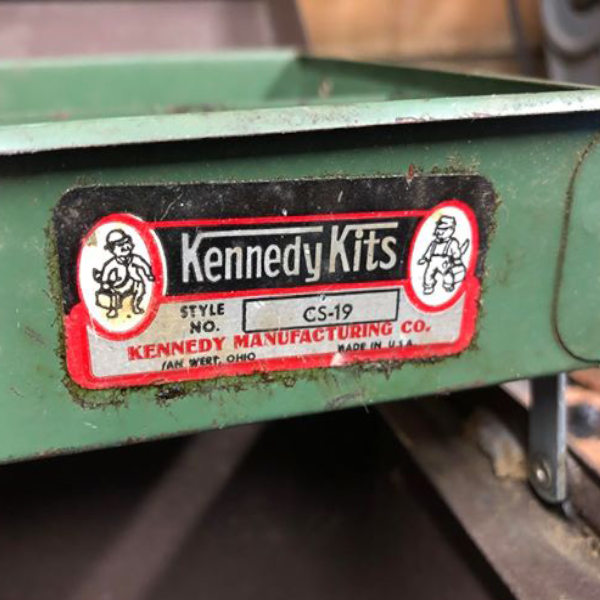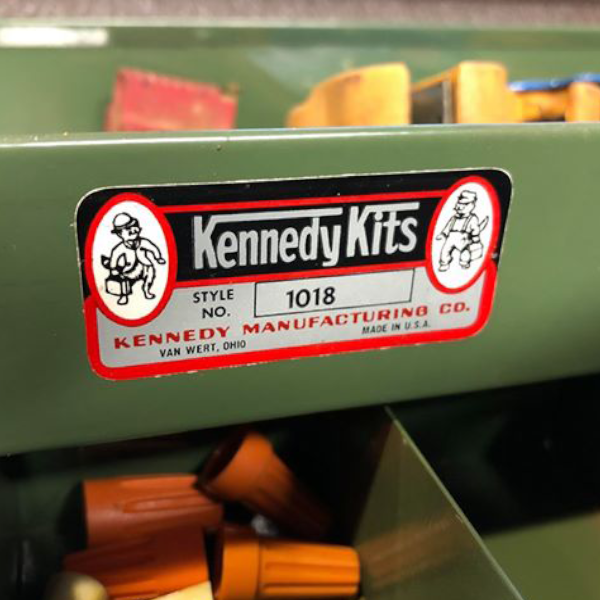 Jess B
5/19/2020
I have several vintage Kennedy boxes including a new # 3611 73 lb box with dual locks, a cantilever vintage box #1018 and a traditional #520. I find many used at flea markets and refurbish them for generations of more use.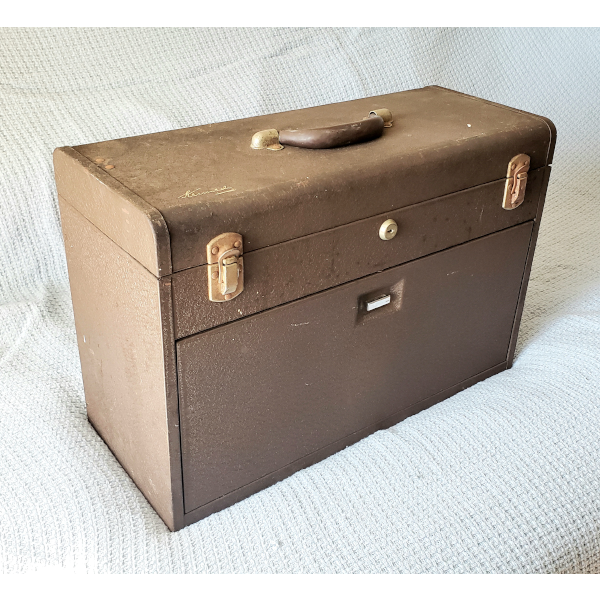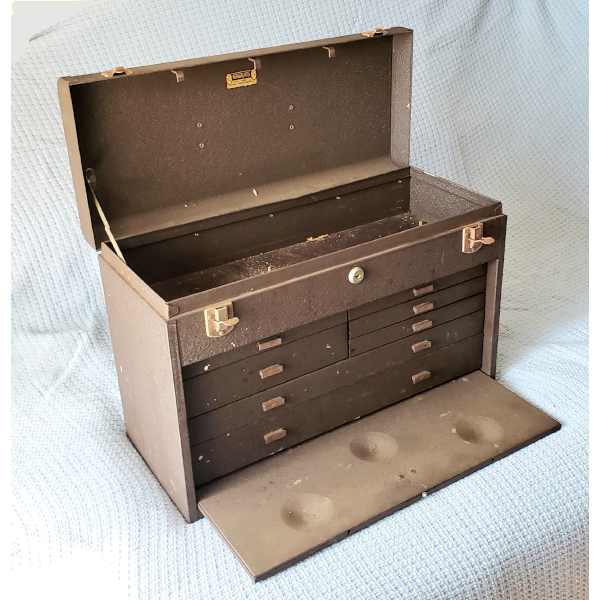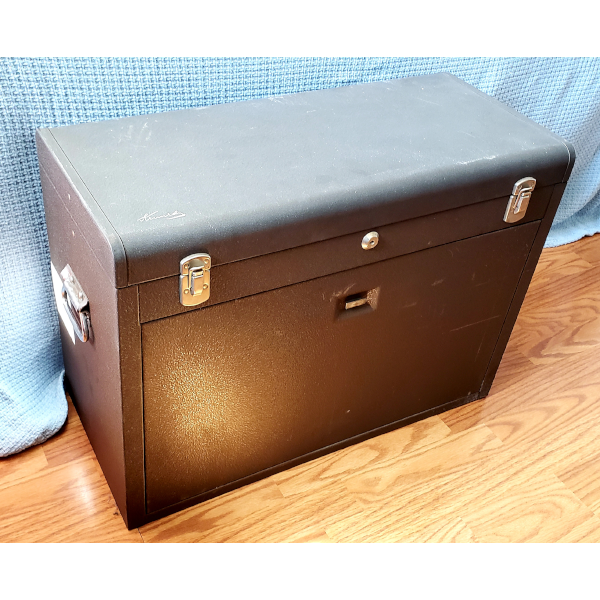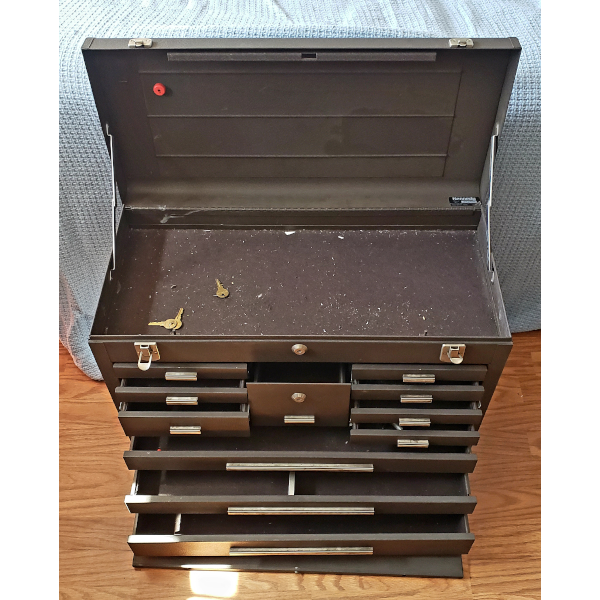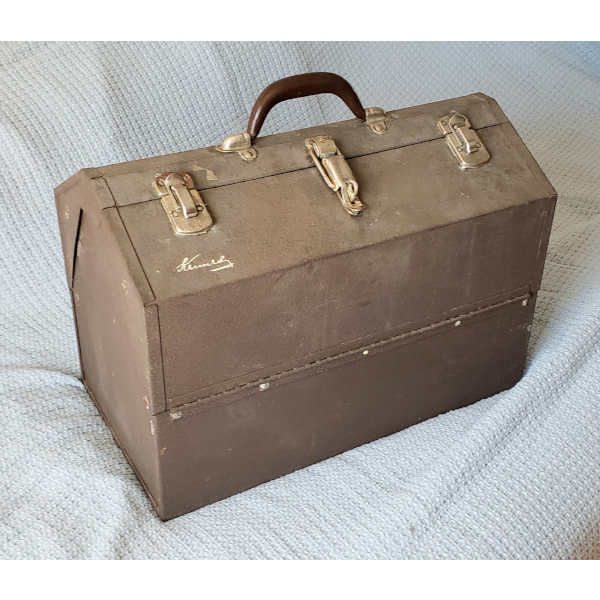 Thomas P
5/21/2020
I use the Kennedy 15 drawer roll cab, 315X. I am a prototype machinist for the US Army. I've been in Manufacturing for 20 years.
Scott H
5/22/2020
I received my first Kennedy box from my dad on Christmas in 1995. A 295 roll around and a 520 top chest. He purchased the boxes new in 1977 when he opened is own tool shop. I had started machinist courses in the fall of '95 and was saving up to buy my own Kennedy box. So I was blown away when he handed me a small envelope containing the keys to his tool box. I still have and use those boxes everyday at work.
In 1999 I purchased an additional Kennedy 297 roll around from a retiring coworker. The 295 and 297 were then attached together and set in a custom made frame. And that's how they remain to this day. I keep the 520 on a workbench at my workstation. They are high mileage and have plenty of wear and tear, but I just can't bring myself to replace them. If I ever do, it will be with another Kennedy.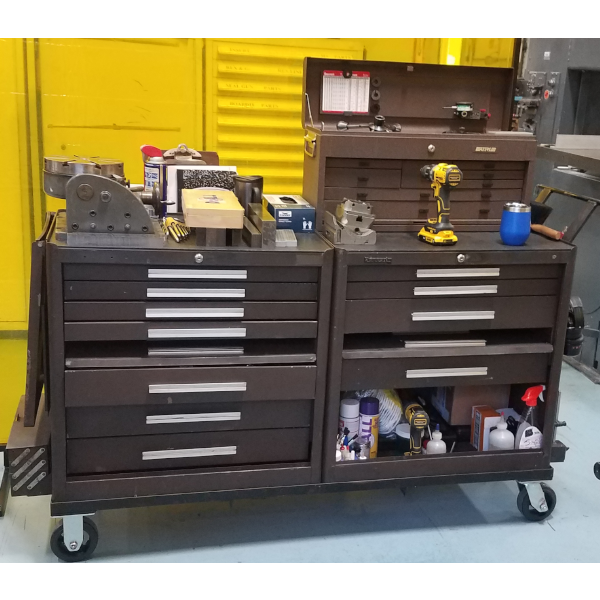 Creig B
5/22/2020
Full Set-up Maintenance Pro Series.  Two 520B and Two Mid-Two drawer
Josh R
5/22/2020
I have been an Industrial/Residential Maintenance man for a little over 19 years now. Have always admired and liked Kennedy boxes, and until recently have never owned one. At my place of work I have a 72"×30 x 44 3/4 Snap-on tool cabinet.  I'm also a fabricator and I restore old tools/toolbox's on the side for customers as a hobby.  I was asked to restore an old Kennedy box, K20-627384 and oddly enough after accepting the challange/job I happen to find myself the exact same style Kennedy box for a great deal I could not pass up. But with so many tools and lack of storage, that great the Little Hand Held Kennedy just isn't going to do it. I have in my shop at home 3 (Three) 5 to 7 drawer roller tool box/cabinets that are something other then Kennedy. One is great compared to Kennedy and the other 2 work as intended..I needed/need more Tool box/storage as my tool collection continues to grow at work and home.
I have most recently acquired another Kennedy roller tool cabinet and it says style # 295-627418 on the ID label. But can't find it or a single thing on it on here or anywhere at all. It's as if that style # or SN# or whatever it is labeled as doesn't exist. But other than that I got a great deal on it and I mean GREAT!! Other then it being the RED instead of the Brown I prefer, it is in great condition. So for the $100 bucks that I spent to acquire it and the K20-627384, I will use them in the condition that they are in until I can find accurate info on them so they can and will be professionally restored to the CORRECT SPECS down to the style and color of paint.
No pictures right now wanting to take them in stages, from time they entered my shop, all the way to restoration completion.
Tresa T
5/24/2020
I actually bought my first Kennedy toolbox at a thrift store. Got it home and fell in love with it! I love to work on all kinds of things but mostly do jewelry repairs. My tools are all very expensive, hard to replace and have to stay in very good condition in order for the repairs to turn out properly. Unfortunately, all my friends as well as my husband seemed to like using my tools for various things that they were not meant for and damaging them. My Kennedy toolbox put an end to that with its fold up front and key locks! Saved me so much money and frustration. The quality of the boxes are outstanding. I am a Kennedy fan for life!
Ken K
6/21/2020
I recently got the 310X roller cabinet, still great quality.  I still have a small upper tool chest that I've had since 1984 that I used in high school auto tech.   Was turned on by Kennedy tool boxes from my father who has an upper & lower combo since the 80's.
Michael T
6/24/2020
I have a 520 8 drawer and recently bought a MC28 base.  About 15 years ago I bought an old Kennedy from a guy at work, I have been wondering how old it is, I'm including the photos here, it has a name tag and I believe I found Fred's obituary, he passed away in 1950, interesting that the tags were still with it and well preserved.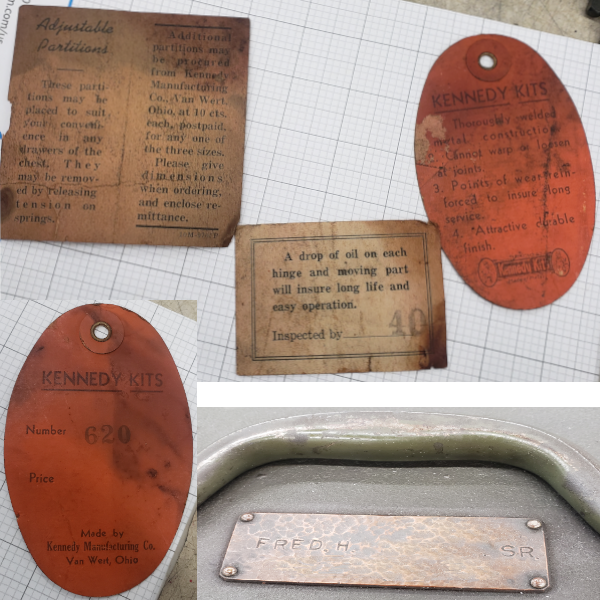 Spencer N.
7/16/2020
Purchased a 3 piece set consisting of a 520, MC22, and 270 base, shortly outgrowing them, I was able to find a 52611B in nice condition and then a MC28 at an auction. On the hunt for a base with more drawers currently.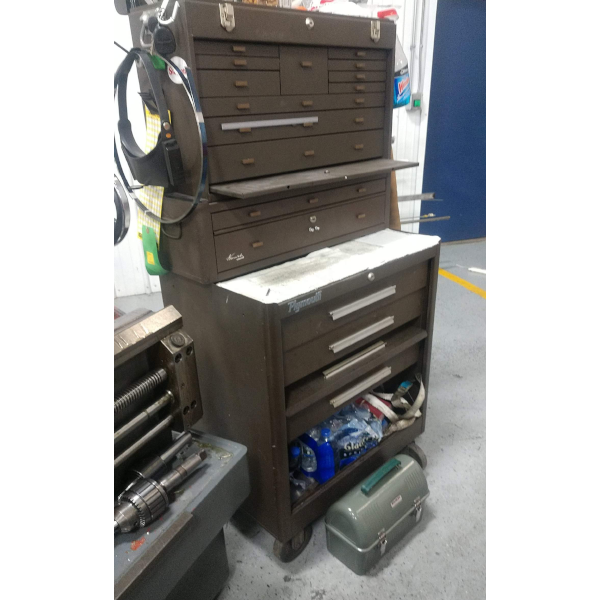 Stephen R.
8/10/2020
My first was a Kennedy carpenter toolbox passed down from my father.  A few years later, my uncle gave me a cantilever toolbox.  My older brother retired from a machine shop. He gave me his 7 drawer top chest. I bought a larger top box.
Chester W.
9/8/2020
I've been a machinist for 10 years and I own 6 Kennedy Toolboxes. In my opinion they are the best toolboxes to have in my field, especially the 52611 Machinist top chests to store and protect measuring equipment. I have a couple in the garage at home as well. They are quality made toolboxes made in the USA and should I need another tool box it will be a Kennedy.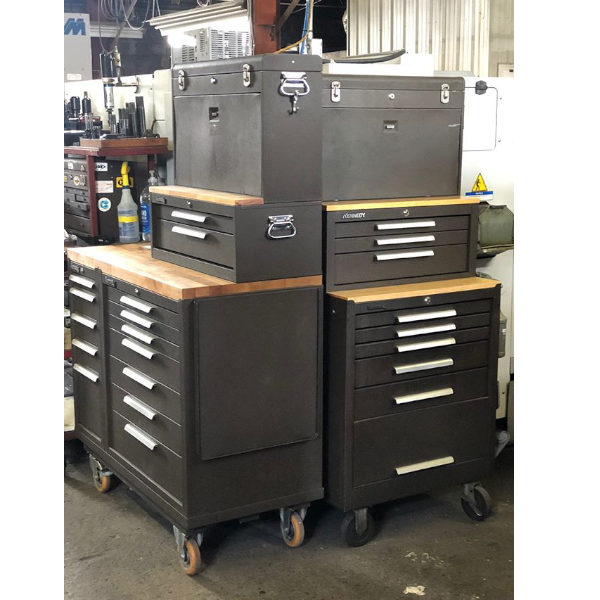 Bill B
9/29/2020
Purchased Model 52611 in 1981 and used it everyday for 33 years until retirement in 2014. Recently passed it on to a young machinist and hope he can use it for another 30 years. A quality product that really does last a lifetime.
R.E.F.
10/6/2020
Have a 520 silver Kennedy that was made for Montgomery wards, (3) 285, 295, 52611, K20B, 220B.
Jeffrey M
10/6/2020
I finally got a Kennedy chest this year at a machine shop auction in Davenport, Iowa. It's an 8 drawer machinist chest (526) that they probably bought new in the 70's.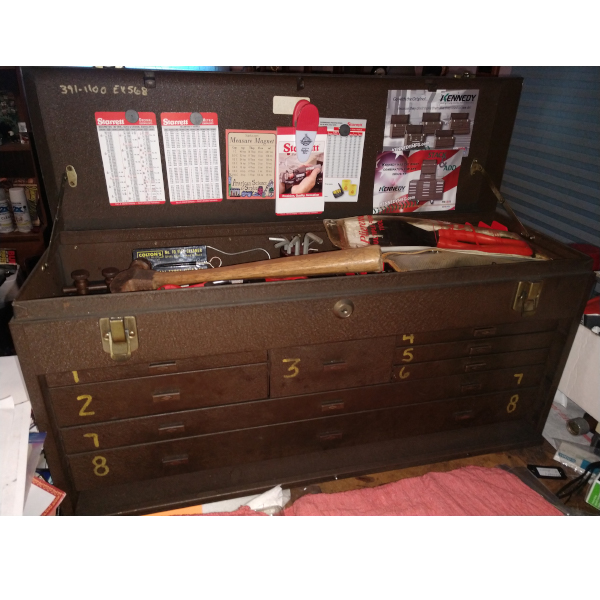 Nathan L
10/20/2020
I had the opportunity to pick this toolbox up from a long time friend and refurbished it this past Spring. I actually had lunch with his dad last week who owned it before him! THEN while talking to him about it, I came to find out HIS dad actually gave it to him!!! I had to give it ALOT of love but now it's a beautiful addition to my shop that will serve me and eventually my own kids! I did have a friend of mine make a custom badge for my woodworking shop for it instead of the only beat up Kennedy logo, hope that doesn't offend!  (297R - 7 Drawer Roller Cabinet)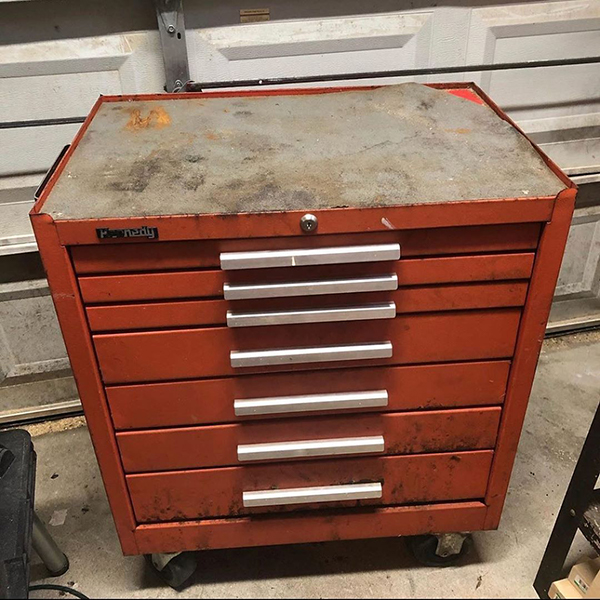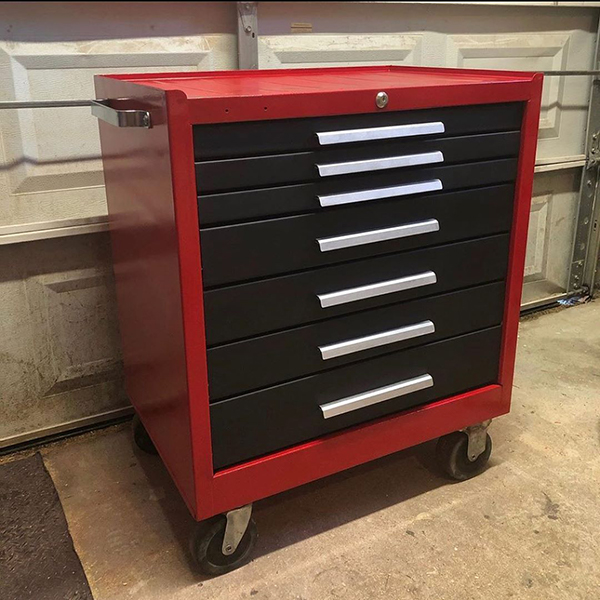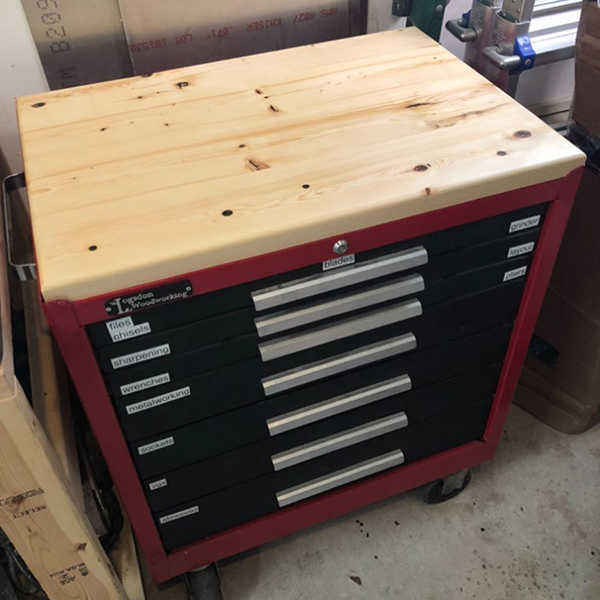 Lucas F
10/7/2020
Love this tool box ..295, MC28, 526.
Tom P
10/21/2020
273B / 273B (vintage) / 273-336425 / 620 / 1117-AL
William T.
11/13/2020
I have two Kennedy tool boxes. The first is a 7 drawer Apprentice Chest that belonged to my father who worked for Gruman Aircraft on long Island, N.Y during WW II building the Avenger torpedo Bomber.  He gave it to me after he retired as an automobile mechanic in 1969.  I plan to refurbish it and pass it along to one of my grandsons.
The second, is a 52611 11 drawer that was purchased by me after selling my business in 1994.  I did consulting work for the Automotive Industry, namely Chrysler Corporation for the Dodge Viper.  It was used to store and protect many of my precision tools that I used for inspection and layout.  Since retiring in 2002, I have used it in my home workshop supporting my hobbies; woodworking, metalworking Model railroading and maintenance of my boat.
Mitchell B.
12/27/2020
I bought my first lower toolbox on Craigslist and inherited 4 upper toolboxes from my Grandpa, who spent most of his life working in the tool & die industry. Upper P/N: 526, Lower P/N: 275B
Robert D
1/4/2021
I bought my box set, all new, through a company I worked for back in 1995-1996 . I purchased the 297-7 drawer bottom box , 27" 2 drawer middle box and the awesome 26" 11 drawer top box.
I've been at a company for 16-17 years without using them at all except at home. Now it's time to put them back to use at a new job.
Justin M
1/15/2021
My grandfather was a boring mill operator for 40 years and he trained me.  Now, I have his box at the same job.
Bob B
1/21/2021
3900MPYW 8/10/2016
I bought this bad boy (yellow) and loved every moment at work with it. Older guys open a drawer and feel the ball bearing difference and compliment it. I have the only yellow one in the shop and it looks AMAZING!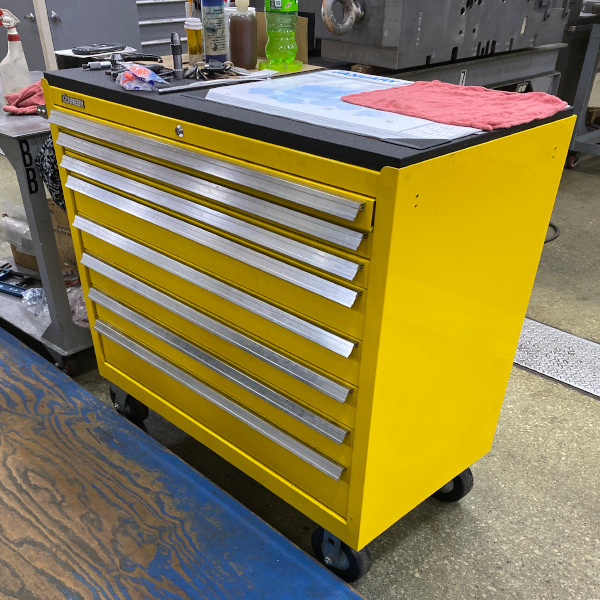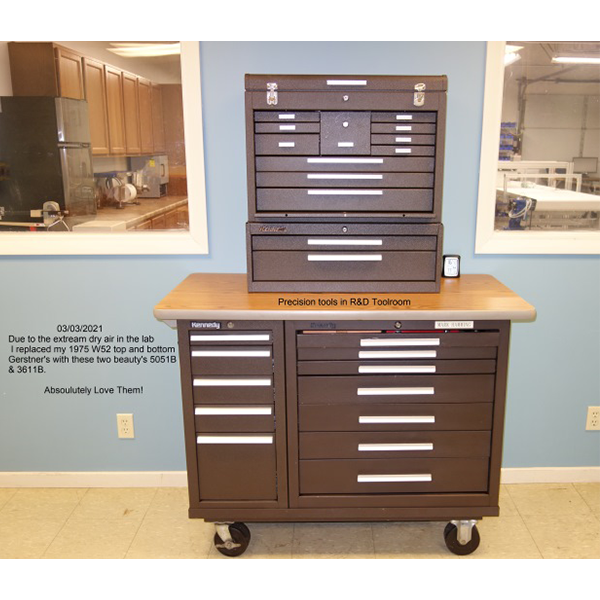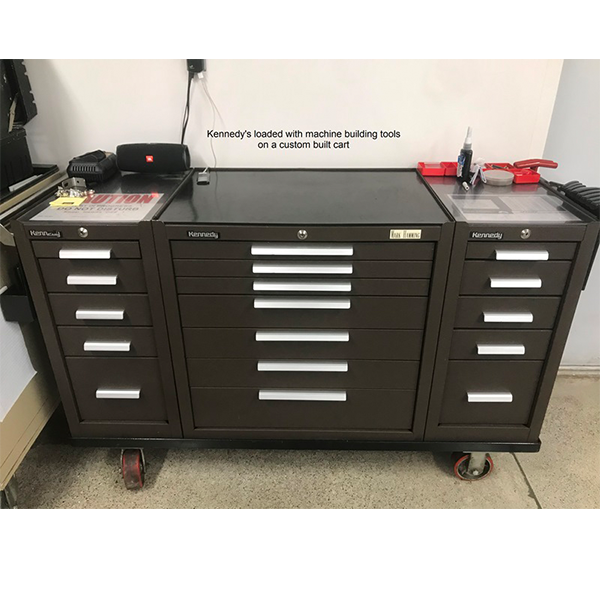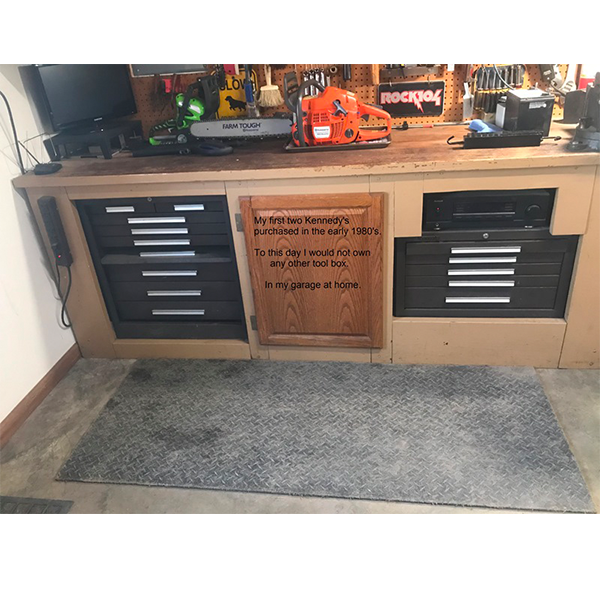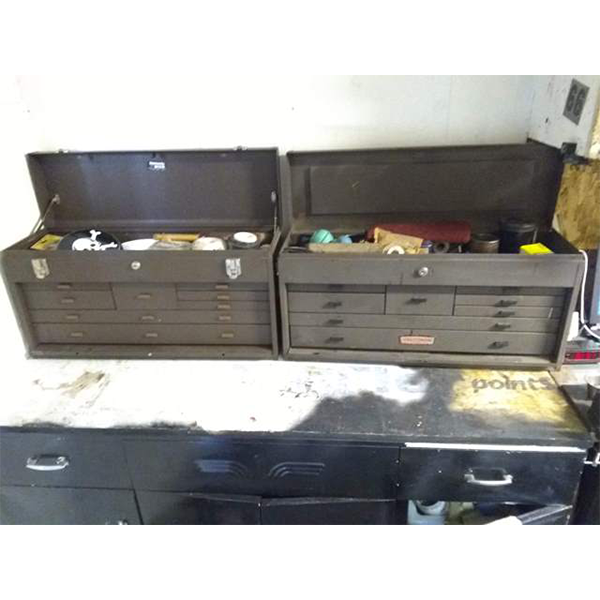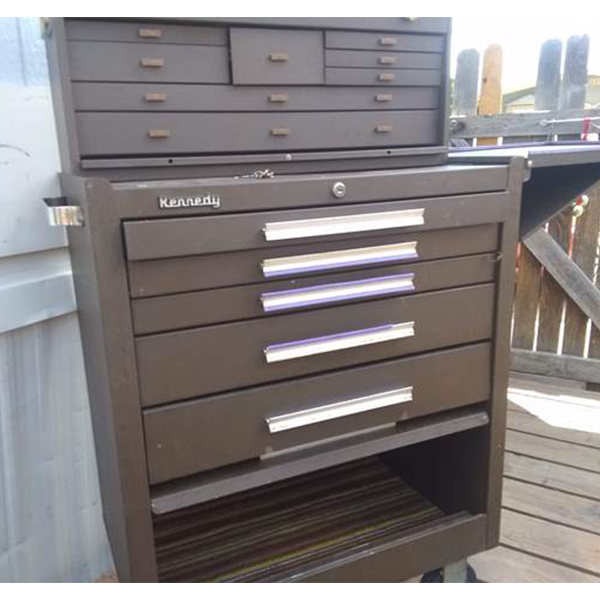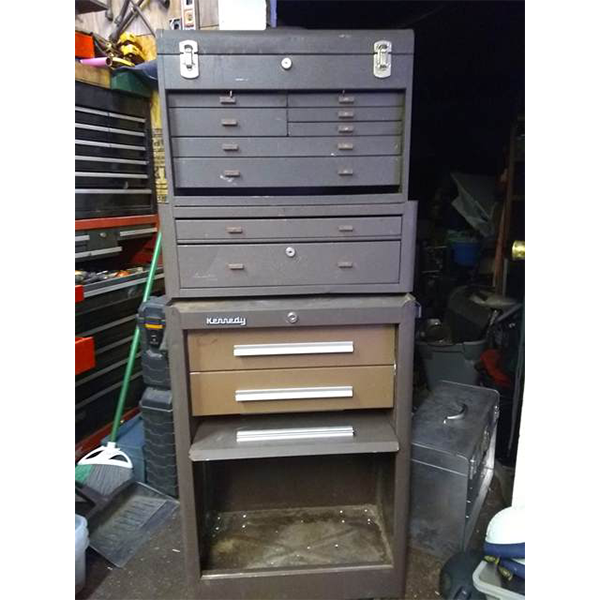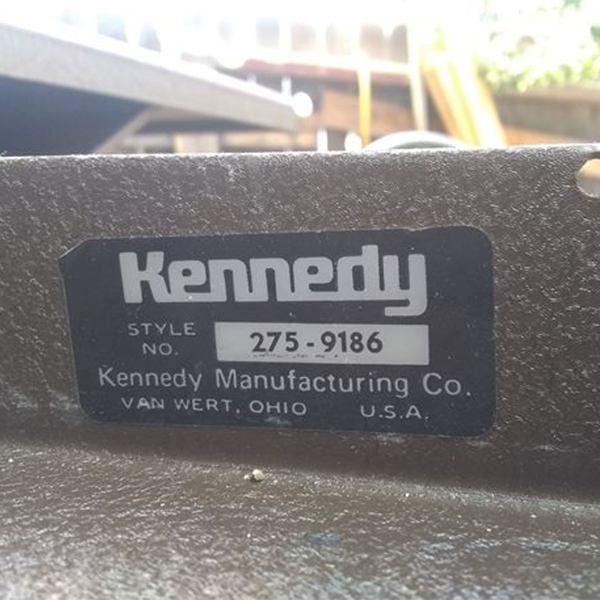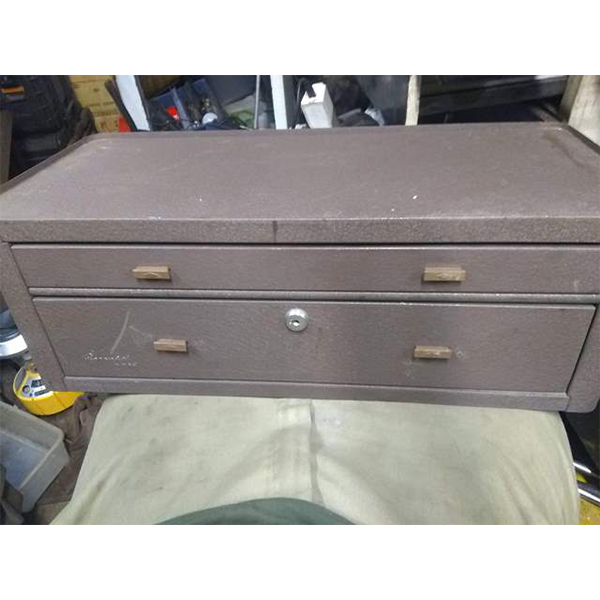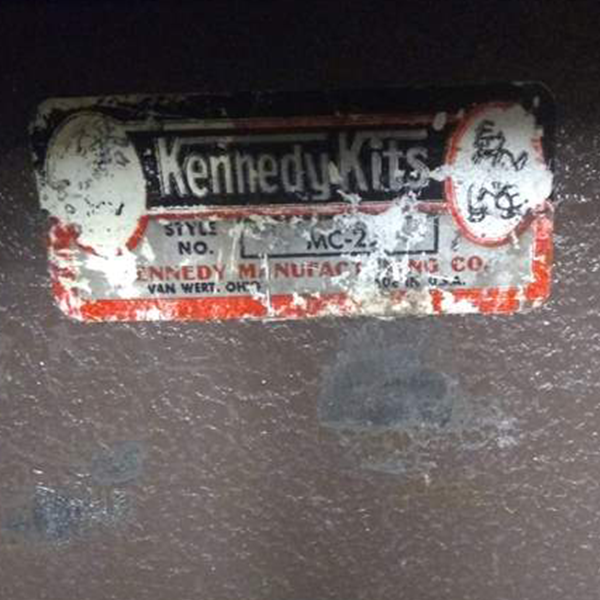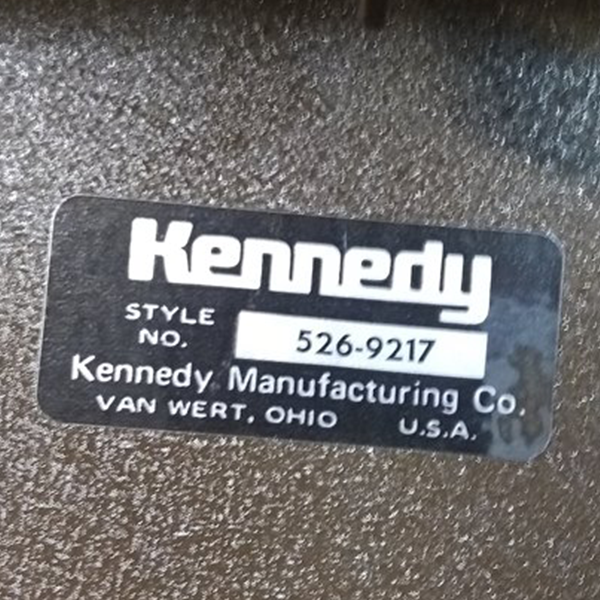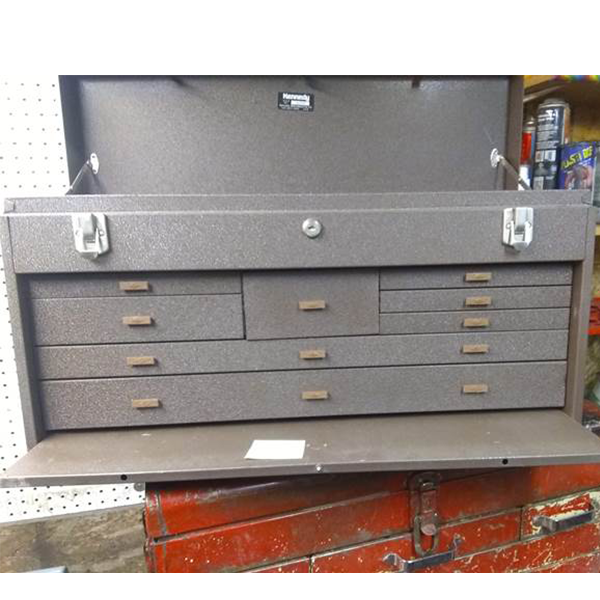 Greg O.
3/23/2021
My father gave me my first Kennedy toolbox when I was in junior high school in the early 80s. It is a two-drawer signature series model, 220 which is still in great condition. My father passed away 2 years ago and I inherited his machinist tool box (style 520) and tool cart (style 275-115494). These may have originally been my grandfather's, he was a mechanic for Pontiac, Nash and Cadillac in the 50s and 60s.
These toolboxes are the cornerstone for safekeeping generations of tools in great working condition.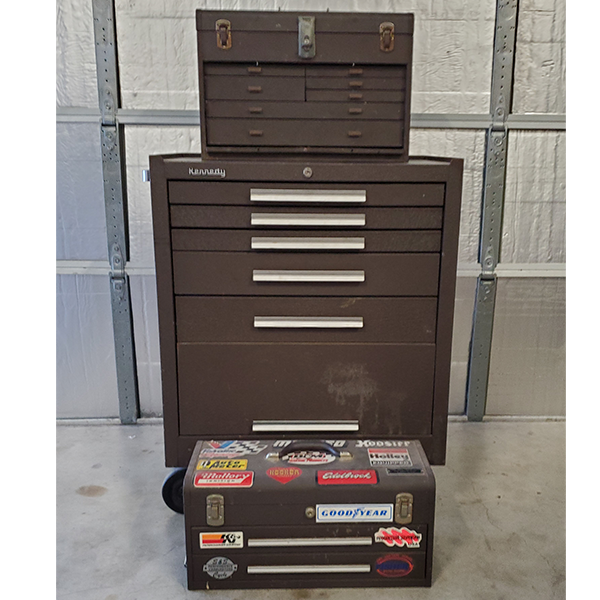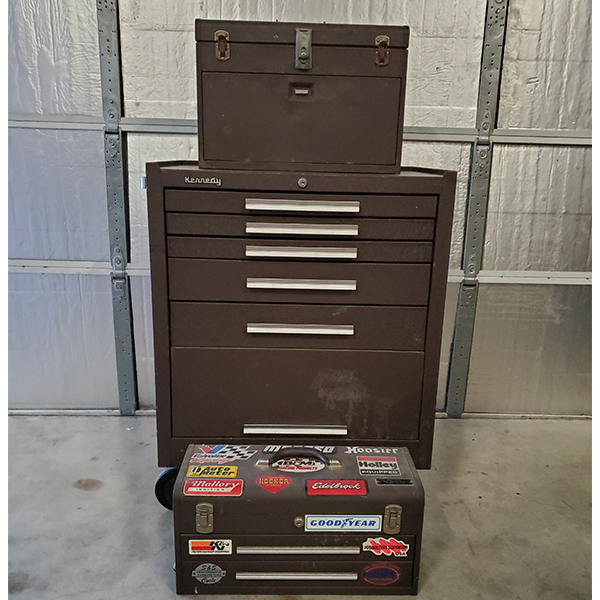 Robert K.
4/6/2021
It's my late father's Kennedy Machinists toolbox from the 80s. I believe model # 295-035320.
Xander C.
7/8/2021
I have an older version of a Kennedy toolbox that I restored and did a custom Cadillac white paint job with candy racing stripes. It is one of my favorite boxes and I cant wait to get another Kennedy.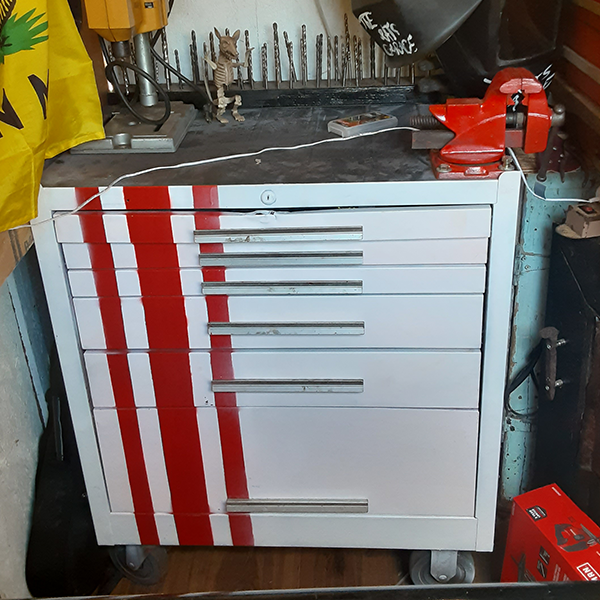 Brad L.
9/10/2021
I have (2)277B, 275B ,52611B, 526B 285B, Versa cart, 185XB, MC28B. I am a machinist by trade. I got my first Kennedy 30 years ago from my boss, which I still have.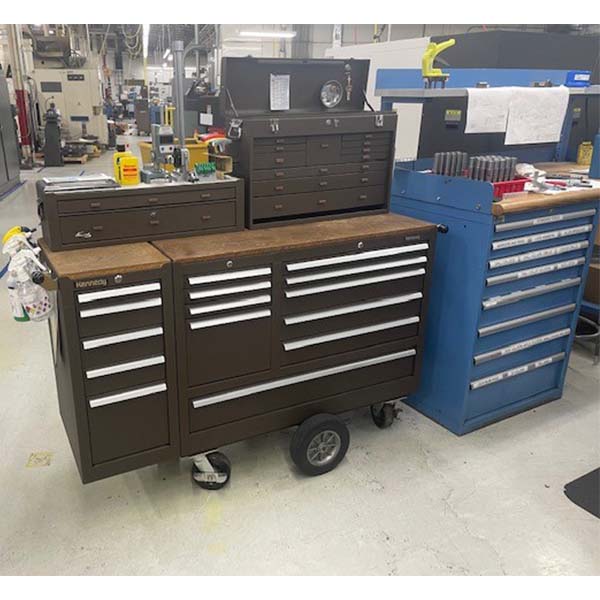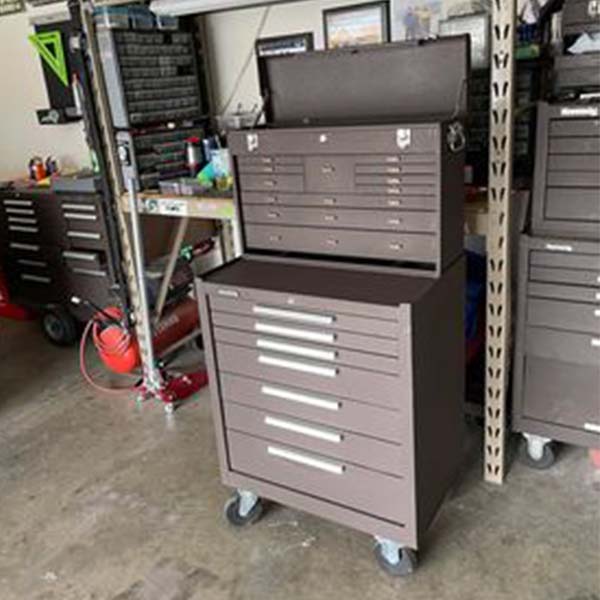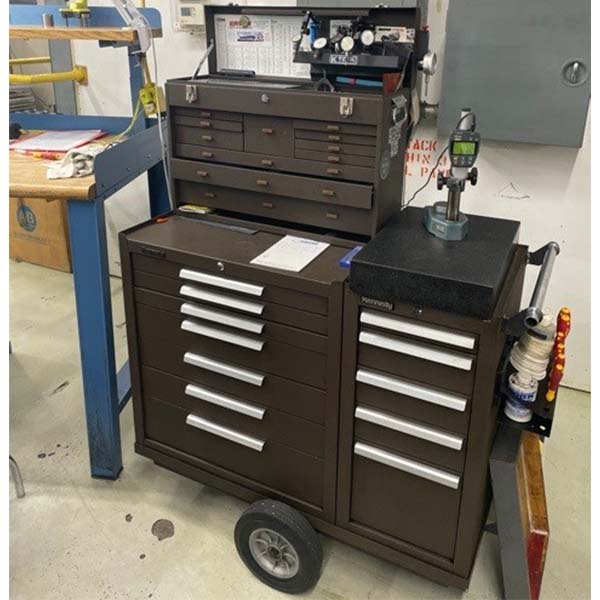 Jeff M.
9/26/2021
I worked in IT at a manufacturing company and saw Kennedy boxes all over the shop. From time to time I would look for a used one but they were always really expensive. One day I found a beat up model 520 full of various bits and pieces of tooling. I took it home and now use it for all my locksmithing parts and tools!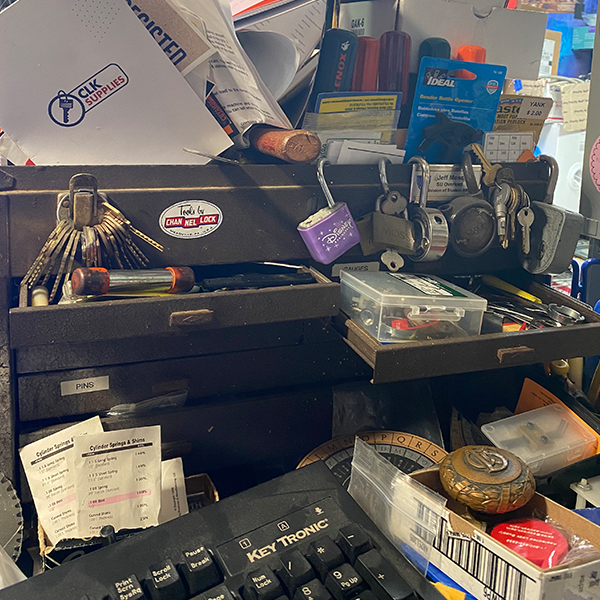 Maniel M.
9/26/2021
Happy with my tool boxes, thanks!
315B-9214989
305B-00318615
Alan D.
10/4/2021
I have a Kennedy 520 toolbox that belonged to my father. The chest is at minimum 68 years old and may in fact have been issued to him when he was an airplane mechanic during World War II in the 1940s. The case is gray, not brown and I read on an online post that the gray cases were typically military issued.
I've had the chest since my father passed away and in honesty it sat on my garage floor for several years until I decided to reorganize my garage and removed all the contents. When I opened the box there were tools that I was not familiar with that I assume he used while working on planes and/or later when he was employed in the defense industry. What a treasure find!
I cleaned the box up (it is in extraordinary condition for a chest that is so old) and cleaned all the tools inside the chest. too. There are 4 drawer pulls missing so I ordered replacements from Kennedy. I also ordered replacement felt for the drawers but after cleaning the original felt liners they appear to be in good condition, so I will likely leave them in place (trying to keep the case in as original condition as possible). The original leather handle is also worn. Kennedy no longer sells these, so I plan to take the case to the local shoe repair shop to see if the gentleman there can reinforce or manufacture a leather replacement. If not, I'll order a replacement from Kennedy.
When I opened the case, I came across my father's renewal application for his commercial radio operator license with approvals noted by the FCC. I also came across two user manuals for working on plane engines and an assortment of other papers that were his. My father has been gone for almost 26 years but it was so nice to explore this treasure trove of his past just recently. I spent the entire time while I was working on the chest thinking of him. This tool chest will now be an integral part of my tool collection. Thanks Kennedy for such a well made product.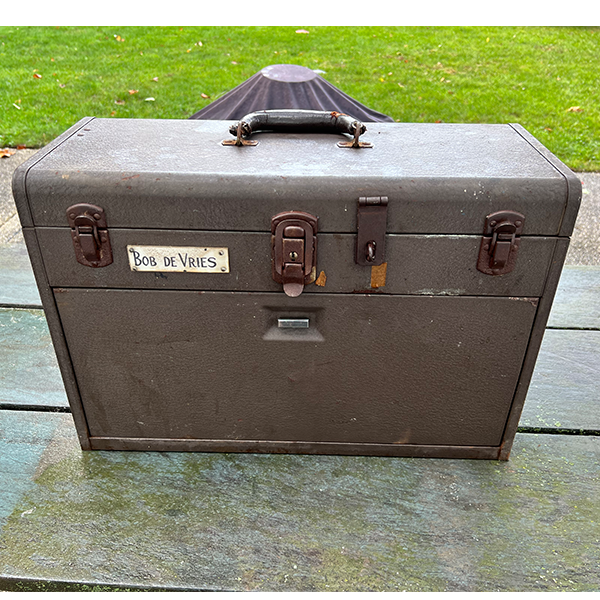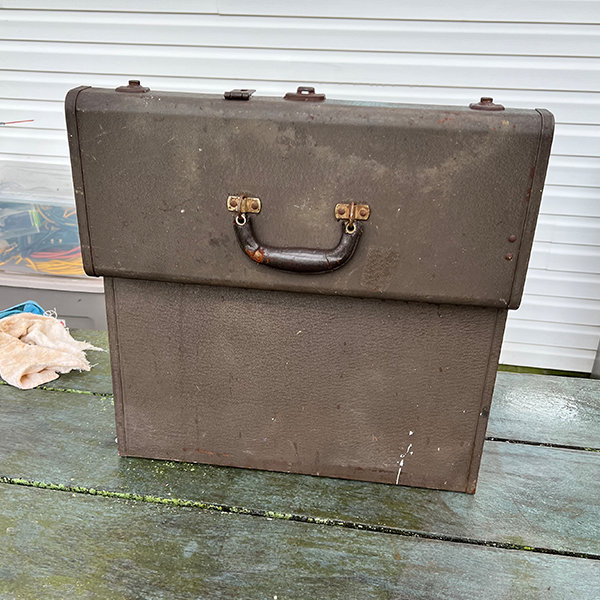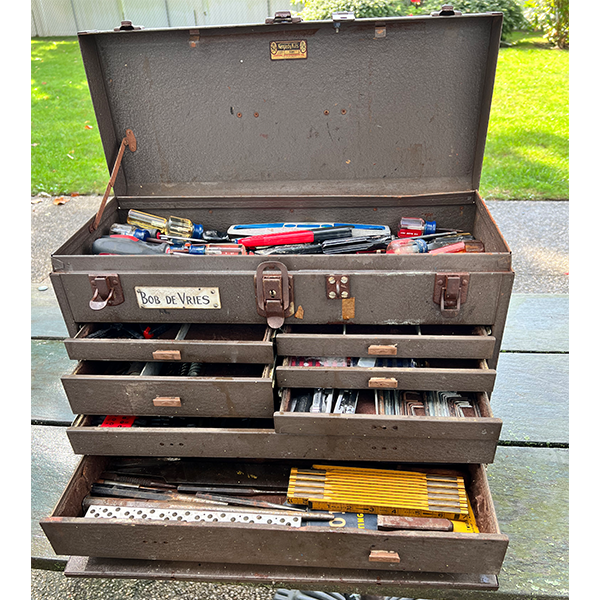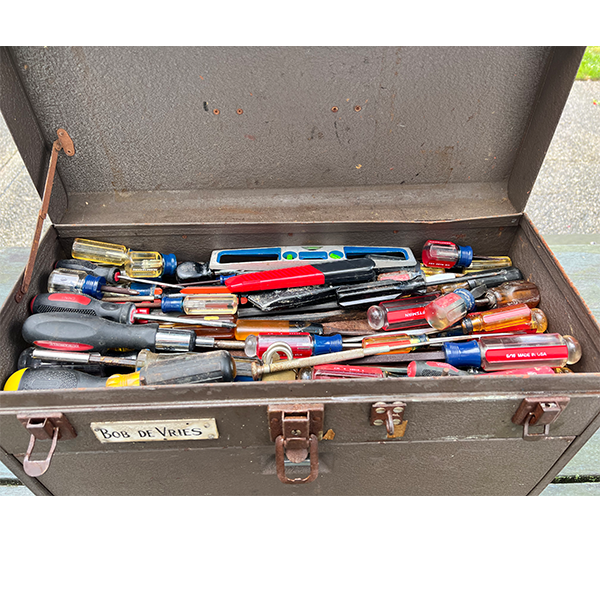 Richard R.
10/3/2021
It all started with looking to purchase a new tool box (which is how I found the Kennedy website) and what led me to contacting the club. I also purchased another Kennedy tool box set this weekend. I had to buy it used as COVID has not been kind. I think I got a really good deal from a machinist who now works at a place where they cannot bring their own tools.
The single tool box was from my grandfather. (620) Grandpa Charlie was an engineer and manager at Western Electric during the 30's. 40's and 50's. He was essential to the war effort, so he did not serve uniformed service during WW2.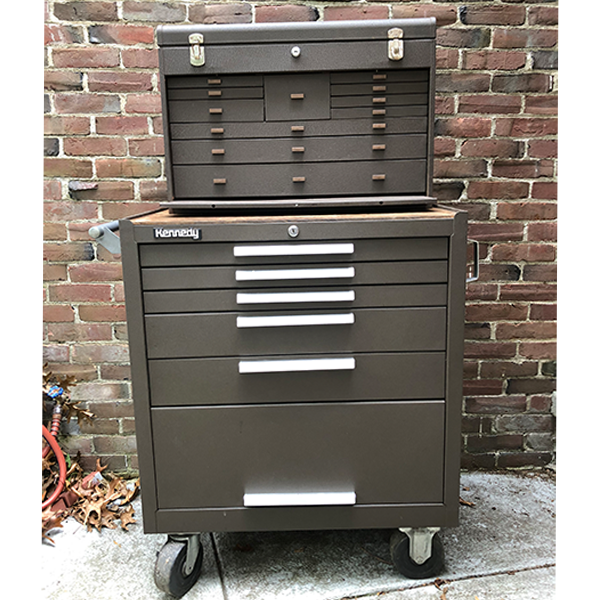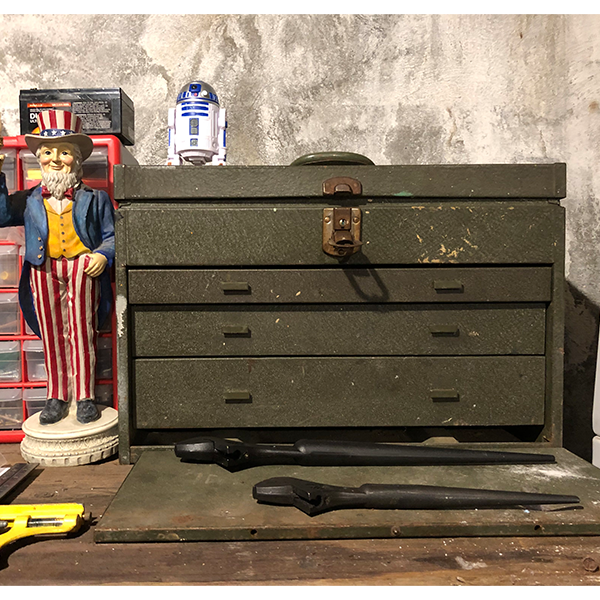 Michael D.
11/5/2021
436 Versa cart with a 295 in brown with manuever wheels, I'm guessing 1983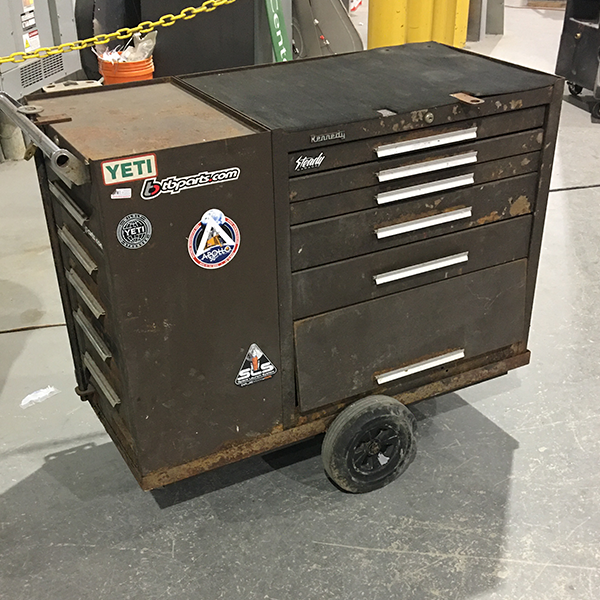 Cale S.
11/5/2021
7 Drawer Box, 2 Side Cabinets on Homemade Cart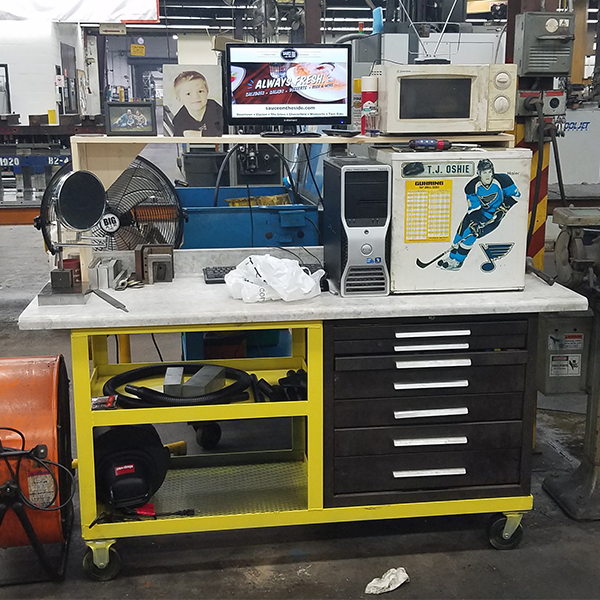 William L.
11/29/2021
I found my Kennedy setup on Facebook Marketplace for $100. Needless to say, I dropped what I was doing to pick it up before they sold it to someone else. I bought it to sell and make money but I doubt I will ever get rid of it.
526 / MC28 / 202 Versa Cart / DS1 Shelf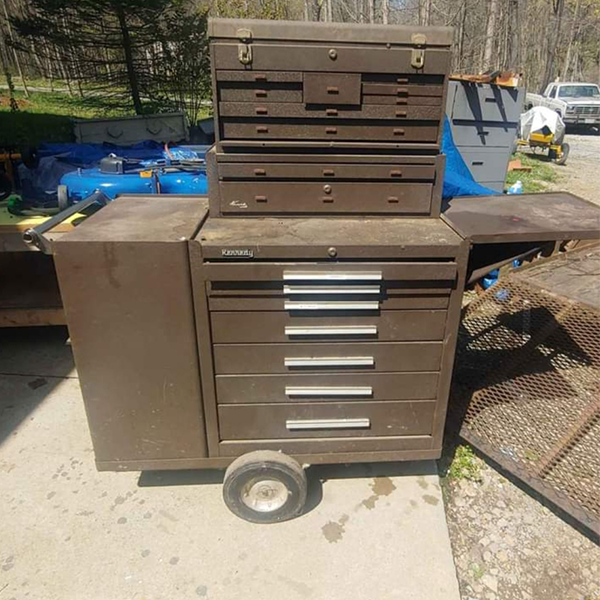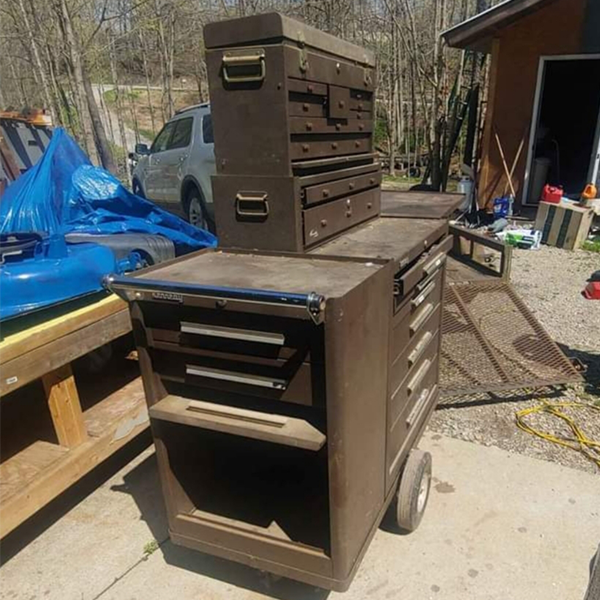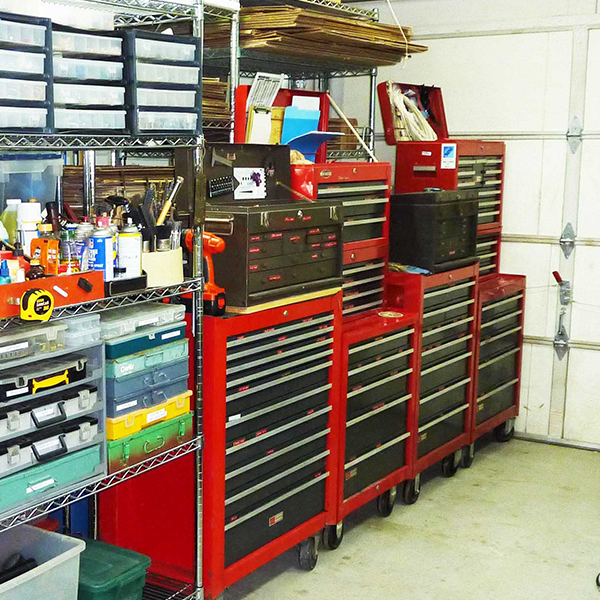 John W.
1/3/2022
I have 6 Kennedy boxes. I started buying them about 5 years ago. I just can't let a good bargain go by. This past weekend I found an older (1968-1972) Model 278. 5 years ago I bought the riser box and the top box. Had to drive from Omaha to Upstate New York for that, but got both for $100 and had both keys. Well actually I was there for my Class reunion, but it makes a good story. The rest I have found locally and have gotten them for a fraction of their value. I have a 520 that I am working on right now. It was owned by a mechanic and was full of greasy tools and the felt was in terrible shape. I have been cleaning for about a year and trying to get the grease and oil smell out.
Tom W.
1/12/2022
Have found 3 Kennedy toolboxes/base units at estate sales at bargain basement prices. Always quite dirty/oily; a testament to their former owner's long and hard use, but easily cleaned. A bit of slide lubrication and maybe new felt or other drawer liner and it's good for another generation. 7-drawer machinist's chest #520, 2-drawer base #MC22B, and 5-drawer 285XB
Vincent C.
1/13/2022
I picked 1983 model 273 from trash and 1982 model 273 for $20. I broke them down, grinded and sanded rust, body filler on dents and holes, primer and painted. I'm very happy with how they turned out and will be great for my home garage.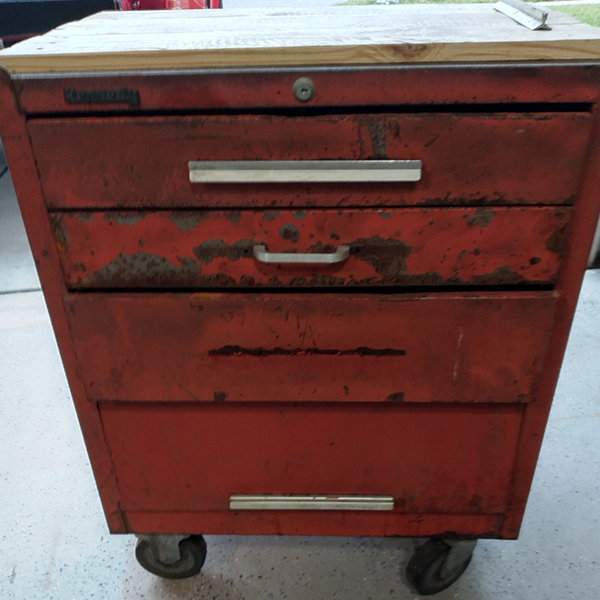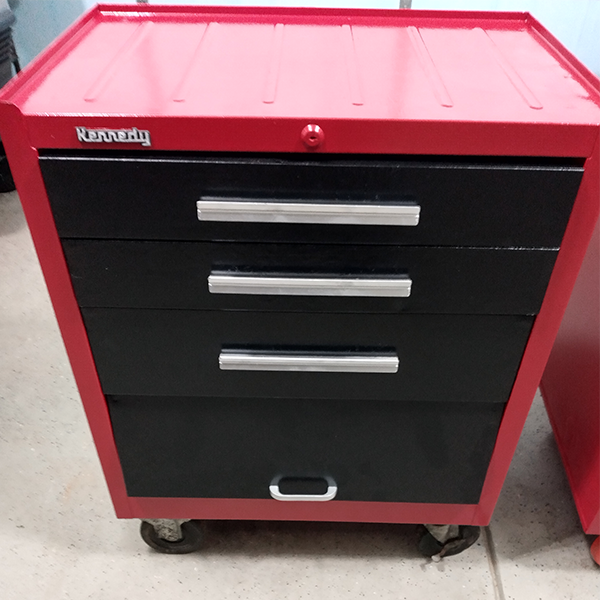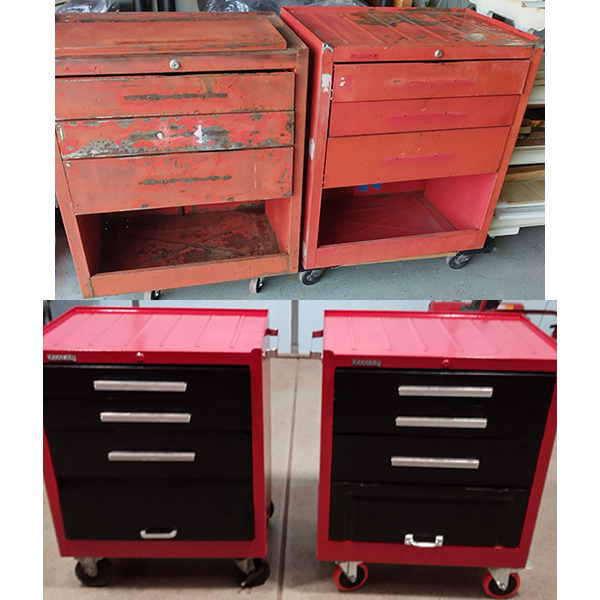 Scott W.
2/16/2022
I work in a job shop in a very fast pace environment. I may run a lathe in the morning, a milling machine at noon and set up a cnc machine in the evening or any other half dozen things. I have planned my ultimate tool box since the 80s.
I started with a red Kennedy 360R 10 drawer top box, about 30 years ago
Then I got a good deal on a new Kennedy 277XR about 10 years ago and assembled them.
About 1 year ago, the side cabinets went on sale and I bought two of them, Kennedy 185XR and my dream tool box is now complete.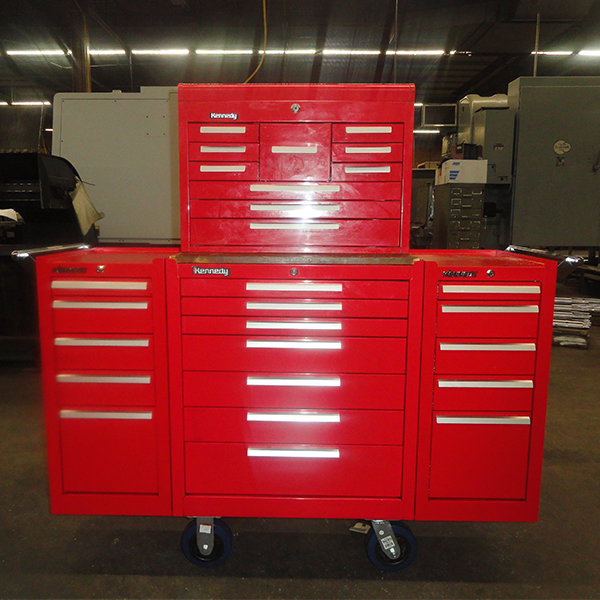 Jeff L.
3/18/2022
I have 5 Kennedy Toolboxes of my own, and 12 more in the Die Shop that I manage, that we use daily. They are of great value to us for their wide range of drawer/storage area sizes.
New Kennedy Company Slogan Idea - "BUY KENNEDY - NOT EVERYONE HAS THE SAME SIZE OF TOOLS!!!"
Anyhow, my 315XB is a beautiful specimen but would look so much better with a 382XB and a 386XB hanging on the sides of it!!! If I could find them to but somewhere?!?!
Thanks for a GREAT product!!!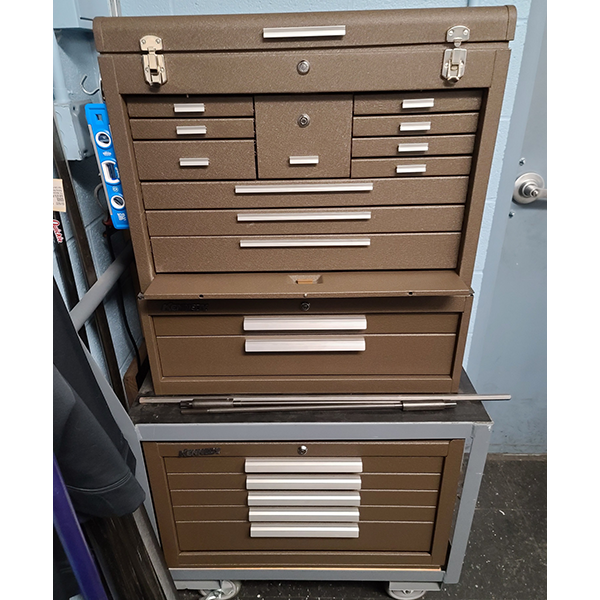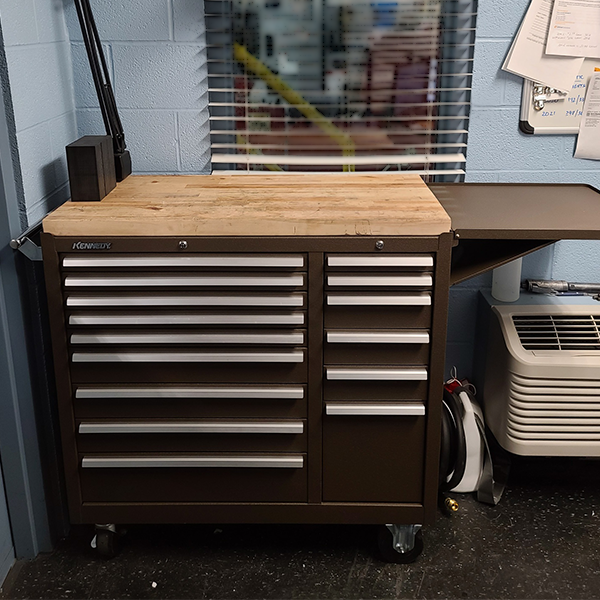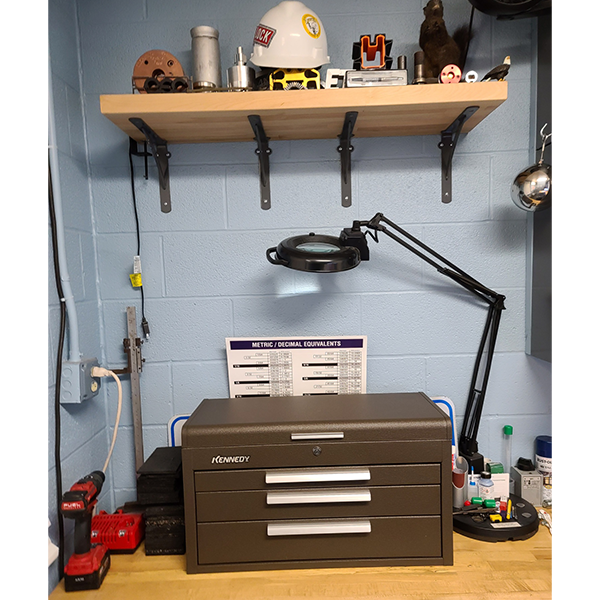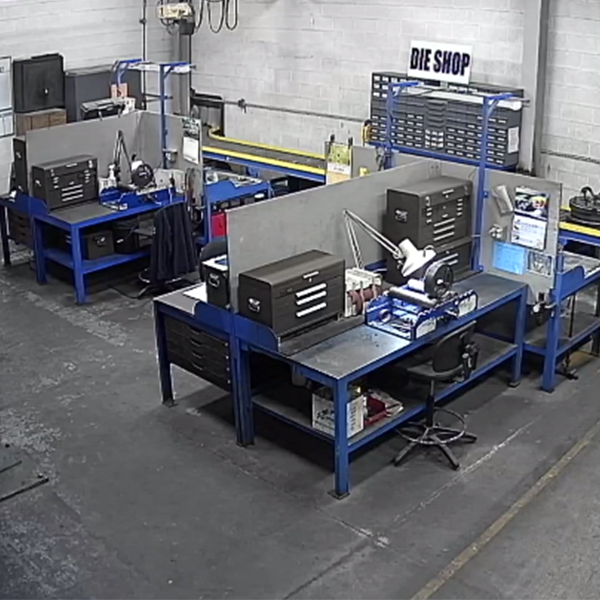 Eric K.
3/18/2022
I bought my first machinist wooden tool box at a yard sale and I've been hooked ever since. I live on a farm and own a garage.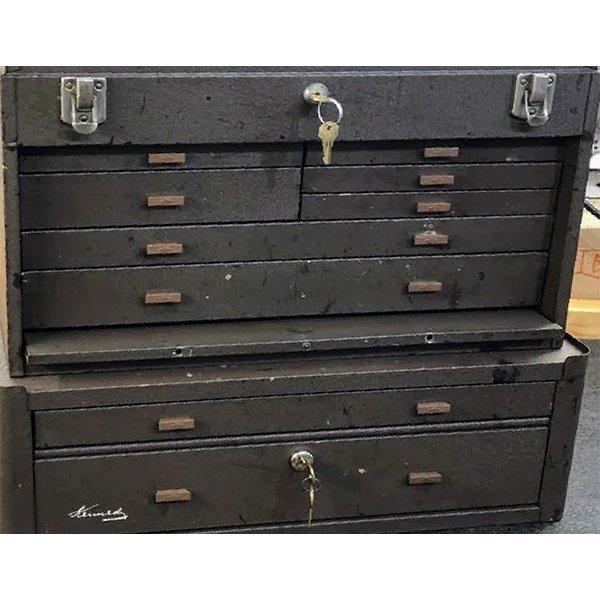 Jeffrey M.
3/25/2022
I bought my 526 around 1973. It's been in and out of different machine shops. It now resides in my home shop..
Craig D.
5/24/2022
When I was a child my Father had a small Kennedy box for hand tools and the like. Banged it around the house my entire childhood. Fast forward some decades and I find myself in the machinist trade and lo and behold, Kennedy toolboxes abound. Being ever frugal, I waited patiently and diligently watched for boxes to come up for sale. I have found a couple. Still have Pops original box.
I call this Kennedy Corner...
Space is a mess, still sorting and organizing my latest tool blitz.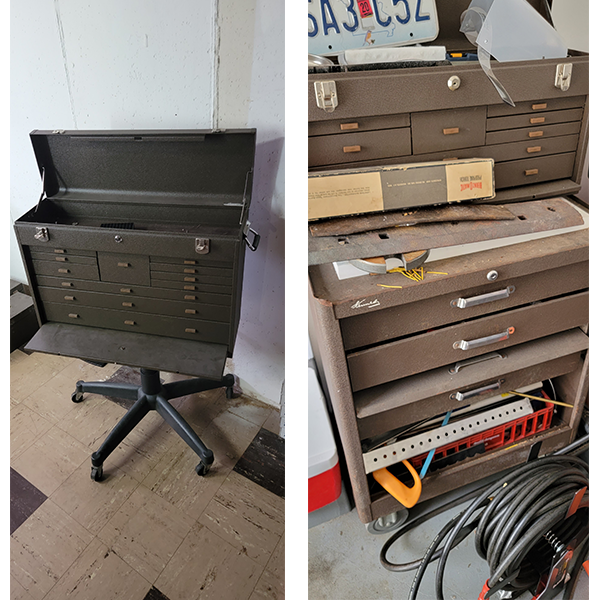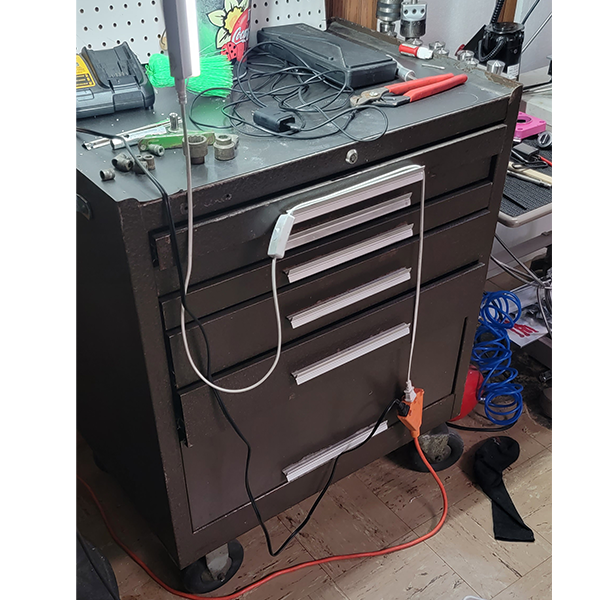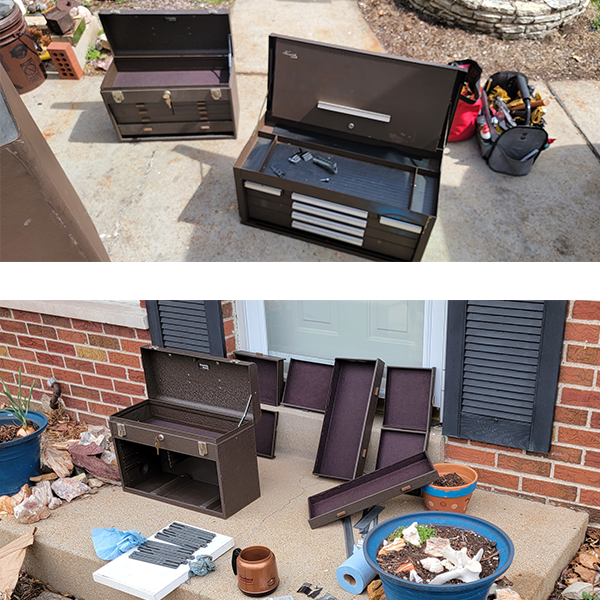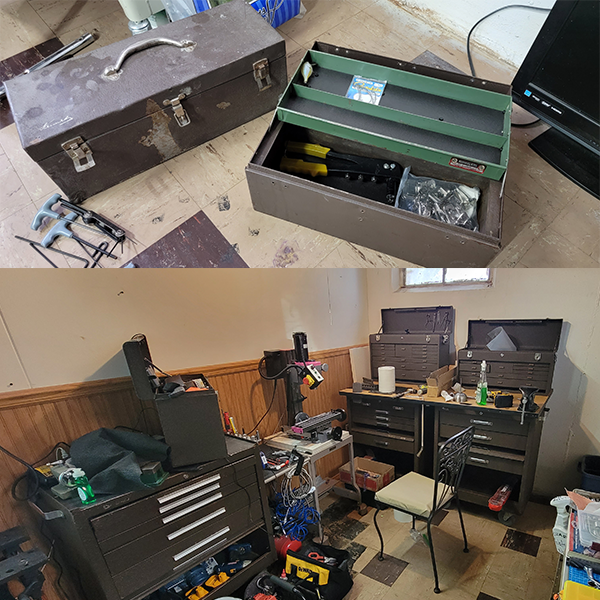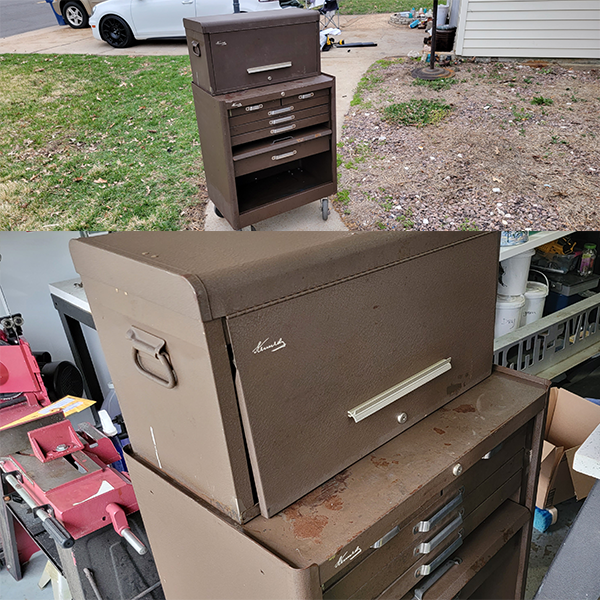 Jerry H.
8/13/2022
Found my toolbox in the garbage, somebody was throwing it out full of tools did not know it was full of tools, has original keys. Keys are worn out and will have to get a new set made or buy a new lock set. I also have a 520–9207 style that I have from a former coworker who was my mentor, he just recently passed away and it was his first toolbox. All my tools have either been found or they have been handed down by prior machinist to me.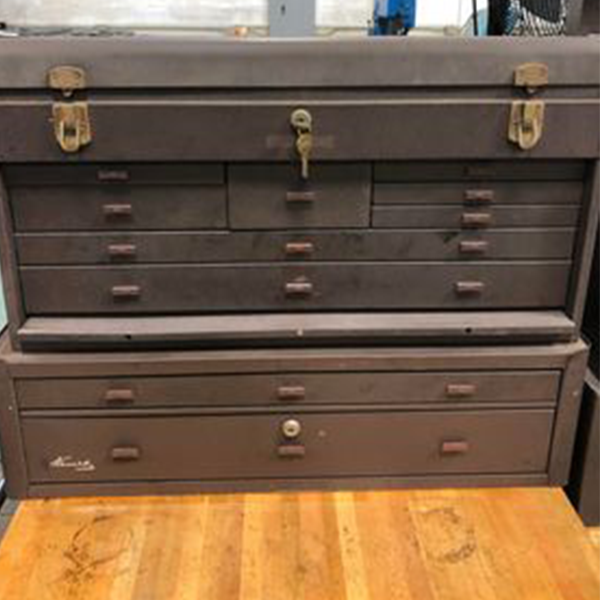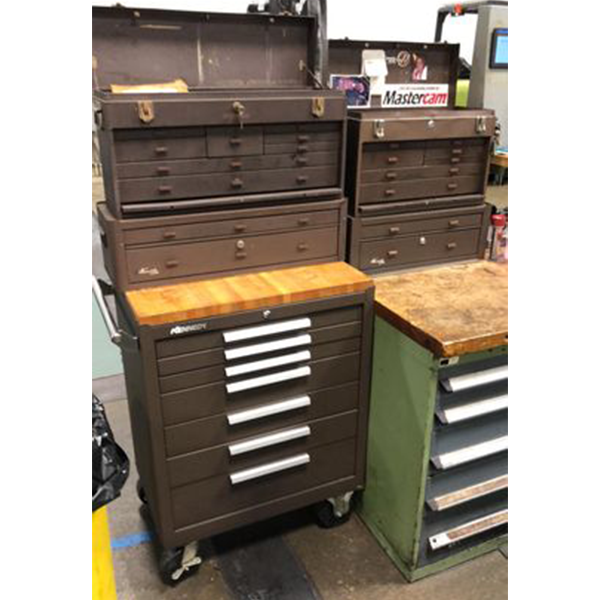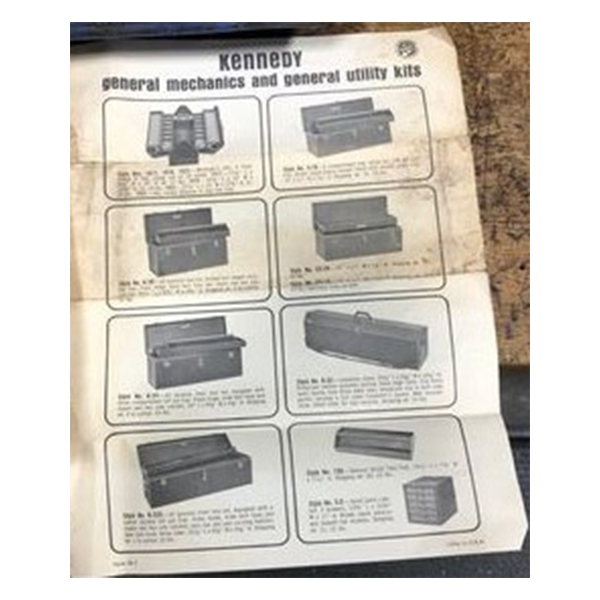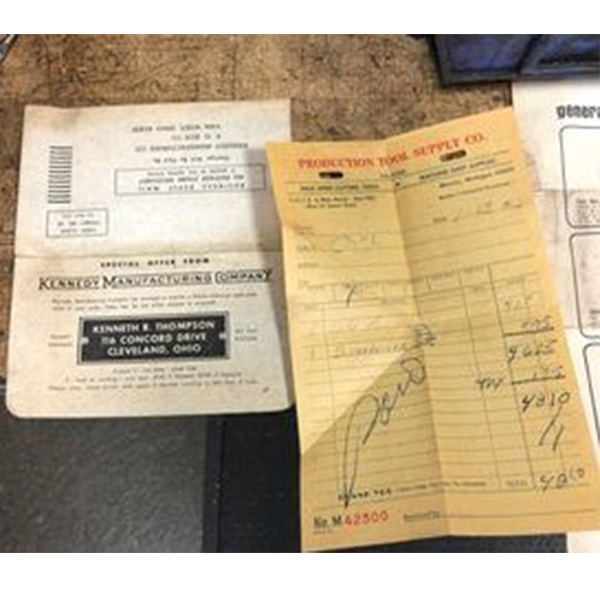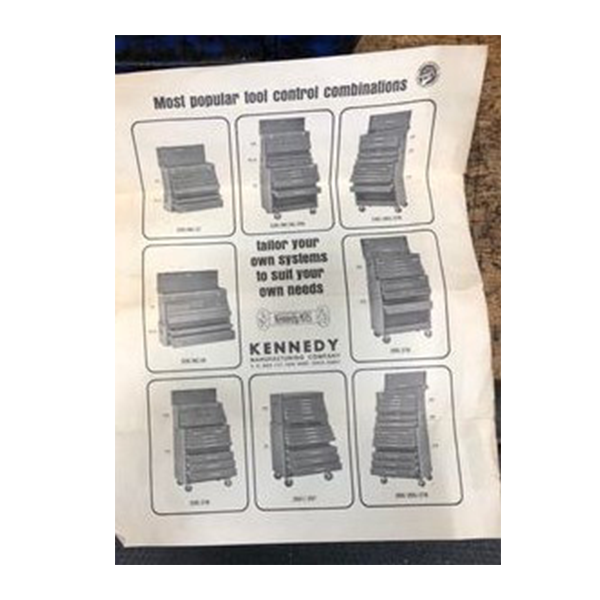 Philip G.
8/23/2022
Years ago, my Uncle Gary gifted to me a Kennedy 276R from decades past, circa early 1970s(?). It's been a slow process and I've finally finished sanding, priming, and painting each surface. Replaced the wheels and slides, then installed a butcher block top. Very happy with the end result and new life for this toolbox.