Daniel B
4/21/2019
I own a Kennedy 526B , bought in April of 1970 by my Grandfather . He used it at American Airlines , where he worked at Cleveland Hopkins International Airport , for 35 years . He then gave it to my Grandmother , who briefly worked Assembly for Teledyne Republic Industries . I broke into Machining in 2011 . The Kennedy was given to me and I've used it ever since on a daily basis , working as a Machinist for Swagelok .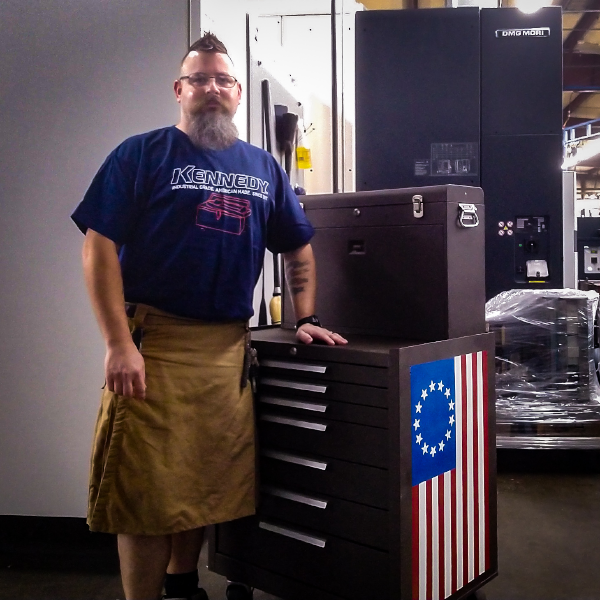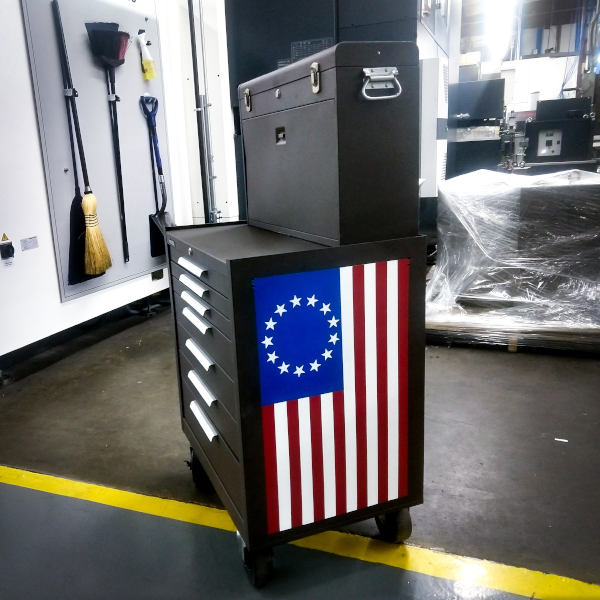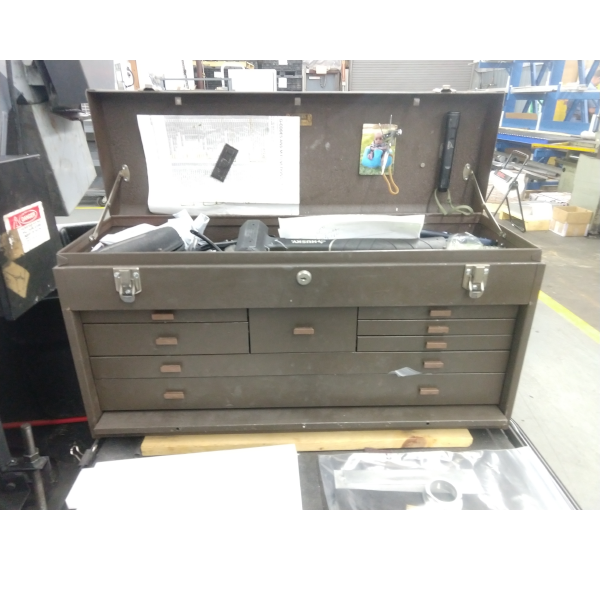 Michael C
5/17/2019
I am a recently retired/disabled Army Staff Sergeant. I went to school for and now a full-time machinist. My 526B top box was awarded to me from Keith Fenner in the "What's In Your Box" apprentice nomination.  My roller cabinet has a custom paint job on the side walls.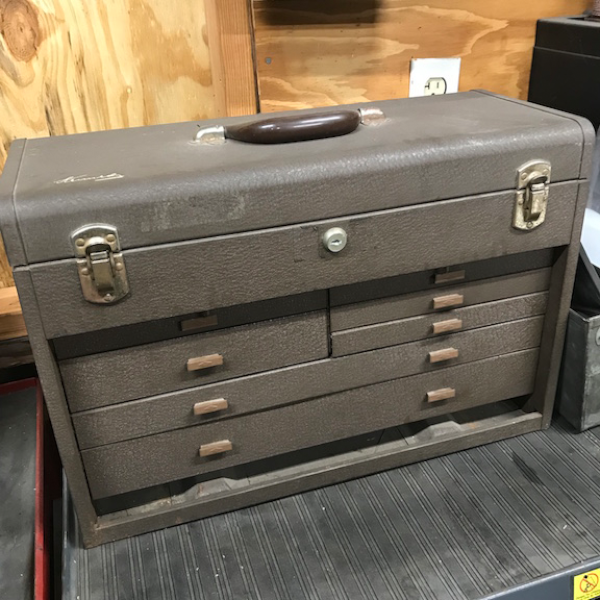 Michael J
5/22/2019
I bought my vintage Kennedy 520 top box on ebay since it was local to me and included a lot of tools. The previous owner must have been some sort of jeweler judging by the size of the tooling that was inside. I've never seen such tiny drills. I saved most of it even though I don't have much use for them. Now the box holds my indicators, micrometers, calipers, a couple height gauges, V blocks, 1-2-3 blocks and other important tools that I want to keep safe.
I have another box (526) that I pulled out of a scrap pile. It's in pretty rough shape but it only cost me $15. That one holds my mill and lathe tooling.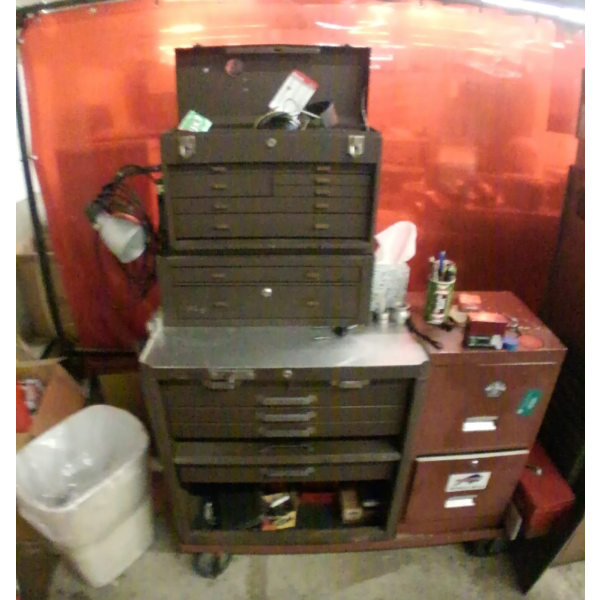 Jonathan A
5/26/2019
520 7 drawer top along with MC22 base, Bottom box is a 294, Kennedy cart beneath it all and a file cabinet on the end, all scores from Craigslist.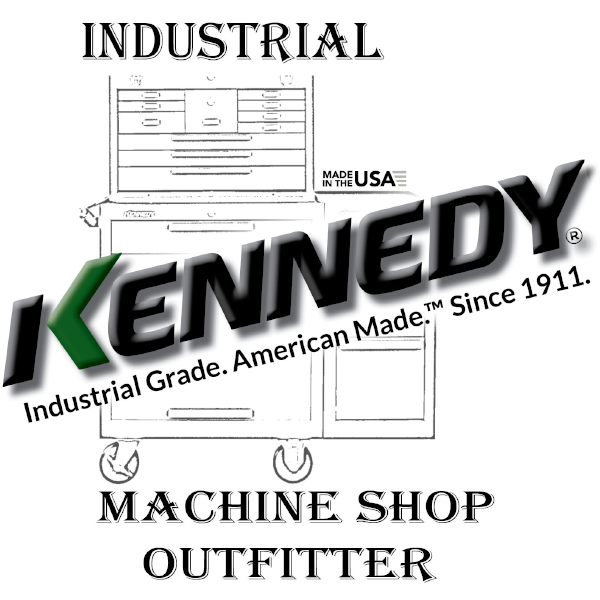 Tim B
5/25/2019
I was getting into reloading and came across a package deal a guy online was offering. The model 52611 Kennedy box along with measuring tools and dies, as well as some odds and ends. At the time I wasn't aware of the following Kennedy boxes had. The small, shallow drawers are ideal for a hobby like this where you need to organize dies, measuring tools, etc. I took a job in maintenance and debated bringing my Kennedy box in to organize my machining tools, but this box is too nice for that. I'm going to keep it at home in my basement for now.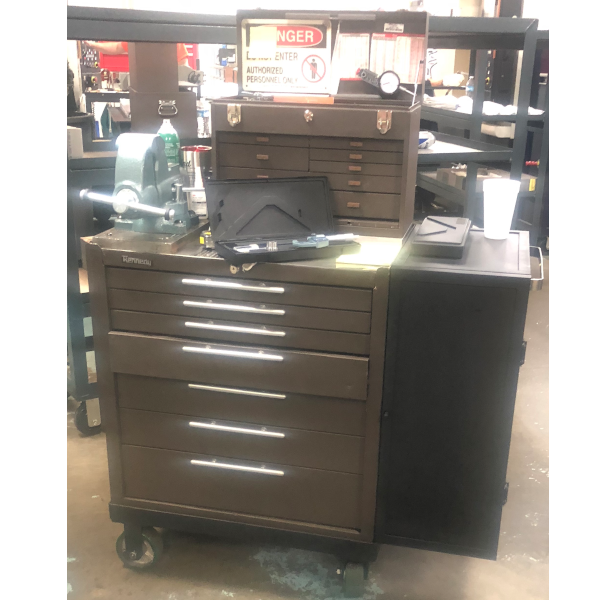 Jorge G
5/29/2019
I acquired my tool box from a tool and die maker at a stamping company I use to work at. I was a tool and die apprentice at the time.  I was able to get him to sell it to me for $60 after I begged him for about 6 months. Then I restored it myself. The top box I bought from one of my classmates in the machine tool technology course I was taking. The side box I fabbed myself and I made custom drawer handles as well.  Now it has a new life. I plan to never get rid of it.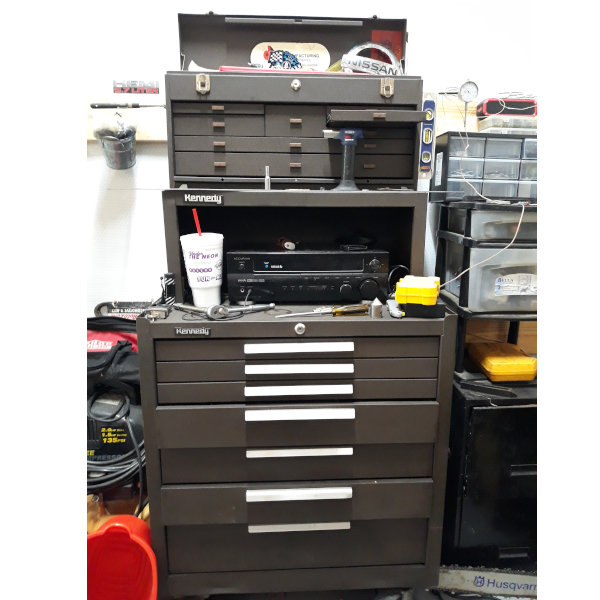 Brandon R
6/7/19
I'm a 35 year machinist and have used Kennedy my whole career...bottom box is 7 drawer.   And top box is 7 drawer also with riser in between. My tool box has helped me get jobs several times. These boxes are the sign of experience....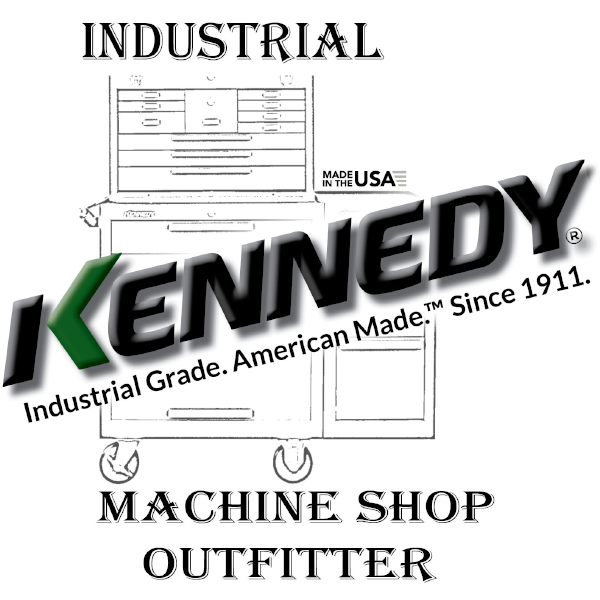 Robert J
6/8/19
I recently inherited my father's main setup for woodworking and leather work. It includes the MC28B the 526B the 185B and the 295B.  It is by far and away the best setup I could hope to receive, that I may, in turn, pass down to my son when his time arrives.  My father was a master craftsman in several disciplines, from wood to metal, from upholstery and leather to fine brush oil and watercolor painting. It is with honor, and deep gratitude that I carry on his name, using this elite tool management system, and look forward to its generational use throughout my family's future history. Thank you Kennedy, for making things that will last that long. *Photo Pending rearranging of the garage.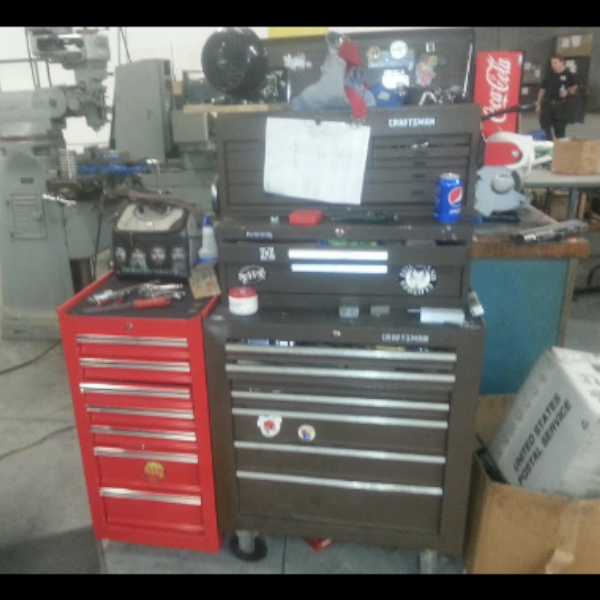 Terry B
6/8/19
My work box (it's so worn, I can't even see the model number on it any more) has been with me through thick and thin. It's over crowded and another is needed to help relieve the pain. This baby has seen better days, but I can't bare to part with it due to the fact it's become part of my life. It's literally become like a member of the family. I hope to one day pass the new tool box onto my son or daughter.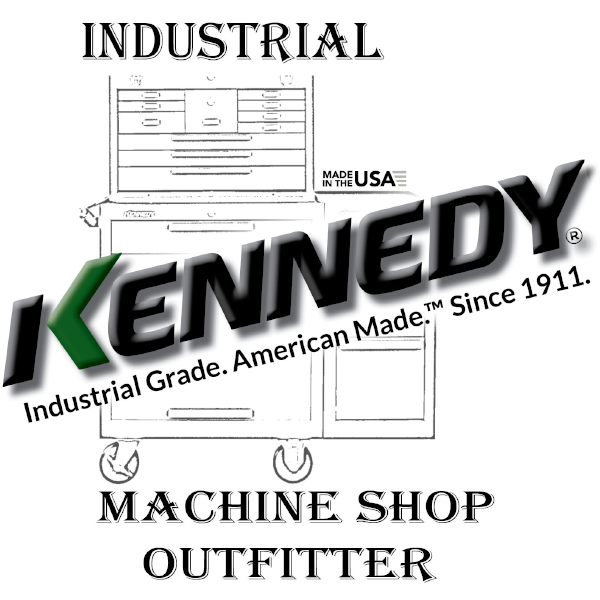 John S
6/8/19
1st box is-3611, 5150, 297X roller
2nd box is-520, MC22 ,277 roller
Don't have any pictures. I work in a tool room of a press shop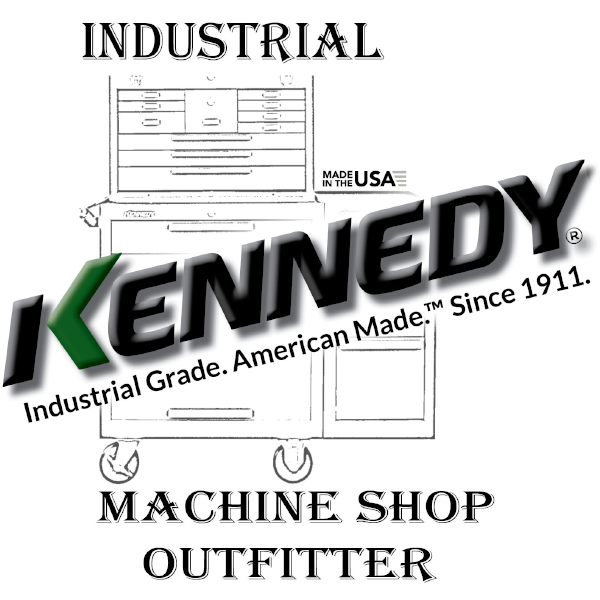 Matt J
6/9/19
I have a 15 drawer 315XB maintenance box with a 5 drawer add on 205XB hanging on the side it's a great toolbox.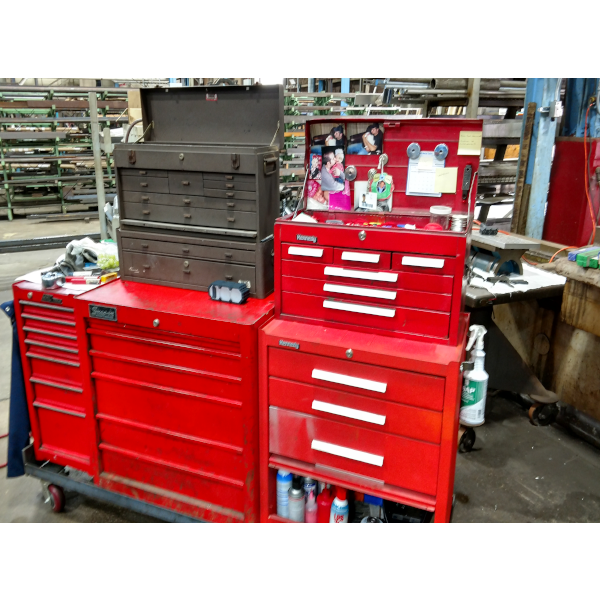 Ryan D
6/9/19
526 top box with 28 1/2" riser. 6 drawer machinist top box on top of matching cart. Combined with a Snap On roller cabinet and Mac side cabinet inherited from my father.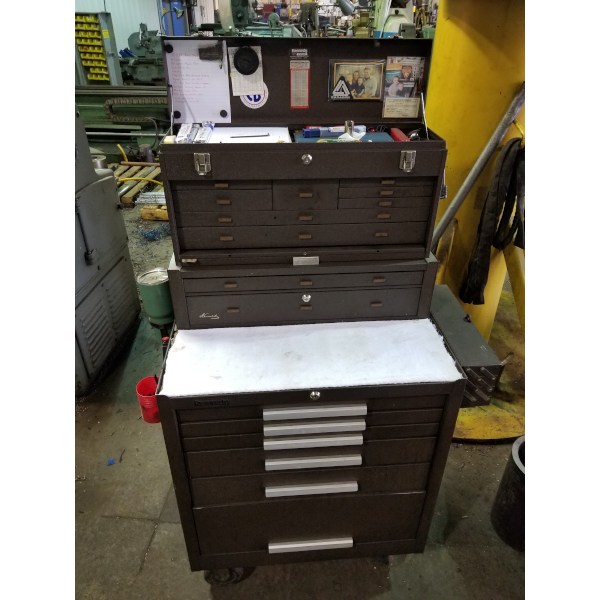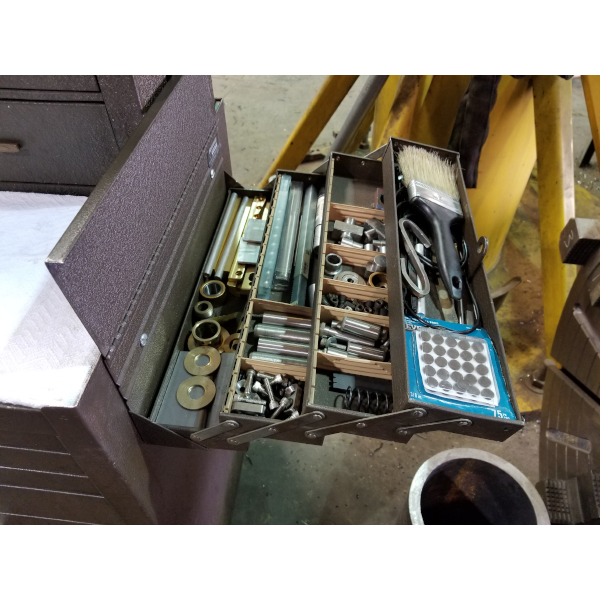 Andrew P
6/8/19
Here's my 526, MC28, and 295 bottom box and a CT4.  These have served me very well. I have several other Kennedy boxes and accessories. I found two old stock CS19 still new in the box from a hardware store in new England and have stored them away to give to my two sons when they get older. I have a couple K20's and an older CS19 box of my own. Kennedy toolboxes are the best ever made and I would not use anything else on the job. No other boxes can handle the drawers being opened and closed hundreds of times all day every day for a lifetime.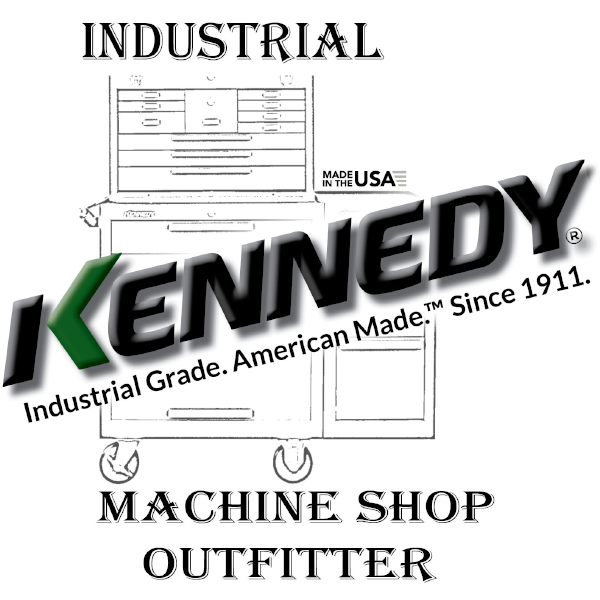 Mike M
6/10/19
They were a hand me down from my father, as I followed his foot steps in the machining industry.  I own a 5 drawer 285 series, 7 drawer 297 series roller and a 206 series side cab at my work and Snap On and Craftsman at my residence.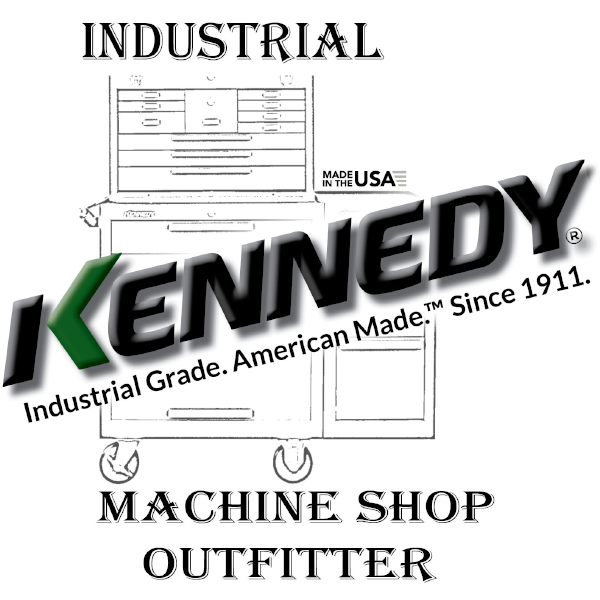 Gerald S
6/11/19
My first tool box was in 1977, a hand me down cantilever type tool box with a broken latch my brother gave to me as he just purchased a new one.  I loved the trays in the top.  As soon as you opened it, all the screws and wire nuts were there and room for my Klien tools.  After fixing the latch it lasted another 5 years before I purchased a new tool box, the same type.  She sat patiently in the back of the work area keeping all my tools dry, safe and from harm.  "It weighed a ton".  All in all, it is the best tool box I have ever owned and I am on my third box now.  My store R J Marchand keeps me well supplied.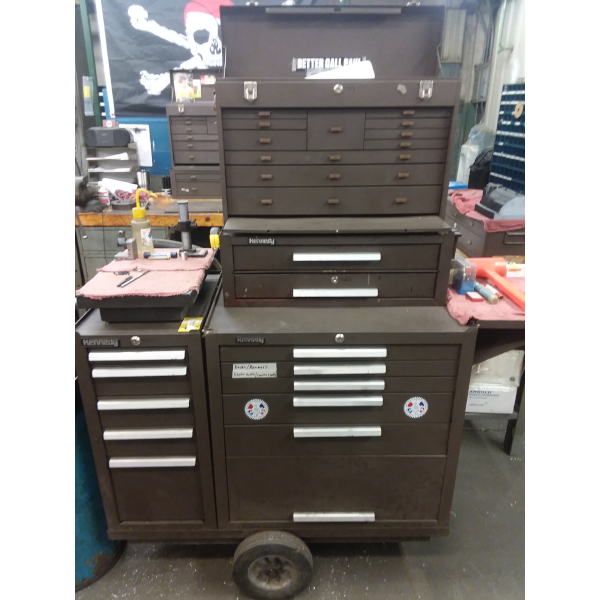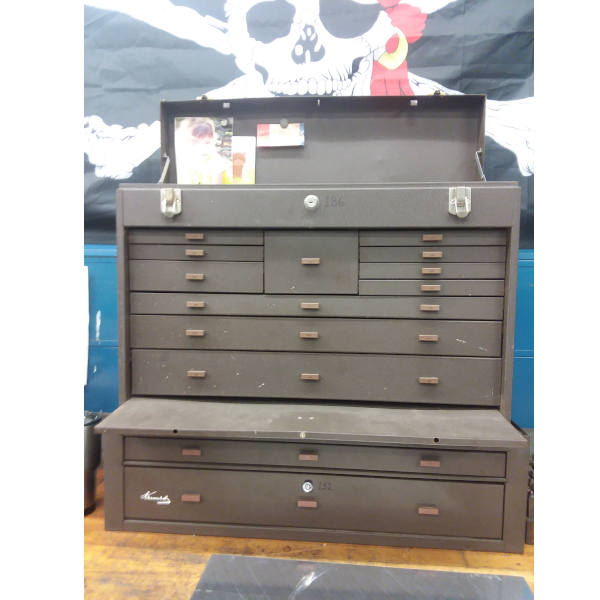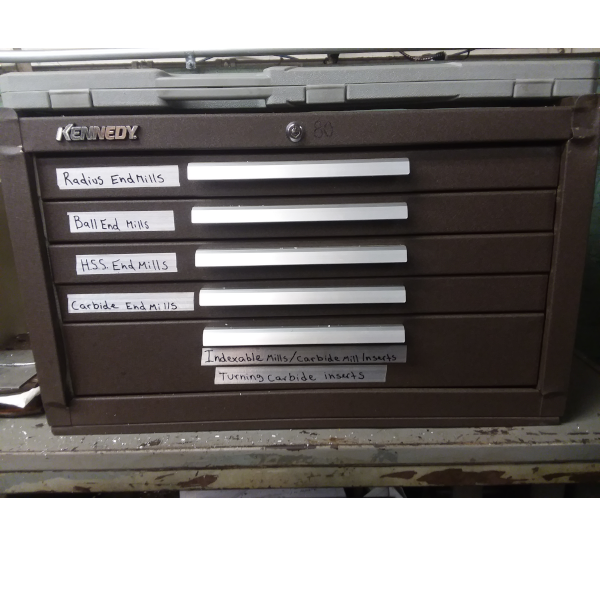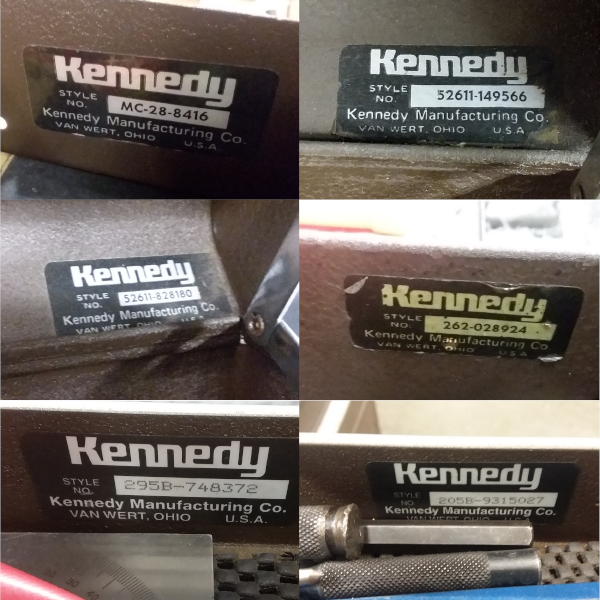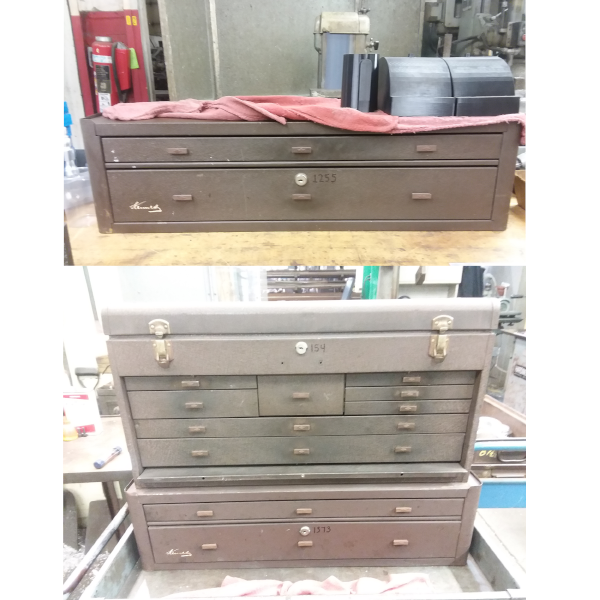 Paul J
6/11/19
When I was an apprentice Die maker I noticed that the experienced Die makers all had these cool looking toolboxes that I had never seen before. One day I finally ask who made those cool boxes and where can I get one? They told me that when I'm skilled enough and making more money as a Tool maker, I could afford to finally own a Real Kennedy tool chest. So over 5 years later I was finally able to buy my side by side Kennedy roller chest from a Tool and Die maker that had become an engineer for the same company where he served is apprenticeship. Once I was able to own his beautiful piece of working history, I eventually went back and bought his Kennedy 2 drawer divider and his Kennedy 11 Drawer top box.
I loved the Kennedy's so much that I now own 11 total that I've bought from retired Machinists, Tool makers, Die makers and mold makers. I loved the history behind all of my Kennedy's and will most likely keep collecting as many as I can till I run out of room for them. I currently utilize 10 of my 11 Kennedy's in my Pattern/Mold making/Tool room department to safely store all of my personal tools and company tools as well. I am a full time Pattern maker/Tool maker and I've been working in the field going on 8 years this August.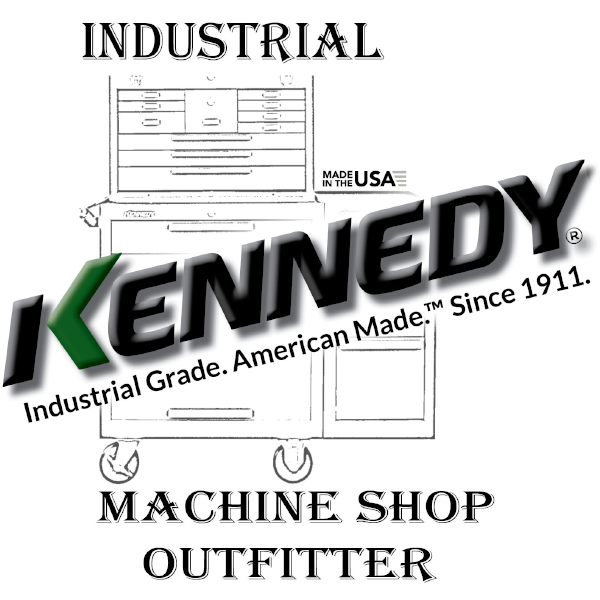 Kellen L
6/13/19
Got my box when I went to machine tool technology classes at Lake Area Technical Institute in Watertown, SD from 1989-1991. I've had the box since with some tools in it. Just got back into machining November of 2015 after 18 years away from this field. Enjoy being back in it, learning each and every day I'm at work. My supervisor has been machining for over 42 years, so I'm absorbing as much knowledge from him as I can, a lot of experience there.
Currently looking for a good sized bottom roller, I'm going from one of 7 machines through out the day. Not a smooth cement floor there. My top box and two drawer add on is sitting on top of a old coolant barrel at this current time.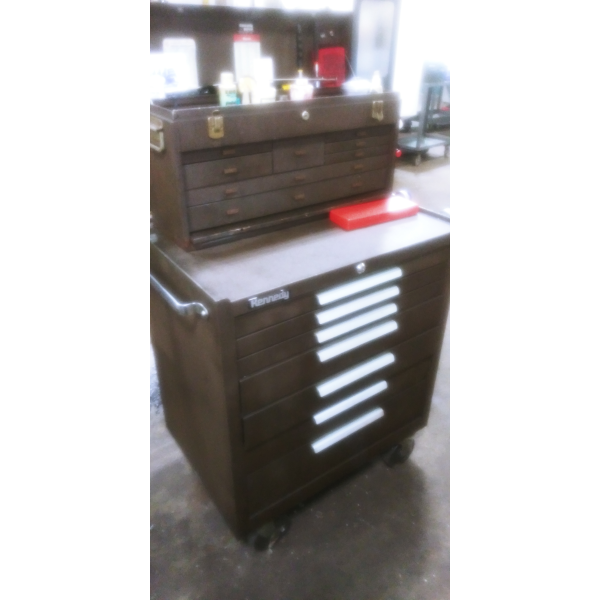 Dominic S
6/13/19
I was going to buy it 20 years ago and didn't have the money so my dad bought it. He retired 7 years ago and I have been trying to get it. Finally a month ago I inherited it. Awesome box!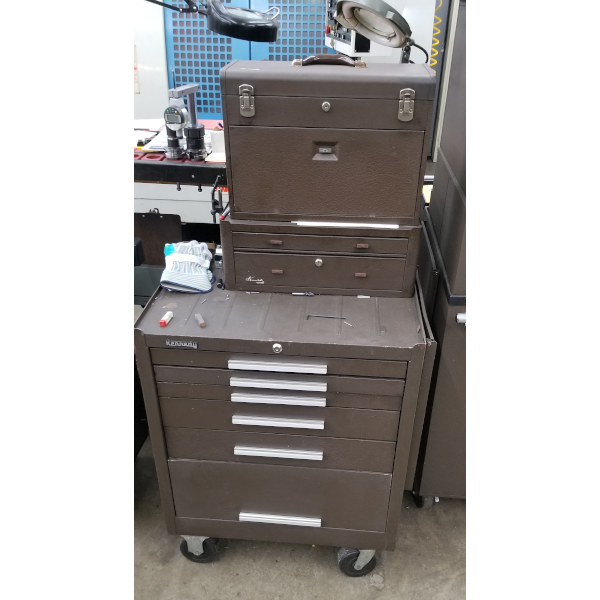 Ryan H
6/13/19
My toolbox was passed down from my Dad. It was one of his first boxes. He has been the tool and die industry for 40+ years. Box still works great for being 40 yrs old. Not sure of exact model numbers.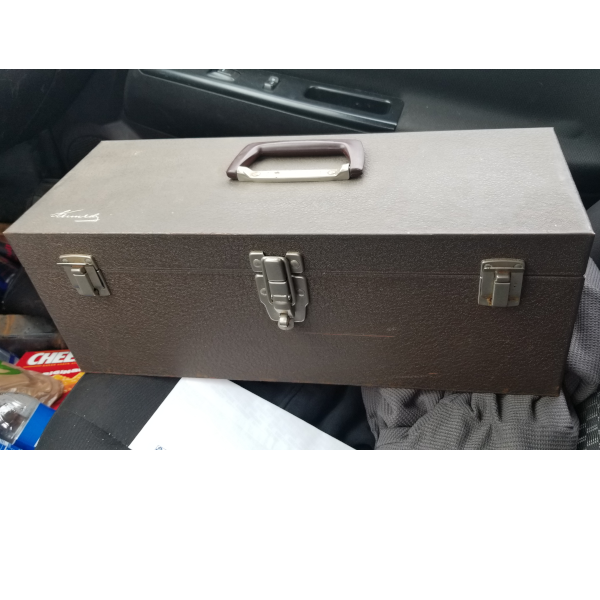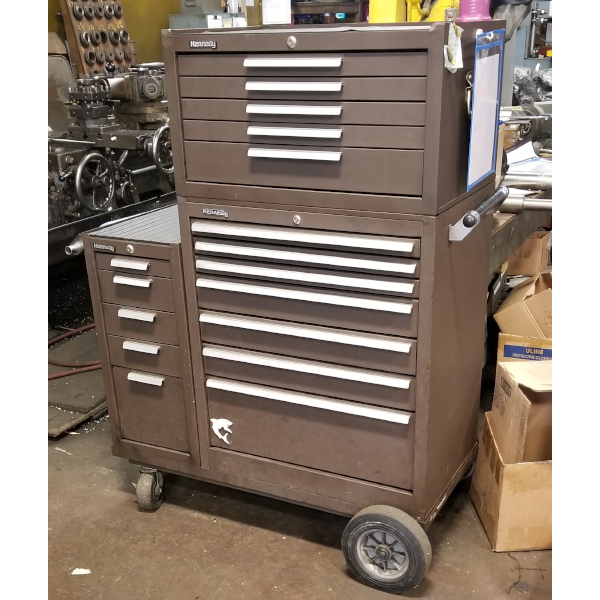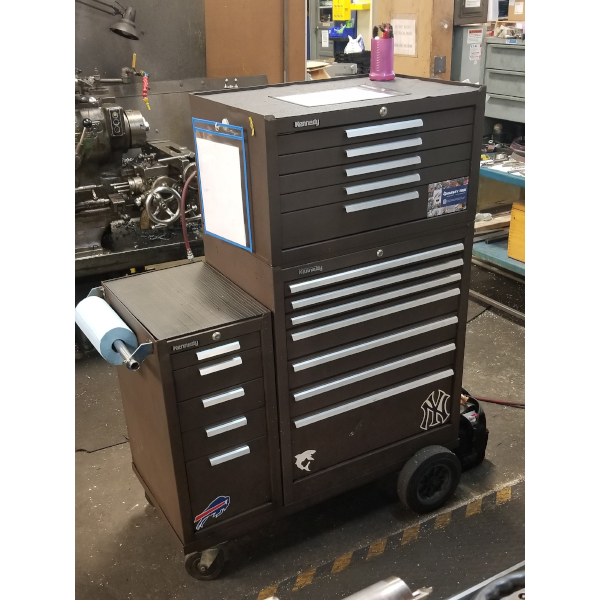 Jeremy C
6/19/19
Let's start with my toolbox(s)
I have a 2907X, 205 sidecart, and a 2805 on top.. All on a 430 Versa Cart.
I also have a really old S19 that I am in the process of restoring. What can I say? I love and live for Kennedy products.
I've been a machinist for 3 years now. If you're a machinist you know the standard on tool boxes is Kennedy! Has been and always will be.
Since I have purchased my toolbox. Employers see me as more of a professional. Especially when they catch the first glimpse of it.. they automatically know I'm here to conquer ANY complex geometry given, especially since I'm a aerospace/defense guy. My tool box has also given me a sense of security that's hard to explain. Its roomy, smooth rolling and keeps all my important and sensitive measuring equipment safe at all times with the flip of a key
I can't tell you how much I love my toolboxes, I even named her Katrina. Thank you for engineering and Manufacturing the best tool boxes on the market.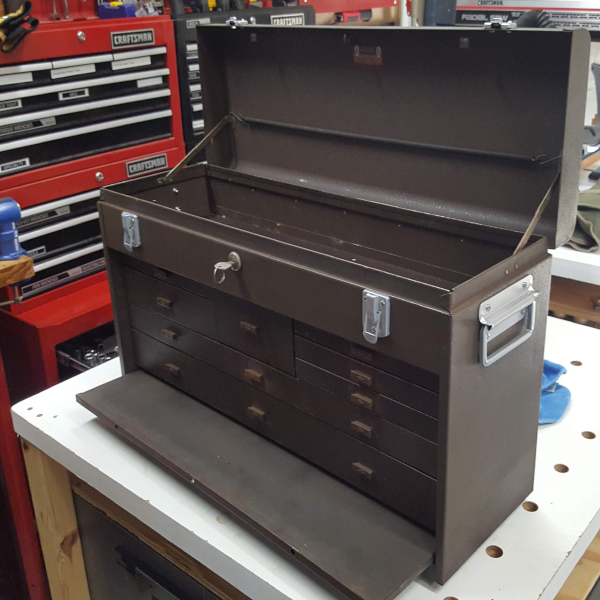 John L
6/27/19
Was given an old 526b that had spent 18 years in a barn. Refurbished it and now have a pretty nice Kennedy I use for my gunsmithing tools.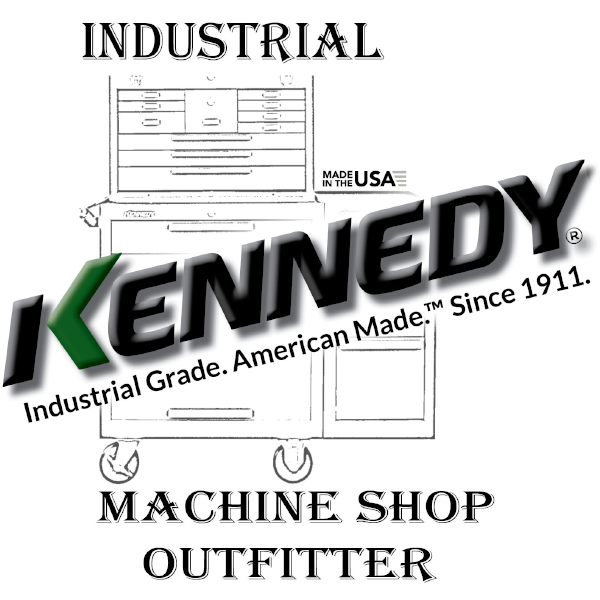 Sean T
7/13/19
Style number 526-049133
My first set of Kennedy boxes were a gift from one of the old timers I worked with.  He took me under his wing and taught me a lot about machining.  When he retired, he gave me his box and I have added to it over the years.  I now have 5 pieces with a plan for more.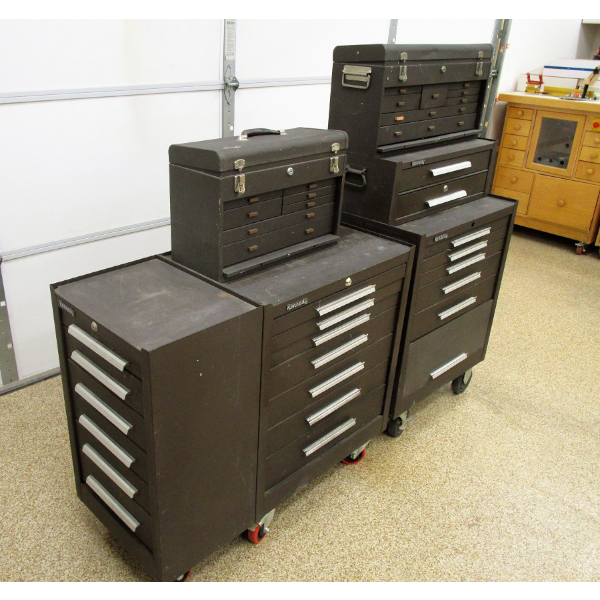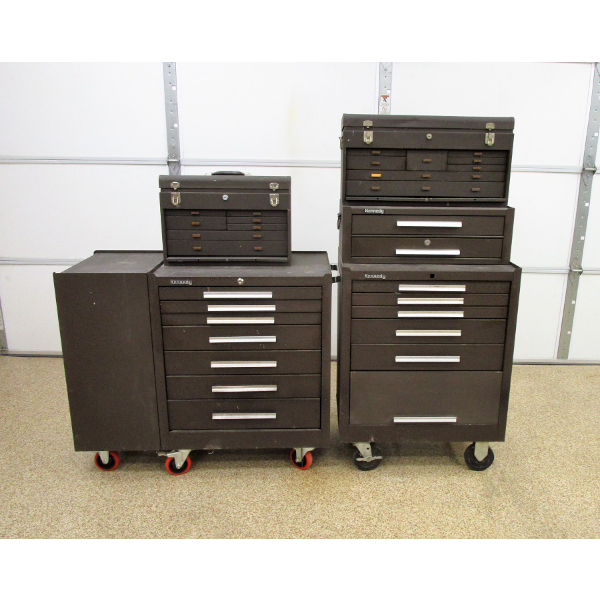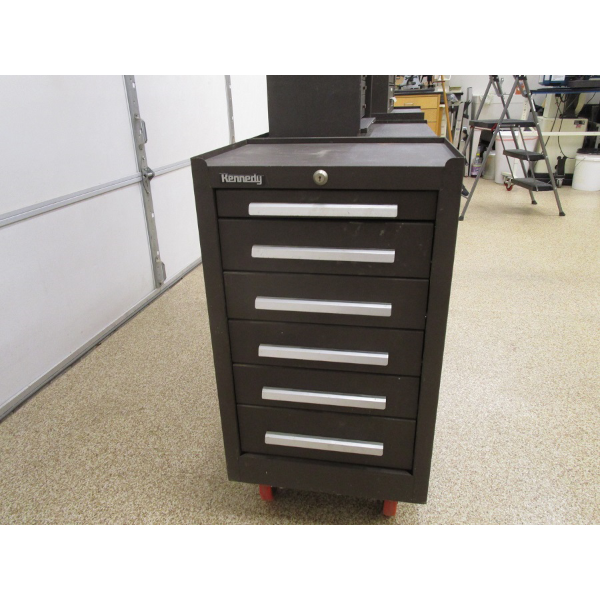 Richard M
7/24/19
I originally acquired a 275 base cabinet and a 277 base cabinet with a somewhat rare 186 side cabinet in 1983. Over the years, I added a 2602 intermediate chest along with 520 and 526 machinists chests. I still have them today. They do have a little wear and tear over the years but work as well as when they were new. I'm not a machinist by profession however I wanted to get what I considered to be the best tool cabinets and tool boxes made to use in my hobbies so I purchased Kennedy.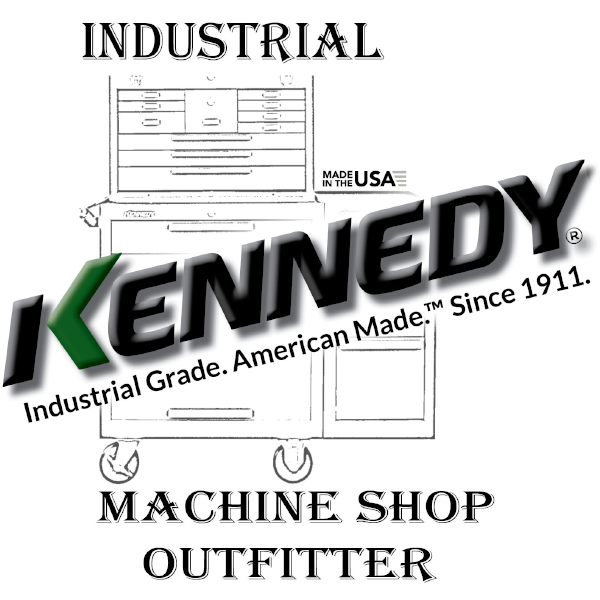 Lawrence F
8/7/19
Love the old carpenters toolbox, the K-32!  Works well for the long tools. Plus the outstanding crinkle finish.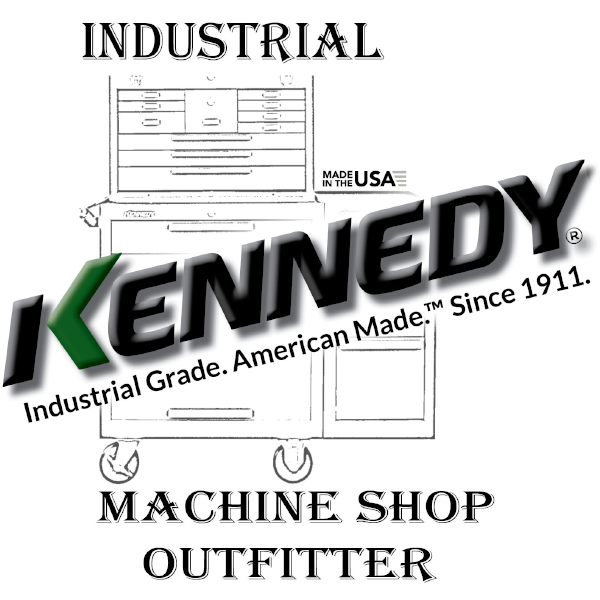 Sean M
8/12/19
My box # is 1017-8457. My Dad gave it to me; it was his tool box. I have used it for at least 30 years and it's still in great shape. It has been the envy of others.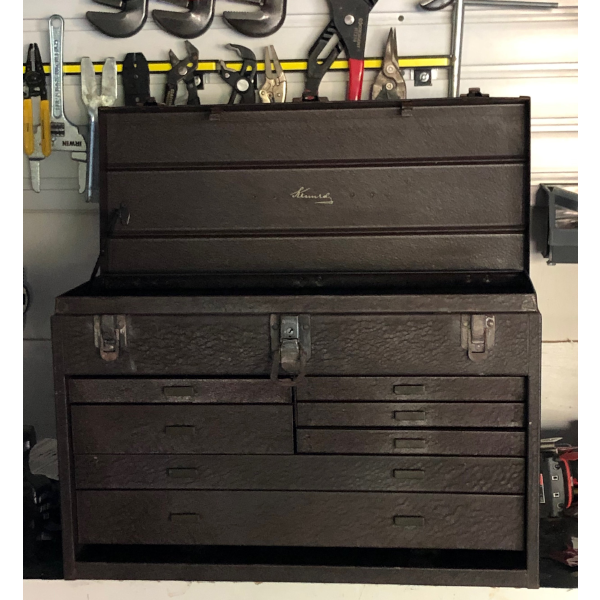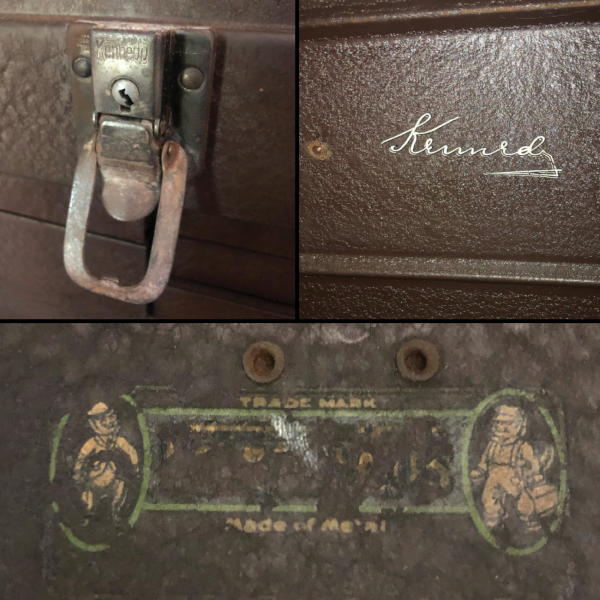 Michael P
9/19/19
520B Machinists' Chest - I got my first one today and I am thrilled to have a Kennedy!  It is a bit of a mess with rust around the hinges and has green felt.  I plan to restore it.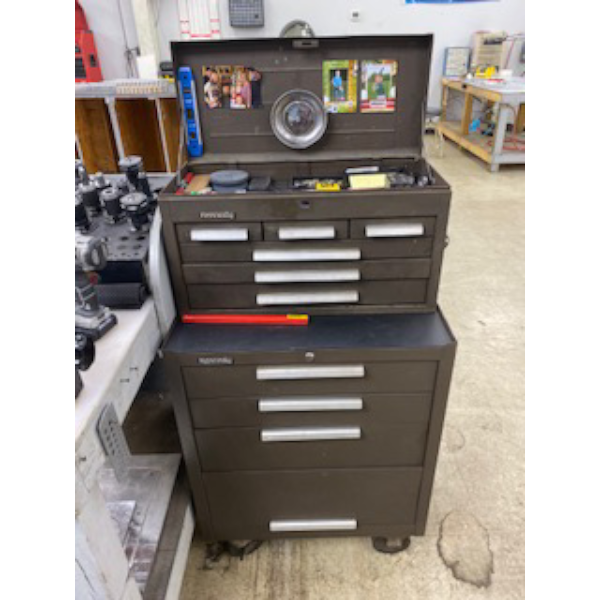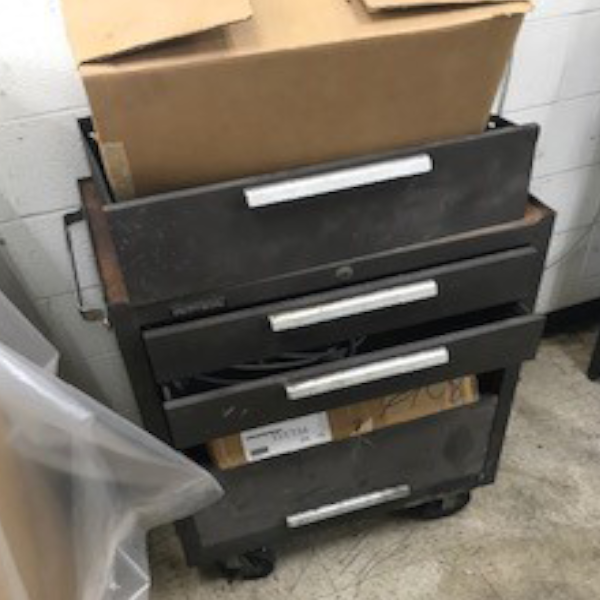 Matthew L
12/5/19
I am a Marine Corps Veteran, now a Mold Maker and I run the Tool & Die Shop here.  I discovered an old Kennedy 273-627937 in VERY poor shape in far corner and was told I could have it, so the fun began! I stripped it down, repainted, replaced the lock, cleaned up the slides, knocked out a few old dents, rebuilt the casters and now it looks and works great! My passion has begun. I found an old retired Tool & Die maker a few hours away that had a 266 chest in need of work so I grabbed that and rebuilt it.  Now I'm in search of a mid section.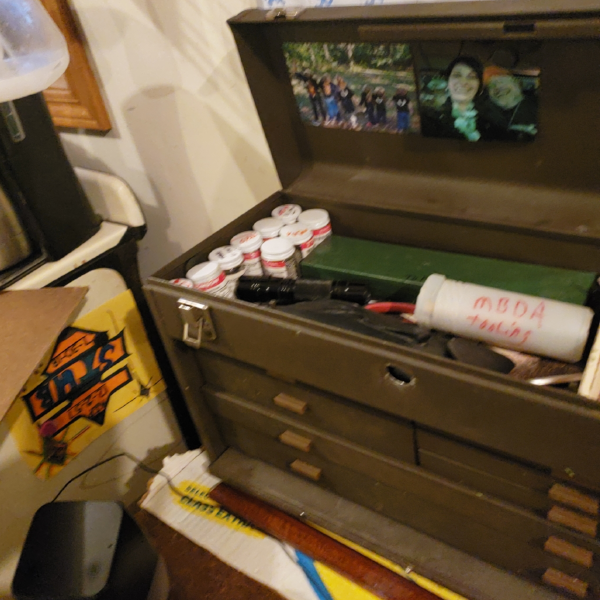 Kelly Y.
12/5/19
This toolbox, Signature Series, model 520B was my Uncle Stubbys work toolbox.  He passed away July 2018 and he left me his box. It is very special to me and I treasure it dearly! I have kept as many of his tools in it as I have been able to, as we had to pull the security lock out of it because his keys were never found.  A few relatives have had their way through it; I take peace knowing that even with tools missing here and there, I will always have the actual tool box!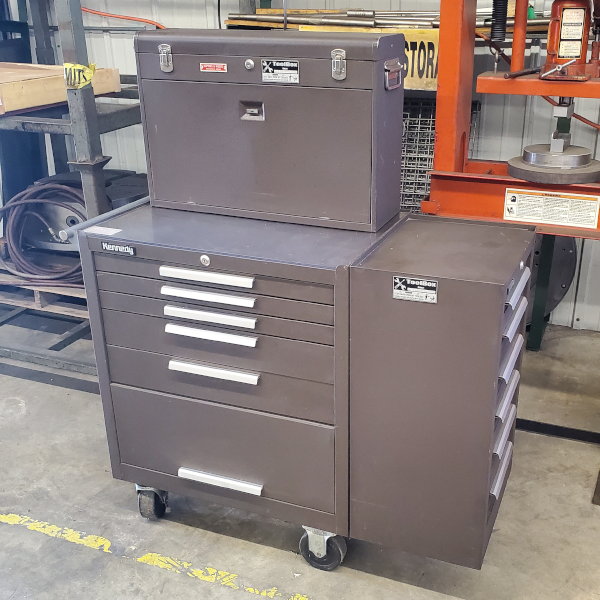 Rusty H
1/3/2020
I am a toolmaker that has been around metalwork my entire life. When I started as an apprentice, I always saw all the journeymen with their Kennedy boxes all setup and filled. I was always taught that if you look and carry yourself in a professional manner, it shows pride in your trade. The first box I bought was the 52611B. Soon after I found a used 5 drawer lower and then added the 6 drawer side facing side box. I just recently acquired another smaller top box. I wouldn't trust my tools in anything else.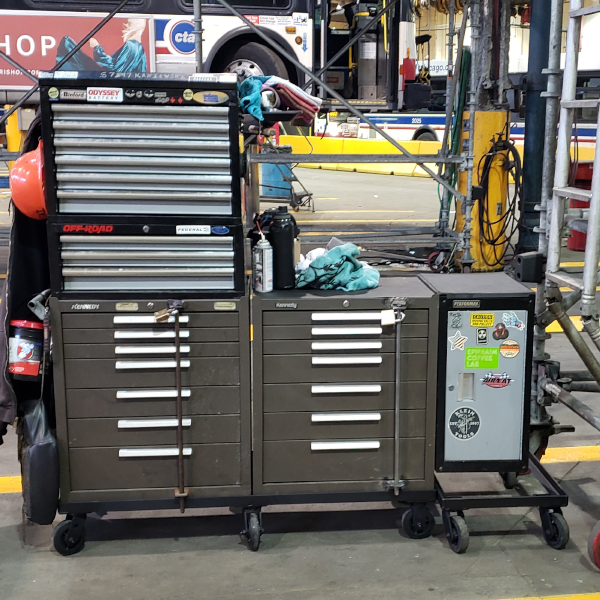 Robert K
1/19/2020
I have two Kennedy boxes, one I got four years ago, the other was my dad's that he got over twenty years ago. With as much use as it's had, the older box still looks and feels new. These boxes are built to last.  (The older box is the one on the right)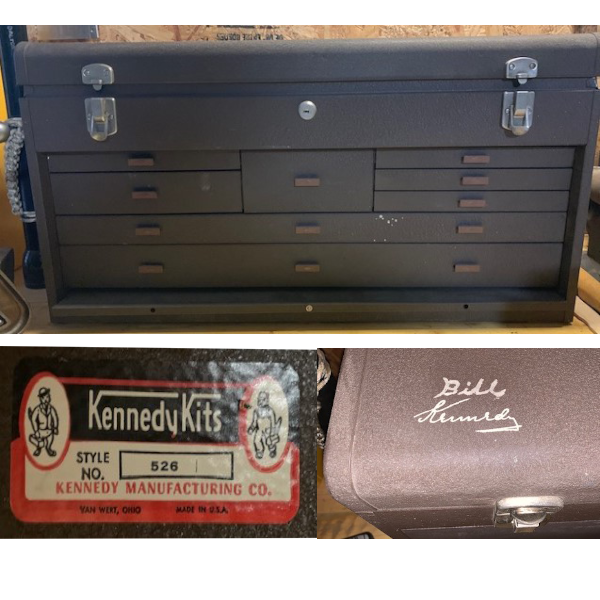 Jeff D
1/19/2020
I purchased a used Kennedy box from an estate sale. The previous owner's name was Bill Kennedy, so he simply wrote his first name over the signature logo on the top of the box to mark it as his own.  I'm guessing the box was made in the 70's.  Mr. Kennedy clearly treated his tools and his toolbox with the care and respect they deserve.  I enjoy collecting and restoring old tools, and prefer to use the tools I have restored to work on the vintage stuff I collect. I like to think that Bill Kennedy would be happy to see his box is back in service and appreciated as much as he clearly appreciated it.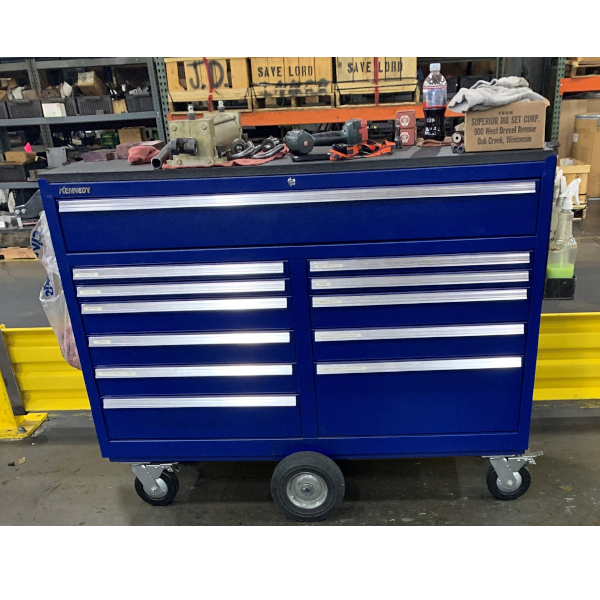 David M
1/22/2020
12 Drawer Maintenance Pro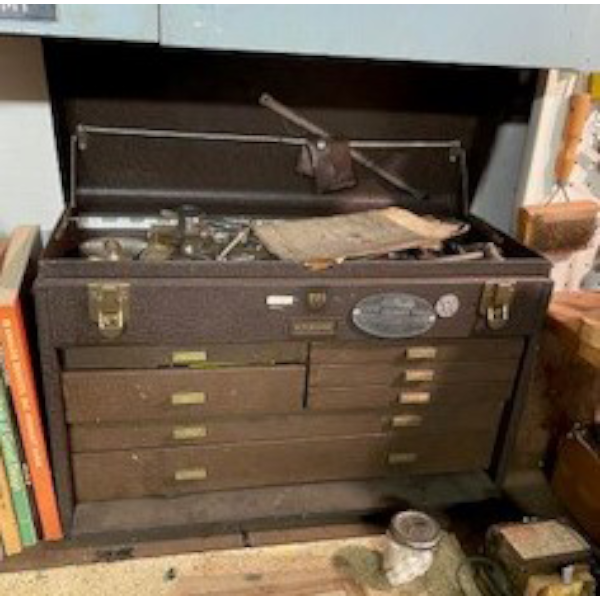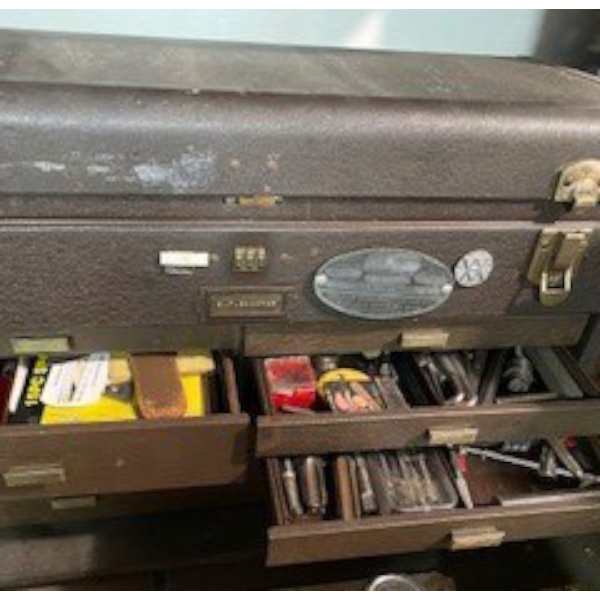 Dan S
2/12/2020
My late father, a Carnegie Tech engineer, had a brown machinists' tool box on his workbench. It must date from the mid-1950's or early 1960's because it was there as far back as I can remember (I'm 61). Dad built the workbench himself and this tool box was his crown jewel. He filled it with fine instruments —calipers, gauges, dies, punches, small screwdrivers and sockets. As a kid I used to sit on a high chair and watch him solder a radio back to life, or fix a clock. Only this week I learned that the old tool chest is a Kennedy Model 520B. The chest is mine now.  And I will cherish it.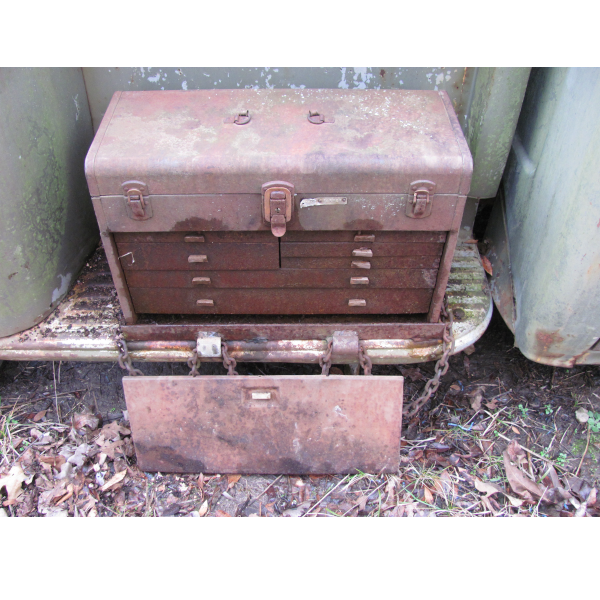 Stephen F
2/13/2020
My father purchased a 520 Kennedy Machinists' Chest around 1968 for $50. He built a mount on the step of his 1963 Chevrolet pickup. This chest has survived decades of exposure to extreme weather conditions.
In 1980, when I received my driver's license, I inherited the truck and tool chest.
52 years later, this tool chest still sets on the side of the 1963 Chevrolet pickup.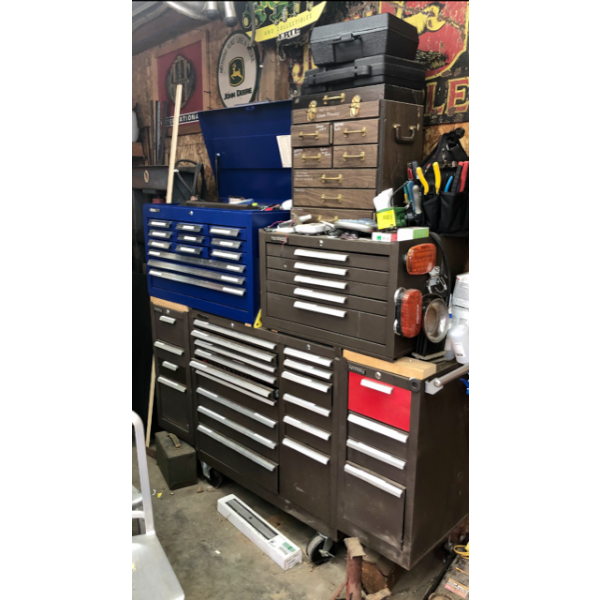 Steve T
3/7/2020
Have used Kennedy boxes for over 45 years; tough and dependable. 1 broken drawer slide in any box used over the years. What a record. Current set-up is at a max and still works great.  Only regret is I wish the lowers were 24" deep to accept longer tools.