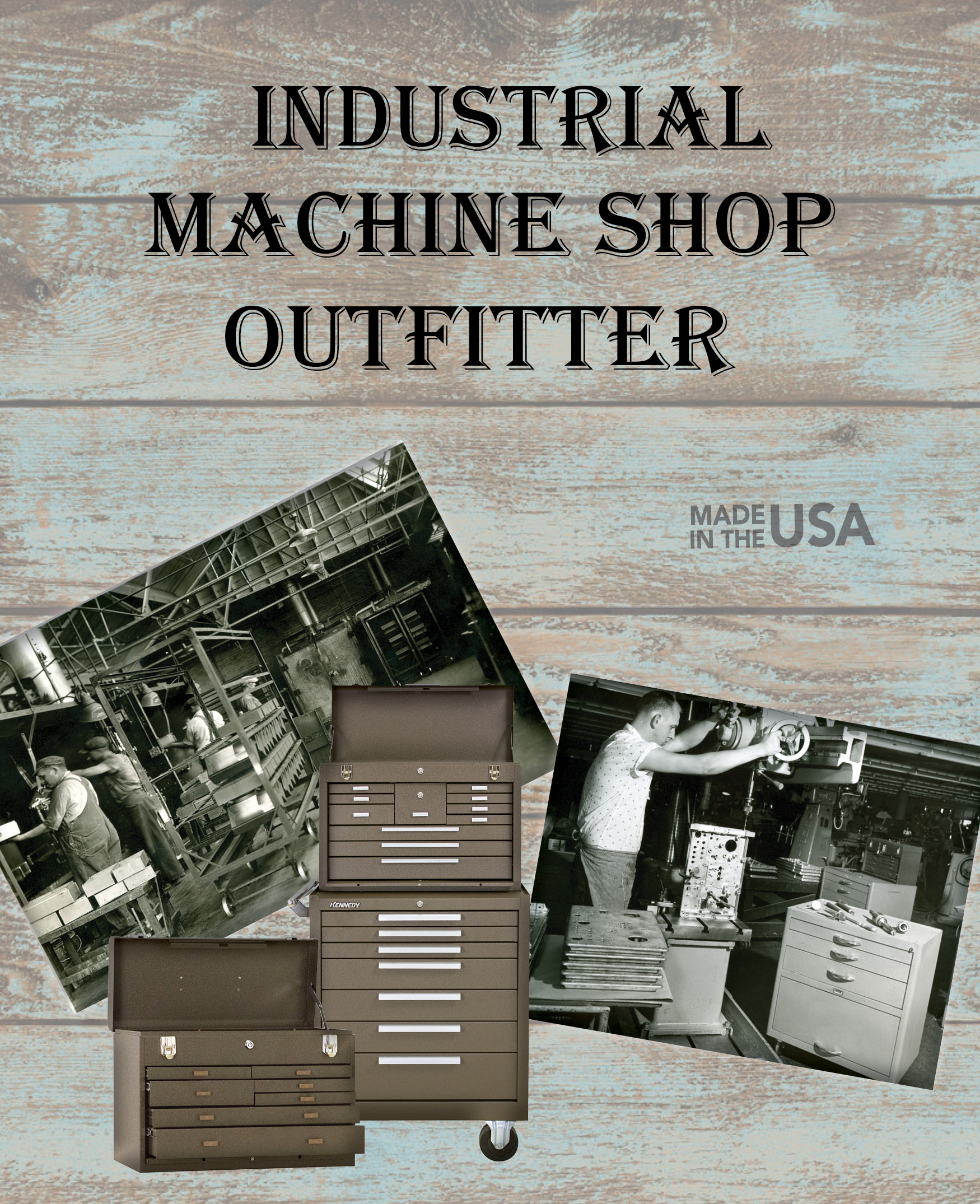 Welcome to the Outfitters Club!  You are just like us, we love our Kennedy Toolboxes too!  So we know you are going to enjoy the benefits we will offer with this new center for valuable information.   Where to buy, cost benefits to owning a Kennedy, testimonials, most popular combinations, and how to start creating a combination unit with our Stack & Add brochures.
Kennedy would like to be your resource for tool storage solutions, but we also love seeing how our products are used.  Share your ideas, upload images of your toolboxes and share a testimonial or two about your experience with Kennedy tool storage.  The more you share, the more people such as yourself will be able to see other useful ways they can stack and add to their existing boxes.  Or maybe they are new to Kennedy and will be looking for inspiration.
So come on in and browse around and before you leave, don't forget to become a member by signing up for the Outfitters Club!
Learn more about us and find resources that will help you with all of our products
View what your fellow club members are utilizing for their workstations.
Find contact details for your nearest distributor.
Wow! Finally I am the owner of a Kennedy Tool Box! I should had done this a long time ago.
As advertised, it feels super heavy duty.
This Cantilever Box is very well built. I think this will the last small tool box I will own since I believe it will outlast me.
Keep building quality USA made products.
I've always loved Kennedy products ever since the first rollaway I bought in 1989 when I was starting out in the machinist trade.
I think it's so great that I'm able to brag about the fact that you're still an American company and that's why your tool boxes in my estimation are the best, even over snap on.
Built as solid and well-made as my last 1022 I had 40 years ago! Best boxes on the market, then and now!
This is my 10th Kennedy tool box that I own. I guess you can tell I like your products. Thank You.
Awesome box, I'm super pumped to have it.  The main reason I bought it was because it was American made.  It is a great box.
I've admired your machinists' chests for a long time so I finally took the plunge a got something for myself.
UPS tried their best to beat it up but thanks to your solid build it's no worse for wear, just a jump start on its lifetime of character.
As I gain more space and tools I'll definitely be purchasing more of your products (just keep making them here in the USA).
Beautiful tool box as well made or better than my last Kennedy tool box.  I bought it because it's made in the USA too.
I would like to take the opportunity to "Thank You" as a company for staying such a leader in the industry for so many years.
I have for twenty five years wanted to own a Kennedy chest, chest, and roller cabinet set.
Family and related bills have always come first but now I own my own set and it looks great! 🙂
I will with great pride use this set until the day I no longer can which I hope is a good number of years in the future God willing.
I have owned a Kennedy-Kit toolbox since 1968.
Even though they weren't really design for masonry tools, the boxes are the best l could find.
I never once, had one to leak and take on water. In the construction field that is almost a miracle, and to this day, l own ten Kennedy-Kit toolboxes.
Thank you for a great product!
I am my father's daughter. I buy USA made as often as possible. I had outgrown my small toolbox my dad purchased and stocked for me as a teenager. Three years ago I searched for a real woman size tool chest. I found Kennedy. Well, I had to save a couple paychecks to purchase. My beautiful red chest was well worth every dime I spent. Keep up the fine work. I will be passing it on to my niece, who just happens to be named Kennedy.